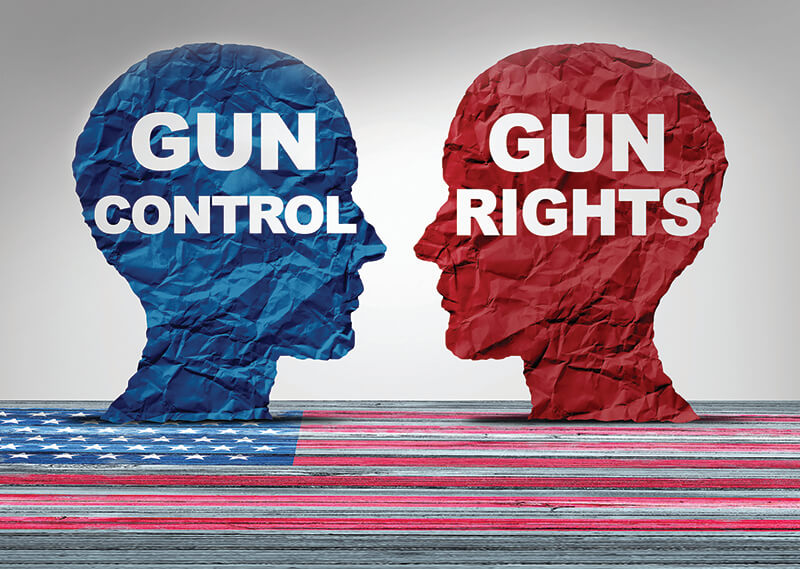 Businesses, wealthy contributors wade into gun debate
By Kevin Gale
Businesses often are cautious about wading into controversial subjects, but that could be changing when it comes to gun laws in the aftermath of the shooting at Marjory Stoneman Douglas High School in Parkland. Some wealthy entrepreneurs who donate to Republican causes also are becoming vocal.
One notable example of the latter is serial entrepreneur and billionaire Mike Fernandez, who is chairman of Miami's MBAF Healthcare.
"I will not give one cent to anyone who does not support major change regarding military-type weapons being sold," Fernandez, who was the top donor to Gov. Rick Scott's 2014 re-election campaign, told WLRN and the Miami Herald.
Fernandez also says he won't renew his membership with the NRA.
Al Hoffman, a retired developer who lives in North Palm Beach, said he won't give donations to candidates who do not support a ban on assault weapons. Hoffman reportedly has raised $600 million for conservative causes over the years.
Sporting goods retailers
Two weeks after the shooting, Dick's Sporting Goods said it would stop selling assault rifles and high capacity magazines in its stores across the country.
"We're staunch supporters of the Second Amendment. I'm a gun owner myself," Dick's CEO Ed Stack said on ABC's "Good Morning America." "We don't want to be a part of this story, and we have eliminated these guns permanently."
Stack said he felt a pit in his stomach after learning his company had sold a shotgun last year to the shooting suspect, Nikolas Cruz.
Cruz also legally bought an AR-15 at Sunrise Tactical Supply in Coral Springs, which authorities said he used in the attack at the school. In February, an attorney for the store's owners said they were distraught to learn he had purchased the gun there and had closed the store indefinitely. In the aftermath of the shooting, Bass Pro Shops, which has a location in Dania Beach, continued to promote the NRA Freedom Days on its website. Bass sells semi-automatic weapons, such as the Sig Sauer MCX Semi-Auto Centerfire Rifle and Ruger SR-556 Takedown Semi-Auto Rifle. Money magazine reported that Bass and Cabela's, a competitor Bass bought in 2017, are the only major retailers who still sell semiautomatic weapons.
Some people, believing incorrectly that Walmart sells assault weapons, took to social media to plead for it to stop doing so. Walmart stopped selling them three years ago, citing low demand.
Amazon prohibits listings for semi-automatic weapons.
Many independent gun shops still offer assault rifles. For example, the home page for National Armory in Pompano Beach in March promoted a special on AR-15s. It also had a video of the gun being used in a firing range.
Stoneman Douglas student David Hogg, who became an outspoken voice in the days that followed the incident, suggested tourists boycott Florida as a spring break destination if it doesn't reform its gun policy.
Gov. Rick Scott signed a bill that raises the age to purchase a gun to 21, initiates a three-day waiting period for most weapons, bans the sale of bump stocks and allows law enforcement officers to temporarily take away the guns of those they are taking in for a mental health assessment. It provides more funding for mental health services and armed school resource officers. It did not ban assault weapons. The NRA filed suit against the legislation.
Major companies in debate
Companies not in the firearms business found themselves in a difficult situation: angering anti-gun groups if they continued to do business with the NRA, or angering NRA members if they took steps to distance themselves.
That played out in Georgia when Delta Air Lines tweeted that it would end its contract with the NRA to offer discounted group-travel rates. Casey Cagle, the president of the Georgia Senate who is running for governor, tweeted back that he would "kill any tax legislation that benefits @Delta unless the company changes its position and fully reinstates its relationship with @NRA."
Delta had been trying to get the state to pass a bill that would give it a break on sales taxes on jet fuel it buys in the state, but the legislature killed the break. The measure wasn't controversial before Delta made its decision on the NRA members. A Delta spokewoman said only 13 NRA members used the discount for the NRA's annual meeting in Dallas.
Leadership of the Boca Raton Chamber of Commerce called for an assault weapons ban in a rare statement on gun control by a South Florida business group. It also supported raising the purchase age to 21 and beefing up school security and background checks.
Overall, published reports said the following companies stopped selling guns, cut ties or stopped discount programs with the NRA, or denounced gun violence: Alamo Rent a Car, Allied Van Lines, Avis Budget Group, Best Western, Chubb Insurance, Delta Air Lines, Dick's Sporting Goods, Enterprise Rent-a-Car, First National Bank of Omaha, Hertz, MetLife, National Car Rental, North American Van Lines, Paramount Rx, SimpliSafe, Starkey Hearing Technologies, Symantec, TrueCar and United Airlines
Newsweek listed companies who were still doing business with the NRA as of February. For example, Amazon, YouTube, Apple and Roku continue to stream the NRA's channel through their video services.
Other companies include Vinesse Wines, Clearent, Lockton Affinity, Chromecast, Omni Hotels, Manage URLD, NetSpend, Life Line Screening and Vista Outdoor, which will continue to host the NRA's annual gun show booth and sponsor its streaming video channel. ♦