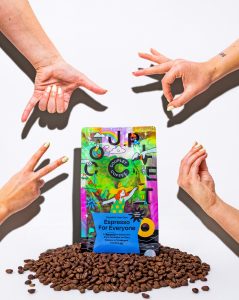 Couplet Coffee, which strives to produce an elevated and premium cup of joe, was recently launched at the Player's Cafe in West Palm Beach. The cafe serves as a one-stop shop for coffee, lottery tickets, snacks, gifts and other boutique products.
Couplet Coffee was founded by a first-generation immigrant, lesbian and self-professed coffee lover, Gefen Skolnick. The brand's packaging features holographic material with an artistic collaboration. Each product tells a story, with visual design and taste at the forefront of every product. Couplet Coffee customers can choose between Brazilian, Nicaraguan and Peruvian beans. Some of Couplet Coffee's popular products include:
"The Espresso for Everyone Blend"
The Espresso for Everyone is a mix of Brazilian, Nicaraguan and Peruvian beans made from an espresso extraction.
This signature blend uses Nicaraguan and Peruvian beans from a family-run farm.
The Peruvian beans used in this mix are from San Ignacio (Estrella Divina), a co-op in Peru, which are light/medium roasted to generate a peachy and caramel taste.
The colorful French Press helps customers take their passion for coffee home to brew a cup how they see fit.