Digital transformation was a hot topic in a panel discussion convened by the South Florida Executive Roundtable at Lago Mar Country Club in Plantation.
There were an array of technologies discussed, including the "internet of things," chatbots, artificial intelligence and sales process automation.
The panel was moderated by Stephen Dettor, chief operations officer and co-founder of Gravity IT Solutions in Fort Lauderdale.
Panelists (listed in the box to the right) were asked to share details about the most meaningful digital transformation currently underway in their organizations.
Hernandez said Southern Glazer is adopting blockchain technology. "In the distribution business, it is important to have transparency and real-time visibility with suppliers," she said.
Her company also is doing proof-of-concept on optical character-reading technology. "I'll give you an example, reading the back of wine bottle labels and turning it into digital form to populate a digital website. Populating tasting notes is not as easy as you think," she said.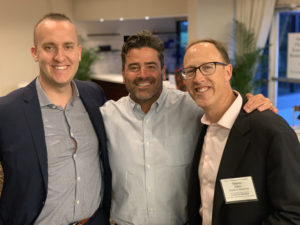 Lessner said KEMET always has billed itself as a company that's easy to buy from, so it wants to connect manufacturers' back-end systems to sales front-end systems, so customers can get real time data on when parts will be available.
KEMET also is seeing more and interaction with design engineers globally that want to design into its components. KEMET is coming up with digital tools for engineers to use based on data generated by research and development and workers in factories. KEMET has evolved from software downloaded on personal computers to web-based systems. Lessner wants to take that a step further so an applications engineer can answer more complex questions from design engineers. One concept is using chatbot technology that could be a virtual engineer to answer questions around the clock.
Another effort is the continuing digitization of business processes. KEMET manufactures millions of parts for which it has to provide cost quotes. Whoever gets a quote to a distributor usually wins the business, he said. Lessner wants to automate the aggregation of the data that customers and distributors send it and reduce quoting time from a week to a day or two.
Harrison talked about how NSU launched its first personalized chatbox for students, faculty and staff. NSU has remote locations so it's a challenge to rapidly provide the correct answers to student queries.
"We made a soft launch late in October and it did go off like a rocket," he said. "We just didn't know how to handle that. We're in the cloud and we had to quickly figured out a way to scale up."
There are now multiple chatbots, and students feel more connected to the university, he said.
Montoya said Rokk3r's role is essentially to provide a service that builds technology companies. It often helps clients improve their ideas or come up with new ideas. "I would say basically, everything we do touches digital transformation in some way and is utilizing blockchain, vision learning, big data and AI," he said. "Internally, we are working on big projects to automate ourselves out of our jobs. The vision is to go from a more HR-based consulting company to one that can do that in a niche manner to open up a platform that can innovate around world," he said.
Mortakis said Norwegian is working on enhancing the passenger experience. It starts with booking the ticket on the e-commerce side and personalization in interacting with call-center agents.
Wearables  that are connected to "internet of things" devices on the ship are being developed. Norwegian and others in the hospitality industry are examining tracking devices developed by the Walt Disney Co.
When it comes to the mobile app on ships, one goal is to allow different members of a party to be independent, but also still feel connected with each other.
Panelists also talked about challenges in implementing digital transformation.
Harrison suggested making sure there is buy-in, and Lessner said longtime employees can be resistant to change even if the new process is better.
"Make sure you put in as much effort in marketing and explaining as you do in actually implementing the software and the system," Lessner said. ♦
The panelists
• Maria Hernandez, an information technology leader at Southern Glazer's Wine & Spirits. The Miami-based company is the nation's largest wine and spirits distributor.
• Philip Lessner, a senior vice president and chief technology officer at KEMET. The Fort Lauderdale company is a leading global supplier of electronics, especially capacitors.
• Christopher P. Harrison, the new vice president for strategic programs at Campus Management. The Boca Raton company provides cloud-based solutions to more than 1,100 higher-education institutions. Harrison talked about his experiences as a chief technology officer at Nova Southeastern University, which he left in July.
• Juan Montoya, co-founder and chief exponential officer at Rokk3r. The Miami company is a global innovation and technology that helps entrepreneurs, businesses and investors bring ideas to the market.
• George Mortakis, vice president and chief information security officer at Norwegian Cruise Line Holdings. The Miami company is the world's third-largest cruise company.