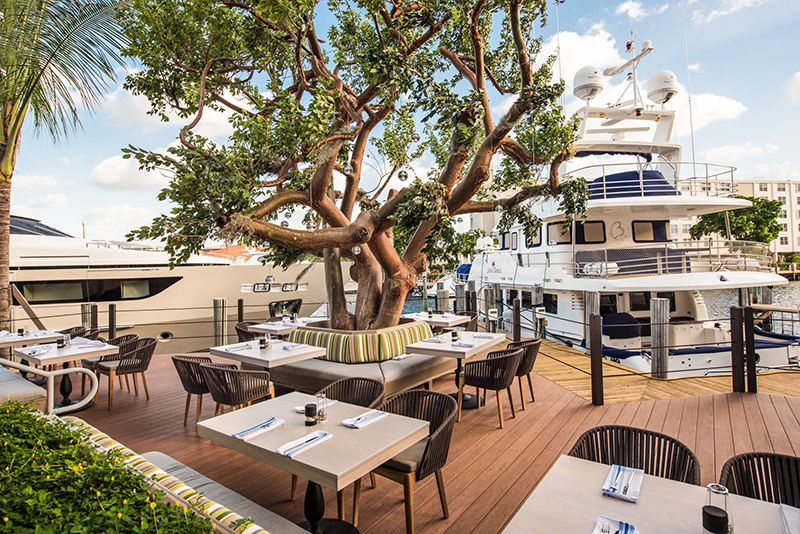 Dock & Dine
Add to your Boat Show festivities by veering your vessel toward one of these dockside restaurants in Broward
By Robin Pereira
Shooters Waterfront
About: Perhaps no area restaurant is more associated with the boating lifestyle than this Intracoastal Waterway mainstay for more than three decades. In addition to the views, the restaurant's coastal cuisine lures patrons in with raw bar treats (Norme De Mar includes rock lobster tail, shrimp cocktail, Alaskan king crab legs and fresh oysters), sushi rolls, flatbreads, seafood favorites (flash-fried mahi tacos, Cajun shrimp fettuccine, orange honey glazed salmon) and a host of refreshing cocktails to wash it all down (like the Black & Blueberry Bourbon Mash with Maker's Mark, lemonade, and blueberry and blackberry puree).
Contact: 3033 NE 32nd Ave., Fort Lauderdale, 954.566.2855, shooterswaterfront.com
Two Georges
at The Cove
About: This popular restaurant/sports bar offers more than 300 feet of dock space—including overnight dockage and fuel at its marina. Regulars swear by the dolphin sandwich (blackened or grilled) as well as the Piña Colada mahi, served with sautéed pineapple and red peppers in a coconut cream sauce over a bed of rice. Happy hours (weekdays 4-7 p.m.) are legendary, especially on Fridays.
Contact: 1754 SE Third Court, Deerfield Beach, 954.421.9272, twogeorgesrestaurant.com/thecove
Coconuts
About: Oyster happy hour is available here and at its next-door sister, G&B Oyster Bar. Running daily, 4-6 p.m., guests can enjoy six house-choice oysters for $7 and all beer and alcoholic beverages for $1 off. The daily menu offers plenty of seafood and comfort-food options—including conch fritters, crab cakes, barbecue ribs and fish tacos. The Sunday brunch menu features six variations of eggs Benedict (including lobster and schnitzel).
Contact: 429 Seabreeze Blvd., Fort Lauderdale, 954.525.2421, coconutsfortlauderdale.com
Kaluz Restaurant
About: Take advantage of cabanas and lounge seating at this nouveau American restaurant with complimentary dockmaster service. As boats pass by, sip on signature cocktails such as Le Gran Fizz (Grey Goose vodka, St-Germain and lime) and the Grapefruit Mule (Ketel One Orange, grapefruit juice, lime juice, and ginger beer served in a copper mug). Popular entrees include duck confit (slowly braised in thyme and garlic with plum-orange demi glace) and sesame-crusted ahi tuna steak (pan-seared with soy ginger glaze paired with Sriracha and wasabi cream.
Contact: 3300 E. Commercial Blvd., Fort Lauderdale, 954.772.2209,
kaluzrestaurant.com
Blue Moon Fish Co.
About: This upscale restaurant on the Intracoastal combines fresh seafood from local waters with Cajun flavors. The restaurant's raw bar is filled with fresh oysters, Maine lobster, yellowfin tuna, clams and shrimp. Sunday's brunch buffet ($65 each; 10 a.m.-3 p.m.) is always a hit; guests can feast on seafood gumbo, traditional breakfast favorites, a raw bar, a meat-carving station, a salad and charcuterie station, a host of desserts and bottomless mimosas, Champagne and bloody marys are included.
Contact: 4405 W. Tradewinds Ave., Lauderdale-by-the-Sea, 954.267.9888,
bluemoonfishco.com
Pelican Landing
About: With its mix of laid-back atmosphere and affordable fare, this place continues to be a favorite waterfront dining spot. Small plates—think ceviche, Cuban pork meatballs and grilled pork belly lettuce wraps—pair nicely with a glass of locally brewed beer from the Funky Buddha Brewery or from the Islamorada Beer Co. Finish with a passion fruit tart (vanilla cream, Oreo streusel and seasonal berries). Looking for more upscale dining? Head to Grille 66 & Bar, also on-site.
Contact: Hyatt Regency Pier 66, 2301 SE 17th St., Fort Lauderdale, 954.525.6666, pier66.hyatt.com
Boatyard
About: Boatyard backs up its "eat local, be coastal" philosophy with East Coast hook-to-table catches. Seafood isn't its only claim to fame; wood-fired steaks, pork osso bucco and herb-roasted chicken also stand out. Along with its impressive wine menu, Boatyard has its share of hand-crafted cocktails—including the Ship-Faced Shelley Pitcher ($44) made with fresh strawberries, cucumber, lemonade and Stoli vodka.
Contact: 1555 SE 17th St., Fort Lauderdale, 954.525.7400, boatyard.restaurant
15th Street Fisheries
About: From its perch in the historic Lauderdale Marina, guests can dine with a view at this acclaimed seafood restaurant. Two dining rooms present choices: Downstairs is casual, upstairs is more lavish. Hop off the boat, sit dockside and dig into peel-and-eat shrimp or snow crab claws tossed in herb butter served with ciabatta. Upstairs has the renowned Fruits of the Sea entrée—shrimp, mussels, clams, calamari, scallops and chorizo in coconut saffron sauce, served with basil and cilantro over basmati rice.
Contact: 1900 S.E. 15th St., Fort Lauderdale, 954.763.2777, 15streetfisheries.com
Southport Raw Bar
About: Started in the 1970s by two New Yorkers, Southport claims to be the oldest raw bar in South Florida. Generations of locals flock to the raw bar for the food and familiar faces of both the staff and other patrons. Part of the reason: double happy hours Monday-Thursday (4-7 p.m.; 11 p.m.-midnight). Specials include Buffalo wings, Old Bay shrimp, oysters and clams, plus domestic draft pitchers for $9.
Contact: 1536 Cordova Road, Fort Lauderdale, 954.525.2526, southportrawbar.com
Bokamper's
Sports Bar & Grill
About: Former Dolphins defensive great Kim Bokamper raises the sports bar with wall-to-wall TVs, waterfront views, stellar comfort food and killer specials—including 50-cent wings Mondays, $5 burgers Tuesdays, $10 smokehouse ribs Wednesdays, $5 margaritas Thursdays, and Ditch Fridays deals from 4 to 6 p.m., including half-off appetizers, $1 drafts, $2 craft beer, $3 house wine and $4 premium house cocktails.
Contact: 3115 NE 32nd Ave., Fort Lauderdale, 954.900.5584, bokampers.com/fort-lauderdale
The Rusty
Hook Tavern
About: With more than 350 feet of dockage space, local boaters flock to this establishment daily. Specialty drinks such as the Marrakesh (Campari, elderflower, cranberry, rose water and Prosecco) and The Troublemaker (coconut rum, basil, banana, lemon and lime) are fan favorites. Menus change daily, but coconut shrimp (served with mango salsa and sweet chili aioli) and Cheetos Crusted Mahi (spicy snack food breading, pickled green tomato and calypso sauce on a brioche bun) are house favorites. Happy hour is daily, 5-8 p.m., with two-for-one bottled beers, $5 drafts, house spirits and select wines along with reduced-price munchies.
Contact: 125 N. Riverside Drive, Pompano Beach, 954.941.2499, therustyhooktavern.com
The Historic Downtowner
About: This is a true piece of local history, dating to the Roaring '20s. After a hurricane destroyed much of the building in 1926, it was refurbished and lived on. Originally named after developer Fred Maxwell—explaining why the Maxwell Room next door hosts events such as weddings, receptions and corporate events—this historic spot features local live music on Saturday nights and a brunch special Sunday mornings. It's a great place to grab a quick bite to eat and watch as the boats pass by.
Contact: 10 S. New River Drive E., Fort Lauderdale, 954.463.9800, thehistoricdowntowner.com
Rustic Inn Crabhouse
About: Beginning as a roadhouse saloon in 1955, it's now an established seafood restaurant serving up fresh catches daily. Its rustic vibes effuse a cozy, waterfront feel that welcomes families and children. As the boats pass by, sip on a a piña colada or a Miami Vice. Favorite dishes include steamed crabs, seafood with linguini in sauce and the World Famous Garlic Crabs, the most popular dish.
Contact: 4331 Anglers Ave., Fort Lauderdale, 954.584.1637, arkrestaurants.com/rustic-inn-
fort-lauderdale
Juniper On The Water
About: Located right off the Intracoastal Waterway, this is the place for a sunset view with a relaxing beach house ambience. The seafood-driven menu includes such popular dishes as seafood paella (toasted Israeli couscous, calamari, mussels, clams, gulf shrimp, chorizo, green peas and roasted peppers) and red snapper (with roasted potatoes in a kalamata olive and tomato stew with caper berries and white wine). Brunch is Saturdays and Sundays, 11 a.m. to 3 p.m., with bottomless mimosas, Bellinis and bloody marys.
Contact: 1975 S. Ocean Drive, Hallandale Beach, 954.544.3370, juniperonthewater.com
GG's Waterfront
Bar & Grill
About: Outdoor seating overlooking the Intracoastal provides serene views of passing boats and flowing water. Happy hour is daily, 3:30-6:30 p.m., with specials on premium cocktails, beer, wine and bar appetizers. Chef favorites include stout-braised short rib (with whipped potato, picked pearl onions, pea sprouts and a carrot salad) and the lobster and shrimp pappardelle (half Maine lobster, shrimp, ribbon pasta, Campari tomato, baby kale and mascarpone cheese).
Contact: 606 N. Ocean Drive, Hollywood, 954.929.7030, ggswaterfront.com
Jimbo's Sandbar
About: Waterfront, island-style dining makes patrons think they've entered an island getaway as soon as they arrive. A tiki bar overlooking the Intracoastal encourages customers to relax and sit back with a drink in hand while they enjoy a nibble or two. Local favorites include rum runners, margaritas and piña coladas, and there's a large beer selection. Try the Jimbo Tacos, served on grilled flour tortillas with a choice of fish, cilantro lime sauce, coleslaw, pico de gallo and Stracchino cheese. Seafood selections include tilapia, catfish, mahi-mahi, grouper, crab, ahi tuna and shrimp.
Contact: 6200 N. Ocean Drive, Hollywood Beach, 954.927.9560, jimbossandbar.com
Pirate Republic Seafood and Grille
About: This staple for both locals and visitors features Brazilian-influenced seafood and a menu inspired by family recipes that have been collected for some 30 years by the owners. The nautical decor leaves patrons feeling as if they've boarded a pirate ship, with Jolly Roger flags hanging. Chef specialties include Seafood Moqueca, a traditional Brazilian dish with San Marzano tomatoes, tri-color sweet bell peppers, hot peppers and coconut milk. Pair it with a traditional Caipirinha—lime muddled with sugar and Cachaça, vodka or rum.
Contact: 400 SW Third Ave., Fort Lauderdale, 954.761.3500, piraterepublicbar.com
Sunset Catch
About: This appetizing mix of seafood, Italian dishes and handcrafted cocktails, with panoramic views of the Intracoastal from the dining room, is delightful. Don't miss happy hour, Tuesday-Sunday, 4-7 p.m., which includes $5 wines, mixed drinks and specialty cocktails, including pineapple cosmopolitans, coconut mojitos and apple margaritas; $3 bottles and drafts; and $7 select appetizers, such as fried calamari and Mediterranean mussels.
Contact: 101 N. Riverside Drive, Pompano Beach, 954.545.0901, sunsetcatch.com ↵
More Newsletter Stories:
What's Going On Around Broward