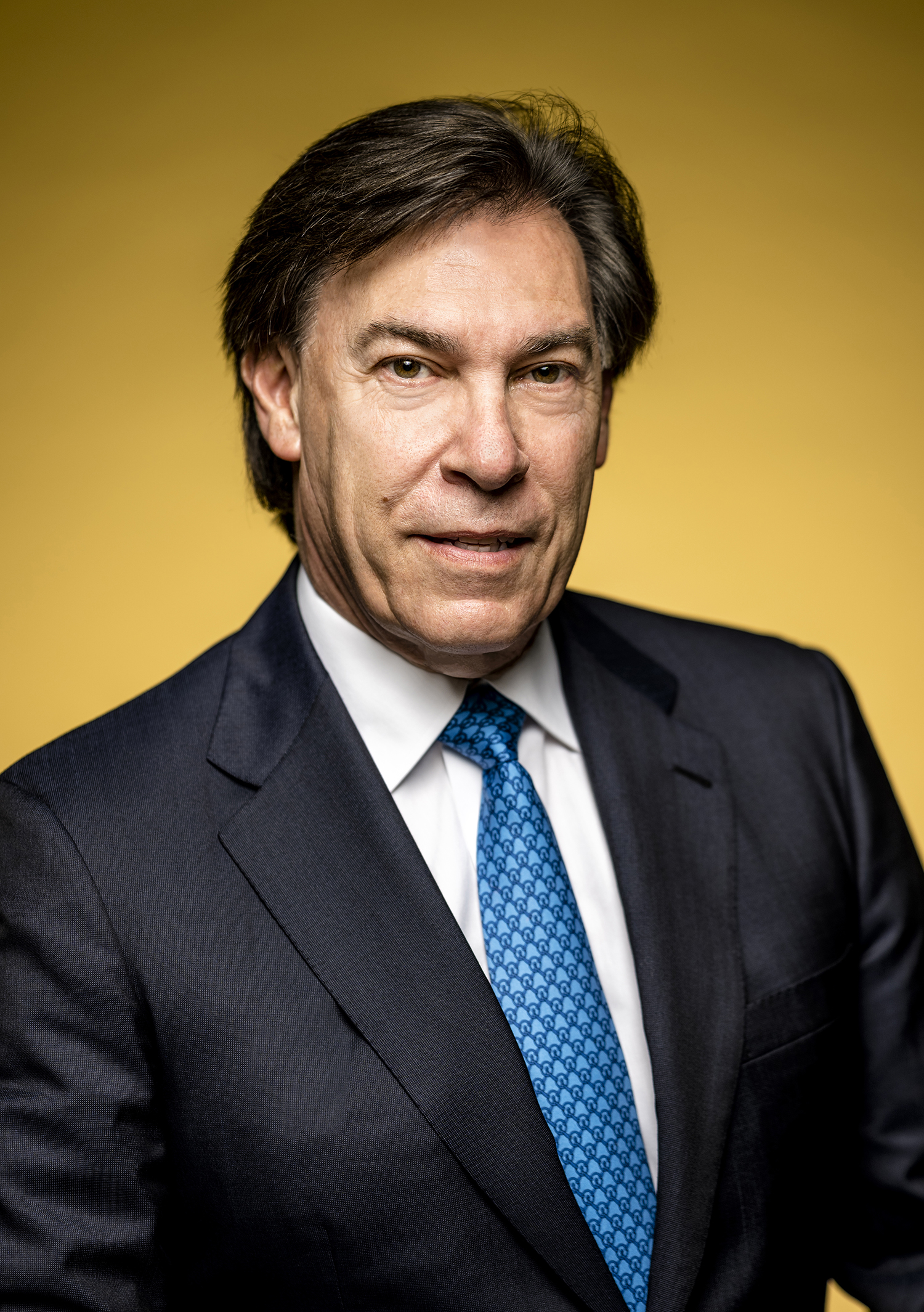 Edgardo Defortuna Built an Illustrious Career by Seeing Things That Others Missed
To put Miami on the map, the developer enlisted some of the world's top architects and designers
If any real estate entity embodies the way Miami has matured into one of the world's top luxury real estate markets, it is Fortune International Group. By now it's an institution, connected to the most celebrated architects in the industry and the most prestigious residential towers in South Florida. Herzog and de Meuron. Carlos Ott. Pierre-Yves Rochon. Kravitz Design (as in Lenny Kravitz). Luis Revuelta. Arquitectonica. Michele Bonan. Jade Signature. Jade Ocean. Auberge Beach. Hyde Resort and Residences. The Ritz-Carlton Residences in Sunny Isles Beach. Panorama Tower.
It was Edgardo Defortuna, founder, CEO and president, who put Fortune on the map by applying his company's distinctive mark to the South Florida skyline. And just as impressive as Fortune's list of exalted projects is its versatility, a reflection of Defortuna's vision and resourcefulness. Fortune is a real estate developer, a sales and marketing firm, and a general brokerage. That's a lot of fingers in a lot of pies.
Auspicious Beginnings
Defortuna studied architecture in the National University of Argentina and came to Miami a year after graduation. His sister had just completed medical school, and she decided to come to the United States to find her specialization.
"She convinced me that we should both come here to figure out if we could develop our interests," Defortuna recalls. "My original studies were on the engineering side, so I always loved the construction and the creativity. I thought I was going to be more on the design side than on the financing side. But being able to participate in the U.S. market rather than the Argentinian market was really an eye-opener in terms of both the quality of the construction and the lifestyle being provided. Here, when we started participating in the marketing and sales, and later in the development of projects, I was a lot more focused on how to improve the lifestyles of the people who would buy or inhabit our buildings—more than just the economics of making a good deal or good business."
Defortuna is too diplomatic to describe the market he found in Miami as "immature," opting instead for sunnier terms: "There was a lot of potential, a lot of opportunity, especially trying to capture the Latin American market." In 1983, he founded a general brokerage, regarding Miami as an untapped market that could be developed as an international city, a luxury product in itself. He set to work convincing foreign clients that Miami was both the ultimate in lifestyle and a safe investment, establishing Fortune Development Sales in the early 1990s, with the company being present on-site at condominiums to provide sales representation.
Defortuna earned the trust of foreign buyers, cultivating a vast and enviable network. And unheard-of service. Brokers would buy and sell, he says, but they wouldn't concentrate on making their clients' lives easier by facilitating both the management and financing of properties. "So," he says, "that's where we identified a niche and really explored." If the word "niche" comes up a lot, in conversation with Defortuna and in the company's own marketing, that's because Defortuna, from the start, could see what others couldn't see—and took advantage of it. Fortune gave Miami something it didn't even know it needed.
Next Steps
By the end of the decade, Fortune was developing its own properties, a logical move. The first development that Fortune got involved with, the Grandview in North Bay Village, had been launched by a Brazilian developer. Ocean Bank had foreclosed on the then-unfinished property. But someone else's failure became Fortune's beachhead in Miami. Fortune dove in, improving the property's marina on the Intracoastal Highway and completing the common areas. "It sold very well," Defortuna says.
The experience made Defortuna see that Fortune was on the right track in terms of understanding the preferences of second-home buyers and foreign buyers, who were typically one and the same. Fortune could do it all: build, market and sell. That's how well Defortuna channeled his target clientele.
After Grandview, Fortune was more than ready to develop a property from the ground up: Jade Residences at Brickell, which commenced sales in 2001, with delivery in 2005. "People thought you couldn't go over $350 a square foot," Defortuna remembers, "but we ended up selling it at $600 a square foot on the first round, and then some of the resales drew close to $1,000 a square foot, which was insane for that time on Brickell. But buyers found the public spaces very attractive."
It was, of course, more than that. Defortuna saw a future in Brickell that others didn't grasp: Yes, there was office space in Brickell, but he envisioned it as not simply as a local banking and corporate corridor but as "the second financial center in the U.S." He knew that Latin Americans were not just coming to Miami for vacations; they were establishing their businesses, or at least some of their operations, in the city. "If you were paying attention closely," he says, "there were indications that this was going to happen, because more and more, some of the Latin American clients needed to move to the U.S. and diversify their investments in strong currencies to avoid both the economic problems and the political problems that they were facing in their own countries.
"This is something that really caught our eye," Defortuna says, "and we thought if you offer something more luxurious—like some of the buildings being built on Miami Beach, in South of Fifth—there was no reason why there should be such a disparity in prices between the two areas." All Brickell needed was the right product to become an affluent live-and-work neighborhood.
Within a handful of years, Defortuna was doubling down on Brickell, cherry-picking properties for renovation even when they lacked coastal settings. 1110 Brickell was a 97,000-square-foot renovation project that was an early adopter of the mixed-use concept: Housing 60 offices, it was the first office-condo in Brickell, with tenants in international trade, law and banking committing to Miami as business property owners rather than merely renters. Meanwhile, 1200 Brickell, the project that Fortune took on right after, registered as a notable architectural statement for its mirrored, variegated façade, and was known as a buzzing social hub (for years, Morton's Steakhouse dominated the ground floor); this was another Fortune conversion into an office-condo.
Heady Days: Sunny Isles
Defortuna's prescience and ambitions in Brickell on the commercial side were soon equaled in another underused South Florida location, but in the residential sector: Sunny Isles Beach. Fortune purchased prime beachfront property for two towers, and even the financial crisis couldn't stop Fortune's momentum—and the appeal of oceanfront living in a new luxury outpost. Jade Beach and Jade Ocean, both designed by Carlos Ott (famed for his work on Opera de la Bastille in Paris), were completed by 2009. Defortuna and his wife Ana Cristina, who serves as executive vice president as Fortune, immediately clicked with Ott. For Jade Ocean, the architect created a surprising experience of arrival: "You enter the building on the ocean side instead of from the street or city side," Defortuna explains. "As you go to get your car, you're already feeling the ocean breezes. That was very attractive and Jade Ocean commanded very high prices for the area at the time."
For Jade Signature, the way the Defortunas selected the creative team reflected their global lifestyle. On a trip to Paris, they were so impressed with their hotel, the Four Seasons Hotel George V, that they decided to try and meet the interior designer, Pierre-Yves Rochon. Since the Defortunas were leaving the following day and Rochon is, well, a legend in his field, it seemed like a long shot. But once the Miami couple were granted a ten-minute appointment—that stretched to 2½ hours—they ended up hiring Rochon to design their Key Biscayne home. So when it became time to develop Jade Signature, Defortuna had the impulse to give his clients the type of lifestyle that he and his family had. That's how Rochon became the interior designer of Jade Signature.
The Pritzker Prize-winning architectural firm of Herzog and de Meuron was tapped on a different European adventure. Picture a drive in a Swiss snowstorm. "What are we doing here?" Anna asked her husband. "We have wonderful architects in New York and Miami." But they made it to Basel without sliding off the road, and Herzog and de Meuron "had come up with everything on our wish list," Defortuna recalls. "Every detail had been studied. We left saying, 'This is it. This is who we want to work with.'" It's not about star power for Defortuna; it's about chemistry.
Fortune's charmed run on Sunny Isles has continued with the 52-story Ritz-Carlton Residences, with Arquitectonica as the architect and Michele Bonan (who created the environment for Miami's Cipriani Downtown) as interior designer. The collaboration was Defortuna's first endeavor with the Marriott-owned Ritz-Carlton. Working with one of the world's most distinctive hospitality brands was a lesson in exacting standards. "There's not only the recognition and prestige of the brand, but also, what is the brand providing?" Defortuna asked himself. He was so impressed with the answer—from stellar service to attention to detail to flawless management—that he's developing a new project: Ritz-Carlton residences in Pompano Beach. And with the former Starwood properties (including Sheraton, W Hotels, Westin and St. Regis) now under the Marriott umbrella, Fortune is developing a second luxury property with Marriott: the St. Regis Residences in Sunny Isles, a place he can't seem to quit.
New Attitude
Meanwhile, Defortuna has invigorated Fortune's fortunes in unexpected ways. Case in point: Brickell's Panorama Tower, which was developed by Tibor Hollo's Florida East Coast Realty. Hollo has been Defortuna's client for a while; Fortune handled sales for Opera Tower, the 55-story Miami condo that was developed by Florida East Coast Realty and opened in 2007. Florida East Coast Realty was looking at other teams to oversee rentals, but Defortuna is nothing if not persuasive.
"We convinced them that this was really up our alley and that we could do a great job," he says. "Tibor Hollo and his company, as well as the financial institution that financed the building originally, were very pleased with the absorption rate, the type of rates that we are getting, and the occupancy rates.
"I'm really excited about this new face to our business, which is handling the entire building for multifamily-for-rental purposes," Defortuna continues. "Even though we were mainly known for our sales and marketing, the leasing activity has been very successful. Out of 821 units, more than 96% are leased and rents are increasing. So, we're very proud to be able to service Tibor Hollo and his company in this building, and obviously we're looking for additional properties. We want to continue building up that side of our business."
Defortuna concedes that luxury leasing required a pivot: "It's more labor-intensive in the sense that you're selling the reality and not necessarily the dream, as in the case of presales of condominiums. You really need to emphasize the lifestyle and activity that is happening in that building."
Even the type of agent appropriate for rentals versus sales is different, he explains. On the sales side, ministering to clients is sporadic, but on the rental side, there's continuous activity. "Especially with the volume at Panorama—the traffic is constant," he says. "You have to identify the right agents to grow that part of the business."
No doubt that in this area—as in all things real estate—Defortuna's internal compass is there to guide Fortune to its next pot of gold.
Photography by Nick Garcia