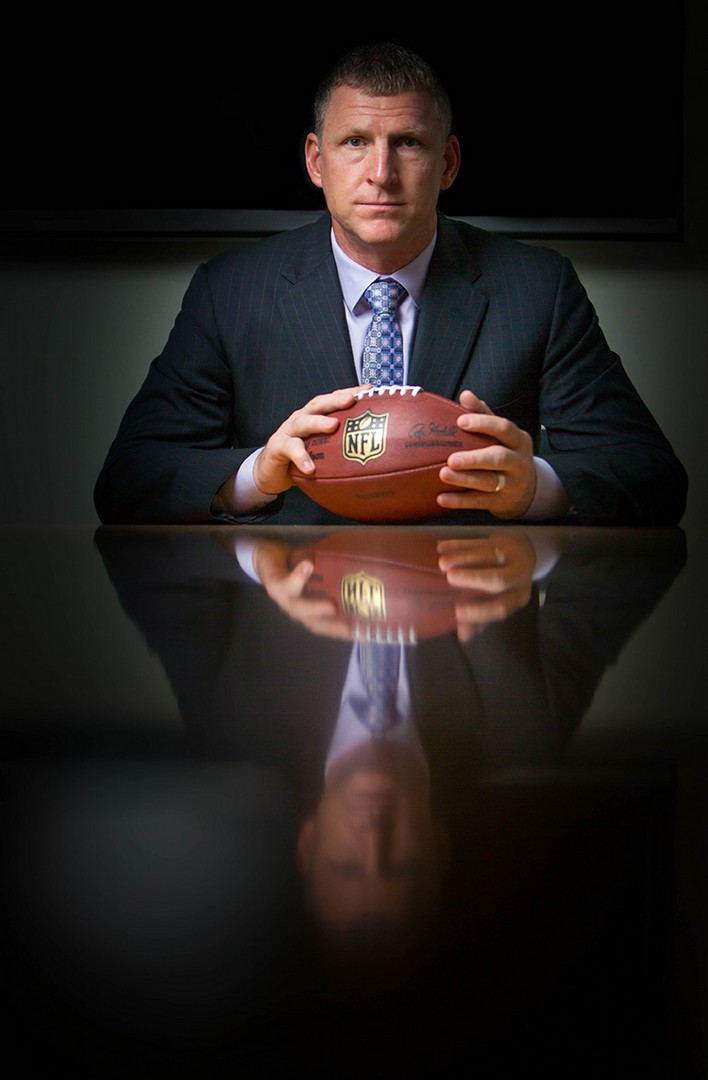 Greg Baty scores with investments and jobs
Baty is a principal in Fort Lauderdale with Hamilton Lane, which manages the $500 million Florida Growth Fund. The fund was created in 2009 to invest up to 1.5 percent of state pension funds in private equity investments that would help foster job growth.
The technology-focused fund has averaged a 17.4 percent rate of return and created more than 5,000 jobs with an average salary of $64,586, according to a state report.
While Baty still has the commanding 6-foot-5 presence of a former NFL player, he also has a broad range of business experience and an impressive academic pedigree with an undergraduate degree and a master's in business from Stanford University.
Football was just the beginning
I always worked in the off season, Baty says. "I never viewed that football was going to be the defining moment of my life and career. – I used football as a way to meet interesting people."
He called Wayne Huizenga before he bought majority ownership of the Dolphins and was invited to spend a Saturday afternoon.
"I think it's interesting to pick the brain of someone who has been successful and how they became successful," says Baty, whose office is on the eighth floor of the building that houses the headquarters of AutoNation, which Huizenga founded after growing Blockbuster Entertainment and Waste Management.
Their relationship became stronger after Huizenga bought into the team and Baty was a Blockbuster franchisee from 1993 to 2009.
Baty lived in Menlo Park, Calif., and says a lot of his friends were venture capitalists.
From 1999 to 2001, he worked with Garage.com, later called Garage Technology Ventures, which gave advice to entrepreneurs.
The companies often had angel funding and then Baty would take them up to Sand Hill Road, which is famed as a location for venture capitalists, when the time was right. Baty was a venture partner with Sand Hill Capital from 2006 to 2008.
He was involved in a 2001 private equity deal that bought 35 Blockbuster stores and was a Jamba Juice franchisee for five years in the Phoenix area.
Not everything was perfect. He was involved in a logistics company that used the internet and databases to create truckloads of shipments from shippers who had less than a truckload.
One competitor got $75 million from Federal Express and another got $50 million from UPS, he says. "We were the guys who said, "What about us?""
His time as a Jamba Juice franchisee overlapped with his duties as a managing director at Cardinal Holdings from 1996 to 2009. Jamba Juice was led by Steven Berrard, who previously teamed with Huizenga at Blockbuster and AutoNation.
Before he moved back to South Florida, Baty says he had two young children and was working seven days a week.
"It was sad when the kids said, "Where are you? But it was real sad when they stopped asking," he says.
Baty left Jamba Juice in 2009 and joined Hamilton Lane in August. One connection is that former Dolphin fullback Rob Konrad is on the investment advisory board of the state board of administration, which selected Hamilton Lane.
Baty said one of the best indicators of the growth fund's performance is an initial $250 million invested by the state was followed by another $250 million. Hamilton Lane also invested in the fund as well.
There have been 27 different investments into companies and about half the fund is invested in 19 funds that also invest in Florida companies, he says.
Football is a way to meet interesting people for Greg Baty
Baty is on the advisory board for the Florida Institute for the Commercialization of Public Research. The institute is based at Florida Atlantic University and helps state universities turn research into business opportunities.
The institute also provides seed funding. "I have seen the Florida investing system grow by leaps and bounds the last five years," Baty says.
Florida offers a diverse wealthy population that can help entrepreneurs, he says. "If you can't find people to invest in your company that have expertise, you probably don't deserve to be going. I challenge entrepreneurs that there are enough wealthy retired people to provide capital to get off the ground."
Baty also is a director with the South Florida chapter of Make-A-Wish. He gained that connection through his wife Brenda Yester Baty, who recently joined Lennar in the strategic initiative area after being senior VP for revenue management at Carnival Cruise Lines.
Brenda is now on the national board of Make A Wish and Greg was asked to join the local board about a year ago.
Make A Wish has a couple of major initiatives locally, Baty says. One is a capital campaign for a Make-A-Wish House to host families and events. The second is creating an endowment, "much as a university would endow scholarships in a donor's name, a gift that lasts forever and changes lives forever," Baty says.
The granting of wishes not only benefits children, but helps them create a positive experience for their caregiver families, he says.
The looks on their faces when they get their wish is more than a dream fulfilled, he says. "Sometimes this wish is what gives them hope to get through treatments – a light at the end of the tunnel." ?