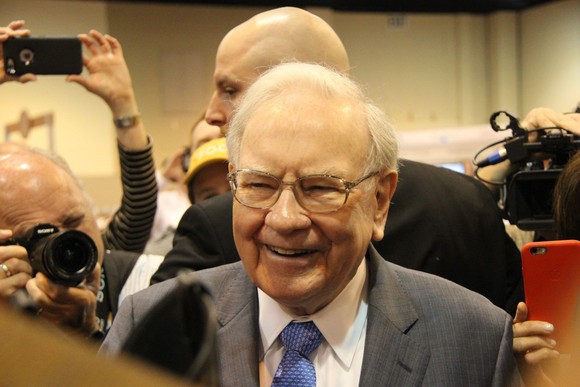 Here's What Warren Buffett Is Buying and Selling
Berkshire Hathaway increased and decreased some of its stock positions, and eliminated one entirely.
Berkshire Hathaway (NYSE:BRK-A) (NYSE:BRK-B), the conglomerate led by billionaire investor Warren Buffett, recently filed its 13-F with the SEC, which revealed the changes in the company's stock portfolio over the first three months of the year.
Two moves we already knew about
First, there were two non-surprises from the filing. Based on previous interviews with Buffett, we already knew Berkshire had roughly doubled its Apple (NASDAQ:AAPL) investment during the first quarter — now we know the actual number of shares Berkshire owns. As of the end of the quarter, Berkshire owned 129 million shares of the tech giant, worth about $19.7 billion as of this writing.
We also knew that Berkshire unloaded a substantial portion of its IBM (NYSE:IBM) stake, which Buffett said was trimmed by about a third. The stake decreased by 21% during the first quarter, which suggests the remainder of the IBM selling occurred after the quarter ended.
Buying and selling airline stocks
During the first quarter, Berkshire increased its stakes in two of the four airlines it owns, Southwest Airlines (NYSE:LUV)and American Airlines Group (NASDAQ:AAL), while also reducing its investment in Delta Air Lines (NYSE:DAL). Here's what Berkshire's stakes in the four largest U.S. airlines look like now:
| Company | Symbol | Shares Owned | % Stake |
| --- | --- | --- | --- |
| American Airlines | AAL | 49,278,854 | 10.2% |
| Delta Air Lines | DAL | 55,025,995 | 7.6% |
| Southwest Airlines | LUV | 47,659,456 | 8% |
| United Continental Holdings | UAL | 28,951,353 | 9.5% |
Other Buffett buys
In addition to the Apple and IBM changes, and the shake-up in Berkshire's airline holdings, there were a couple of other notable increases in the company's stock positions.
First, Berkshire's Sirius XM (NASDAQ:SIRI) stake increased by about 5.7 million shares. The satellite radio leader is a recent addition to Berkshire's portfolio, initially purchased during the fourth quarter of 2016. To be clear, though, the increase represents an additional investment of about $29 million, a rather small sum by Berkshire standards.
Perhaps more significantly, Berkshire added about 11.3 million shares to its stake in Bank of New York Mellon(NYSE:BK), one of five bank stocks in its portfolio. That's an increase of more than 50% on a holding previously worth more than a billion dollars, based on the bank's current share price. Berkshire now holds 3.2% of Bank of New York Mellon's outstanding shares.
Berkshire's Fox stake is no more
One stock notably absent from Berkshire's portfolio is 21st Century Fox (NASDAQ:FOXA), of which Berkshire owned a relatively small, but significant, $251 million stake. We don't yet know why Berkshire decided to end its investment in Fox, but we do know the sale occurred before Fox News star Bill O'Reilly was fired in April.
Here's what we don't know
Buffett will occasionally talk about his reasoning behind buying or selling a stock, as he did with Apple, but not always. Specifically, we don't know why Buffett (or one of his stock-pickers) decided to increase two airline stakes and decrease another, or why Fox is no longer a part of Berkshire's portfolio.
We also don't know which investment decisions were made by Buffett himself, and which were the work of his two stock-picking lieutenants, Ted Weschler and Todd Combs. And finally, keep in mind that the 13-F just shows a snapshot of Berkshire's portfolio on March 31, 2017. More than a month and a half have passed since that date, so it's entirely possible Berkshire has made other major moves since then.
The point is, you should take these moves with a grain of salt, and you shouldn't make investment decisions simply because a billionaire did. For the most part, we don't know why these decisions were made, nor do we know if the rationale behind these moves still applies now.
10 stocks we like better than Apple
When investing geniuses David and Tom Gardner have a stock tip, it can pay to listen. After all, the newsletter they have run for over a decade, Motley Fool Stock Advisor, has tripled the market.*
David and Tom just revealed what they believe are the ten best stocks for investors to buy right now… and Apple wasn't one of them! That's right — they think these 10 stocks are even better buys.
Matthew Frankel owns shares of Apple and Berkshire Hathaway (B shares). The Motley Fool owns shares of and recommends Apple and Berkshire Hathaway (B shares). The Motley Fool has a disclosure policy.