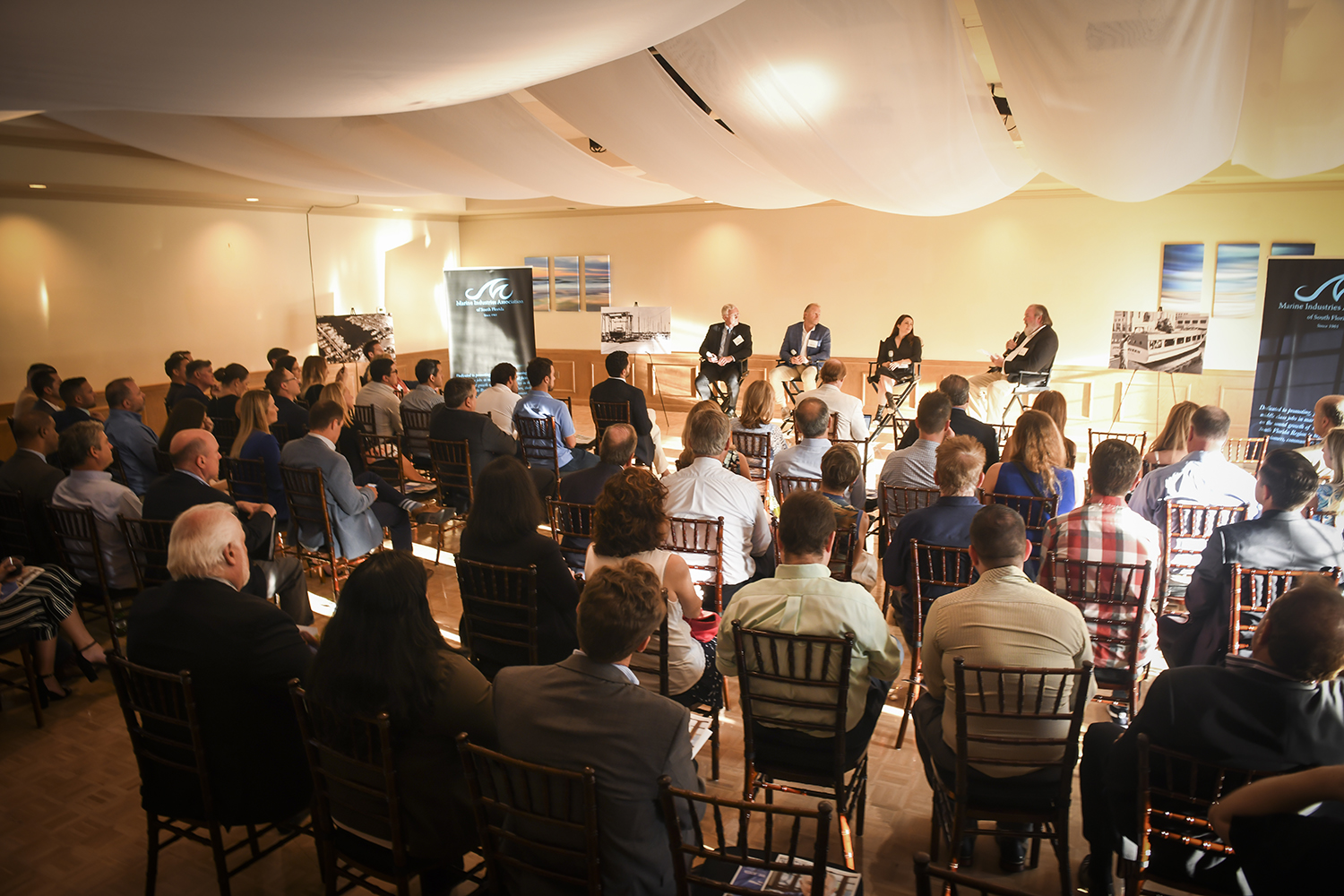 How innovators are bringing welcome disruption
The 2019 Fort Lauderdale International Boat Show
SFBW and the Marine Industries Association of South Florida teamed up to look at issues and innovations in an industry that generates $12 billion a year in economic impact while supporting 142,000 jobs in the region.
The panel was held at the association's headquarters, in Fort Lauderdale's former opera house in the Himmarshee historic area. The panel was moderated by Philip Purcell, president and CEO of the association, who previously was a partner and senior manager at Westport Shipyard of Westport, Washington, the largest yacht builder in North America.
The panel had an interesting mix that included industry veterans, entrepreneurs and investors:
• Jaclyn Baumgarten has a Stanford MBA and two decades of experience as a startup expert. She is the co-founder and CEO of the boat-sharing startup, Boatsetter. She fostered the creation of peer-to-peer marine insurance policies that made the concept viable.
• John Kelly also has a Stanford MBA and spent many years in the wireless industry, which led to his induction into two of the industry's halls of fame. In January, the longtime boater and his son bought venerable Bradford Marine, which has yards in Fort Lauderdale and Freeport, Grand Bahama Island. Kelly is CEO and an advisory director for Berkshire Partners, a Boston-based private equity firm.
• Dean du Toit is the owner of National Marine Suppliers, a distributor and logistics company serving the marine industry. The Fort Lauderdale firm, which du Toit founded in 1990, is a leading supplier to the megayacht world. Du Toit began his career as a deckhand in the marine industry and has worked as an engineer, first mate and captain.
Baumgarten told the audience how she moved to South Florida from San Francisco. She has a background as an innovator and entrepreneur helping large companies launch subsidiaries.
She describes Boatsetter as "the leading online marketplace where anyone can go and have an incredible experience on the water. You can think of us like Airbnb for their experiences on the water." Boatsetter provides customers with access to thousands and boats in 600 locations, including North America, the Caribbean and the Mediterranean, and can provide captains for a no-hassle experience, Baumgarten said. "You can decide what kind of experience you want—whether you want to go deep-sea fishing, snorkeling, sandbar hopping, sunset cruising or have a bachelorette party. We make it possible in an easy seamless way."
She describes her company as an industry disrupter because it lets boat owners rent out their vessels and obtain access to insurance that previously was unattainable. The company is the exclusive partner with Geico for its peer-to-peer policies. The insurance protects the boat, the owner, its captain and the renter.
Baumgarten said some of her happiest memories are being on the water with her three brothers and her parents. She wants her company to provide similar experiences at an affordable price and introduce younger generations to boating. More than half of her renters are millennials, and Generation Z is the fastest-growing segment.
On the flip side, owning a boat can be expensive, so her company can help an owner subsidize the cost.
Purcell noted that boats sit idle 90 percent of the time, and, before Boatsetter, owners often would rent their boats without proper insurance coverage.
Du Toit's experience in the boating industry helped him identify an unmet need of a supply chain for megayachts. During his 28 years running his company, the size and complexity of megayachts have gotten increasingly bigger. One hundred feet used to be regarded as huge for a boat, but now some range up to 600 feet.
A key part of National Marine's success is being able to meet the needs of customers who don't know the word "no" and expect miracles. "There's no such thing as disappointment," he said. It's not unusual for his staff members to be on jets during the holidays to meet customers' critical needs in the Caribbean, Mediterranean and other far-flung locales.
National Marine's 14 divisions include supplying appliances, interior furnishings, provisions, beverages, engineering expertise, fueling, safety certifications, superyacht toys and uniforms. It has two ship stores in Fort Lauderdale, and Caribbean locations in St. Maarten and St. Thomas. It also has contacts with a global network of agents.
The far-flung operations necessitate keeping track of myriad regulations, but also provide an enjoyable opportunity to learn about different cultures, du Toit said.
Kelly said he was fortunate to be in the wireless telephone business in 1983—it wasn't until 1984 that the first U.S. cellular system was launched at the Olympics in Los Angeles.
Kelly said he has always had a love for the marine industry, and as his family got bigger, he kept getting bigger boats. "There are so many attributes about this business that I love," he said. He introduced his son, Michael, who is COO of Bradford.
The Kelly family is an example of marine enthusiasts who bring essential capital to South Florida's boat yards.
Purcell mentioned that the Carlyle Group, one of the world's largest asset managers, acquired Lauderdale Marine Center, which is billed as the nation's largest yacht repair business. Private equity firms have found that the marine industry offers a good return on capital investment.
Kelly noted the complexity of large boats with their own sewage systems, freshwater systems, electrical plants and mechanical plants. Unfortunately, boaters too often have negative experience when getting services.
"What we want to do is, we want to make that life easier. That's a big part of what we're going to be doing with Bradford—just continuing to make investment in that facility that is going to enable all those that are part of our broader community of boaters hopefully feel very good about the value that they're getting from everything that we're providing," he said.
Kelly talked about the need to protect shipyards that occupy prime waterfront land that could be redeveloped for a short-term profit. He thinks marinas are in good hands when it comes to private owners who are marine enthusiasts.
"It is important to facilitate the lifestyle that we all love," he said. "You've got to have a place where these things can be docked and you have to have a place where they can be repaired and serviced. They don't service themselves. Somebody's got to be in there to be doing all the work that many of this audience are doing." ♦