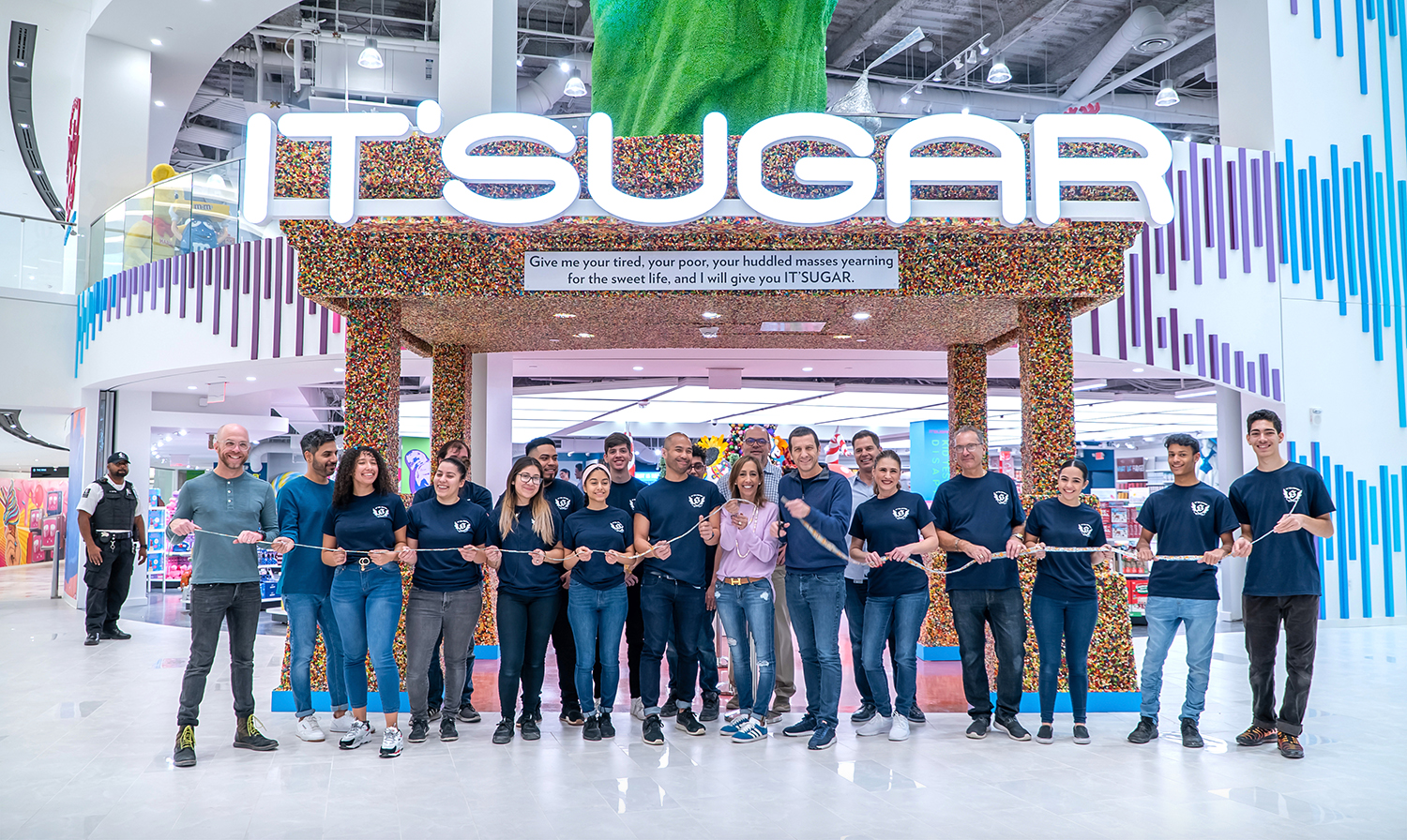 IT'SUGAR—no apologies given
Amid all the turmoil in retail, Jeff Rubin is finding sweet success.
American Dream photography by Scott Barfield Photography
CEO and founder Rubin is ecstatic as he sits down for an interview a few days after the opening of the 22,000-square-foot IT'SUGAR candy department store at the American Dream mega mall in New Jersey. The initial weekend was about three times more successful than he expected and that's before the world's first Oreo café opens later this year on the third floor. He expects sales to be eight to 10 times one of IT'SUGAR's average stores.
IT'SUGAR, based in Deerfield Beach. has grown to more than 100 locations, including 13 in the tri-county area. Another mega store could be in the works. Rubin says IT'SUGAR has had preliminary talks about opening at the 5-million-square foot American Dream mall, which is expected to start construction in late 2021 at the intersection of Florida's Turnpike and Interstate 75. That mall would be the world's largest.
The success of IT'SUGAR has vaulted Rubin into the Candy Hall of Fame, but his journey started with his family's Mr. Bulky Candy and Sweets in the Detroit area in the 1990s.
"We were at the forefront of the whole bulk candy store explosion in the 1990s that saw over 3,000 of these bulk candy stores in malls come about," Rubin says.
In 1995, though, he decided to go out on his own and escape to a more tropical climate. He and his wife moved to Boca Raton with their 1-year-old twin boys. "So, it was very risky. You know, I said to my wife we had had enough money put away that we could live our lifestyle for about four months, two weeks, three days and one hour. I figured the clock was ticking and I better find something."
Conceptualizing FAO Schweetz
He found opportunity on vacation in New York City.
"We took our 1½-year-old twins to see the world famous FAO Schwarz toy store and the light bulb went off. How cool would it be if they had a candy store?"
He came up with the concept of FAO Schweetz and got a meeting with FAO Schwarz CEO John Eyler. "He loved it and we opened the first FAO Schweetz in February of 1995," Rubin says.
Rubin saw the venture as an opportunity to showcase his creative talents and create a cool and unique candy store for a world-class organization.
"After the first year of FAO Schweetz, the CEO called me into his office and he started asking me a lot of financial questions and then I knew things were probably about to change," Rubin says. "So, he said, FAO Schweetz was the No. 1-per-square-foot department at FAO Schwarz. It was the third-highest grossing department; keep in mind, it was only 300 square feet at the time. So, he wanted to expand Schweetz. He bought out my small operation and I went to work for him."
Rubin says, "I spent five years at what I call the University of FAO Schwarz, where I learned from the greatest merchandising people I thought were on the planet and it was just a wonderful, wonderful education. At the time, no one knew the word 'retail-tainment.'"
Rubin used the FAO Schwarz approach of creating thematic and creative departments. The original 300-square-foot store eventually grew to 6,000 square feet. FAO Schweetz generated 12 percent of FAO Schwarz's revenue as it grew to 30 locations with three standalone stores as part of the mix.
"By the end of the century, I remember the CEO of FAO telling me, 'The good news is, you're the No. 1 department in our stores. The bad news is, you're the No. 1 department in our stores.' Candy kept going up because the toy industry kept coming down," Rubin says.
Down so far that FAO Schwarz entered bankruptcy court twice in 2003 and the flagship Fifth Avenue store was closed for part of 2004.
By then, though, Rubin was long gone.
Launching Dylan's Candy Bar
In 2000, he got what he calls a fortuitous introduction to Dylan Lauren, daughter of fashion legend Ralph Lauren.
"I met Dylan Lauren and we just shared all kinds of the similar passions for candy. And she was looking for a candy man, a candy partner and I was convinced that candy could be pulled out of FAO Schwarz and be a draw to itself," Rubin says. They set up a 50-50 partnership for Dylan's Candy Bar.
"I left FAO, we found a great piece of real estate catty corner to Bloomingdale's, right in Midtown. She and I collaborated on what would become a 10,000-square-foot candy store and tourist draw destination that opened October 2001. It's just grown every year since then. So, I'm very proud of that. That's because we took candy and turned it into a destination."
Rubin eventually had an itch to move on, though.
"I feel like I spent five years learning candy from my father, five years learning merchandising from FAO, and four years learning branding from the greatest branding family in all of retail, the Lauren family. I just felt it was my turn now to go create my dream, and so Dylan and I amicably decided to go our own way and to this day remain the closest of friends."
IT'SUGAR with an attitude
Then there was the decision of what to call his new venture. He wanted to use sugar in the name because he had already done variations of "sweet" at FAO and "bar" with Lauren.
"There's only three words you can use sweet, candy or sugar, so that left sugar," Rubin says. "Everybody in 2005, 2006 was telling me you cannot put the word 'sugar' on a storefront sign. And I was determined to keep asking and keep interviewing consultants until I finally found one that said it's OK. The sixth consultant I hired told me, 'I love it. Why would you hide from it? Why are you being apologetic?' … After my meeting with that person, I came away saying, not only am I calling this store, IT'SUGAR, but I'm going to gloat in it, bask in it."
The first store opened in Atlantic City in June 2006. The location was prompted by an angel investor partner. Rubin eventually found private equity to buy out the angel investor, leaving him with a 50-percent stake.
Rubin built the store network to close to 100 locations when Rubin was reintroduced to BBX Capital President Jarett Levan. Earlier, Levan was president of BankAtlantic and had sought IT'SUGAR's banking business.
"So Jarett Levan and I went and had a breakfast for $11.25, and the $11.25 breakfast led to a $57 million transaction," Rubin says, referring to BBX buying his company.
BBX has become a major player in the candy industry with Anastasia Confections, Droga chocolates, Hoffman's Chocolates and Williams & Bennett.
"I think I knew once I met Jarett at that breakfast, I could tell we shared the same passion for sweets. So, he was not just a source of capital, he loves sweets. He's got a sweet tooth like me," Rubin says.
BBX had acquired a lot of small, legendary candy makers, but it wanted to scale up more, Levan says. He calls IT'SUGAR the largest, most notable and most creative of the specialty candy retailers in the United States.
"We started talking to people in the industry and everyone wanted to sell products to IT'SUGAR," Levan says.
Rubin is a creative genius, Levan says: "He's a true candy man and he has a very strong component of creativity and business acumen."
IT'SUGAR has been cash-flow positive from its first year, which even funded the mammoth New Jersey location, but BBX brings a stronger balance sheet and the confidence the business can meet its financial targets, Rubin says. IT'SUGAR had $38.67 million in revenue for the first six months of 2019, up 6.5 percent, and a loss of $1.78 million before taxes, down 7.5 percent, according to a BBX SEC filing.
IT'SUGAR's growth contrasts with some of the failures rocking the retail world, but its "retail-tainment" approach fits with the emphasis on food and entertainment as part of the retail shopping center experience.
Second-tier malls have been particularly challenged, but less than 25 percent of IT'SUGAR stores are in malls or outlet stores. The majority are in lifestyle centers, anchored by movie theaters, bowling alleys, entertainment facilities and restaurants. IT'SUGAR also has locations in vacation destinations, including Key West, the Las Vegas strip, Baltimore's Inner Harbor, Atlantic City, San Francisco's Fisherman's Wharf, Universal CityWalk in Orlando, and Chicago's Navy Pier.
"I like places where the average consumer has had 2.2 glasses of wine. Those are always our best places," Rubin quips.
Levan says all three types of the IT'SUGAR locations are profitable and some of BBX's Sweet Holdings companies make products for it.
IT'SUGAR doesn't make its own products, but it is known for a wide array of offerings, gigantic packages and exclusive flavors of well-known products.
"When you walk into American Dream, there's over 5,000 square feet of pick-and-mix candy," Rubin says. There's every flavor of Pez candy, and a table with every different kind of candy corn.
"We have another table that's 14 different flavors of malt balls. I think we have 11 different flavors of M&Ms. Not colors, because there's a lot of people that sell the different colors of M&Ms," he says.
At American Dream's Oreo TWISTiD, "we'll be selling all the Oreo merchandise, Oreo cookies and, of course, every kind of Oreo dessert you could ever imagine highlighted by a create your own Oreo ice cream sandwich area," he says.
Rubin marvels how Morning Consult Brand Intelligence rates the venerable Oreo brand fifth among the top five Gen Z Brands, after Google, Netflix, YouTube and Amazon.
IT'SUGAR also has had fun with celebrity branding, such as a Sugarpova brand with tennis star Maria Sharapova, Beast Mode chocolate bars with the Seattle Seahawks Marshawn Lynch, and the Florida Panther's Vincent Trocheck (Trochex Mix) and Jonathan Huberdeau (Huby Duby Doo Snacks).
IT'SUGAR has a five-year collaboration with television's Saturday Night Live, which best matches IT'SUGAR when it comes to irreverence, Rubin says. "Our No. 1 item for five straight holidays has been Schweddy Balls [subject of a popular SNL sketch several years ago] and we're a proud creator maker and seller of Schweddy Balls along with Colon Blow [cereal, also subject of a popular past SNL sketch] and some other favorites."
The risqué nature of IT'SUGAR's offerings have included Donald Trump and Hillary Clinton toilet paper. Trump outsold Clinton, which prompts Rubin to joke about predicting presidential elections.
Is there anything too risqué even for IT'SUGAR?
"I don't there's a limit to me, but my wife puts a limit on me at times," Rubin quips. "If we can't laugh at ourselves, then it's a sad world." ♦