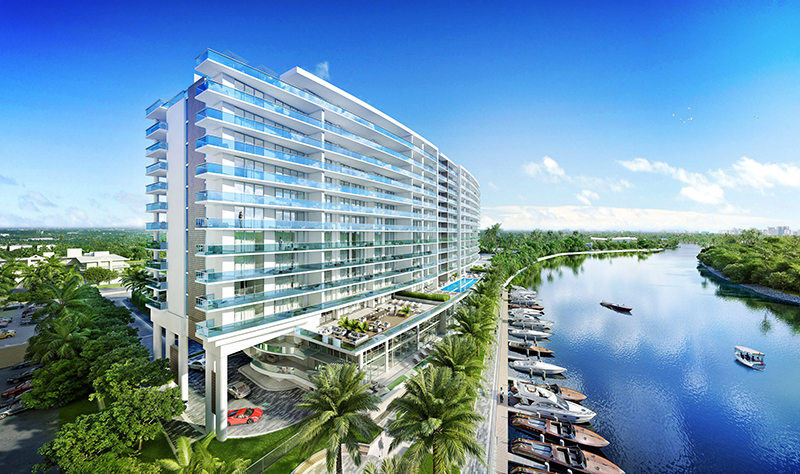 Luxury condos with docks promote the marine lifestyle
By Martin Lenkowsky
If you're looking to live an active marine lifestyle that literally begins at your doorstep, there's a growing trend in the Fort Lauderdale housing market that might be for you. A spate of luxury "boutique" condominiums are being built on the water with dockage space included for residents.
"This is what our business is all about," says Jean Francis Roy, head of Ocean Land Development. "Our projects are on the water. Our 'Aqua' series units come with boat slips. We're selling a lifestyle."
The oft-quoted 19th century saying, "Go west, young man," attributed to American author and newspaper editor Horace Greeley, today could be reversed locally. Roy and others in the developer and real estate market say buyers are coming east. "Most of our buyers come from big houses," Roy says. "A lot of them [40 percent] are coming from west Broward County, where there's no water. They want to move east to enjoy the water and simplify their lives."
Roy says another 40 percent already reside in Fort Lauderdale with the remaining 20 percent coming from South America. "They're all boaters and want to enjoy Fort Lauderdale," he says.
People crave a life on the water, says Dennis Stevick, a real estate agent and cofounder of DND Associates, which specializes in luxury real estate in east Fort Lauderdale. He agrees waterfront residences with dockage is a desirable commodity for many buyers. "Yes, there are different sections of the city that allow that," he says. "It's a big plus, especially for 'weekend' people who have a boat."
Stevick says just being on the water is a desirable thing. "I sold a house in Bal Harbour, and during every showing, manatees were coming by," he says.
He also notices many clients coming from landlocked west Broward. "When Friday afternoon comes, they just want to jump on their boat," he says, "and take their boats to restaurants and bars."
Having one's own docking space can help provide the ultimate in relaxation. "I have a client who, every morning, paddleboats from his home," he says. "It's kind of a Zen feeling when it's quiet at 6:30."
The Riva condo project on North Federal Highway, north of Sunrise Boulevard along the Middle River, is nearing completion, says developer Bradley Deckelbaum. "In a couple of months, people will start moving in," he says.
Being directly on the water is a magnet for those living out west, Deckelbaum agrees. "We had a generation that moved out west to raise their kids, and now they're coming back," he says.
Riva will offer 22 private boat slips for residents, accommodating boats up to 30 feet in length. Plus, there's a recreation dock for paddleboarders and kayakers. "We're on one of the most 'recreationally active' spots in Fort Lauderdale," he says. "It's always been a destination on the water where people come to play. It's on a long stretch of peaceful river."
South Florida Business and Wealth has compiled a list of some new or planned waterfront condo communities in Fort Lauderdale with dockage for residents:
• 321 At Water's Edge, 321 N. Birch Road; a private marina with 70-foot slips.
• 1800 Las Olas Condo, 1800 E. Las Olas Blvd.; each residence includes a complimentary boat slip.
• Aquablu Fort Lauderdale, 920 Intracoastal Drive; 35 modern residences with on-site boat slips.
• Aqualuna Las Olas, 20 Isle of Venice Drive; 15 boat slips.
• Aquamar Las Olas, 21-31-41 Isle of Venice Drive; 20 boat slips accommodating up to a 50-by-17-foot boat.
• Aquavita Fort Lauderdale, 60 Hendricks Isle; 22 boat slips, each accommodating up to 50-foot vessels.
• Aquavue Las Olas, 133 Isle of Venice Drive; eight boat slips for private vessels up to 50 feet.
• Palms on Venice, 161 Isle of Venice; every unit has a 52-foot boat slip.
• Riva Condo Fort Lauderdale, 1180 N. Federal Highway; 22 private boat slips for residents, accommodating boats up to 30 feet; recreation dock for kayakers and paddle boarders. ↵