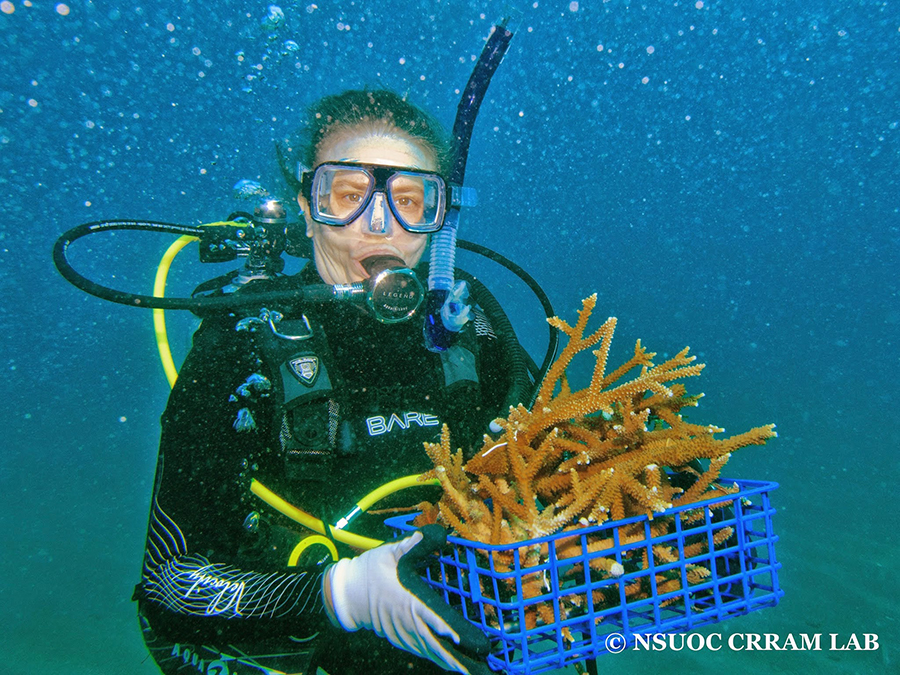 Marine research hub seeks transformational discoveries
Fort Lauderdale international Boat Show Special Section
South Florida, long known for its year-round warm weather, beautiful golf courses and world-class beaches, is sitting on a potential gold mine for marine research that could be a boon to both local universities and the business community.
As a result, a collaborative effort called the Marine Research Hub has been launched among four South Florida universities and four local business groups. The hub's eight founding partners are Florida Atlantic University, Nova Southeastern University, Florida International University, the University of Miami, the Marine Industries Association of South Florida, the Greater Fort Lauderdale Alliance, the Miami-Dade Beacon Council and the Business Development Board. Each of the university partners has an oceanography program.
Phil Purcell, CEO and president of the marine industries association, points to the coral reef right off the coastline as a potential source of medical treatments and breakthroughs. "Seventy percent of the earth is water," Purcell says. "We know more about space than we do the oceans."
Purcell says one of the hub's goals is to have South Florida seen as a world leader in marine research. Business leaders are hopeful research projects eventually will lead to successful commercialization by many industries. Plus, keeping our coral reefs and oceans healthy is vital to both tourism and real estate development.
Bob Swindell, president and CEO of the Greater Fort Lauderdale Alliance, sees the marine research hub as being a major player in South Florida's potential economic growth. He envisions the hub benefiting the area in numerous ways.
"As it raises the visibility, reputation and prestige of South Florida's oceanographic research institutions, it will help facilitate the growth of university research and the transfer of technology into marketable goods and services," he says. "We believe we'll see additional students pursuing marine and oceanographic programs and degrees, and that it will help our universities attract the best professors in the fields of marine and oceanographic study.
"We also anticipate companies being eager to partner with universities as they learn about the work they are doing, resulting in commercialization of research. This will ultimately grow companies and jobs in South Florida."
Howard Greenberg, chair of the marine research consortium, sees unlimited opportunities ahead.
"Our objective is to create an unprecedented collaboration between universities and corporate partners," he says. "We want to create industry and create economic growth. We see a lot of potential."
He says there is a small amount of commercialization resulting from the area's marine research, but he expects a lot more to come. "We're just tapping it now," he says. "We want to promote the hub," he says. "We want to brand ourselves as the top research hub in the world."
Greenberg says the marine research hub includes a memorandum of understanding all the partners have signed. He points out the important fact the Office of Program Policy Analysis and Government Accountability, the research arm of the Florida Legislature, has given its support and approval to the project. "This means the state has given us their Good Housekeeping seal of approval," he says. "They confirm the strength of the marine industry in South Florida."
He says this will lead to more funding and guidance in their efforts. He adds that as the industry grows and develops, it will attract more highly trained and skilled workers. He says the combination of research and commercialization will create its own ecosystem.
"The key word is collaboration," Greenberg says, "between the universities and their partners. We've inventoried several hundred [ongoing] research projects among the universities. We don't need to create a hub. It's here. This industry is here. We just need to promote it and publicize it worldwide. We want to raise our visibility, to create the highest level of prestige. Our marine research potential is unmatched anywhere in the world. Everybody sees that potential. It helps the ecology. It helps South Florida. It could open the door to more research and funding. It all starts with collaboration."
Greenberg is delighted to talk about some of the many fascinating research projects already underway. He says one can go to FAU's Harbor Branch research facility in Fort Pierce and taste a salad made with sea asparagus. Some other areas of ongoing research at local universities are growing shrimp and algae, as well as coral that's immune to disease.
Keeping South Florida's coral reef alive and well is one major goal of researchers. The reef extends from Martin County to the Florida Keys. "We're doing a lot of research on our coral reefs," says Richard Dodge, dean of Nova Southeastern University's Halmos College of Natural Science and Oceanography. "That's one of our specialties."
Dodge says local reefs are under stress and suffering from disease. "We're trying to stop the disease spread," he says. "Coral reefs are valuable. They perform a great service to people. They provide us with fish and are wave and tidal surge buffers from hurricanes and storms. The diving and recreation industries are huge. A reef damaged by a storm can be repaired and protected."
At the University of Miami's Rosenstiel School of Marine and Atmospheric Science, researchers are using the latest technology to enhance knowledge of genes, gene expression and genetic adaptation, thereby learning how animals work, evolve and adapt. Studies on several fish species are providing new insights into why genes are important to human health. Additionally, the school is actively involved on research in shark conservation.
And, yes, sea asparagus is just one of the many aquaculture—or aquafarming—products being researched and grown at FAU's Harbor Branch Oceanographic Institute in Fort Pierce.
"We do a lot of aquaculture research here," says Executive Director James Sullivan. "We work on anything from growing sea veggies to stock restoration. We're restocking the bonefish population in the state. Its population has been declining and it's a really big sports fish."
He says aquaculture has great potential for commercialization. In fact, the organization already has contracted with two firms. He says researchers are looking for better, more-efficient ways of growing shrimp, shellfish, sea vegetables, as well as pompano and redfish. "Aquaculture is not harmful to the environment," he says. "Fifty percent of our seafood comes from aquaculture, which has huge commercial potential. The U.S. has only a small percentage of the world market." ♦