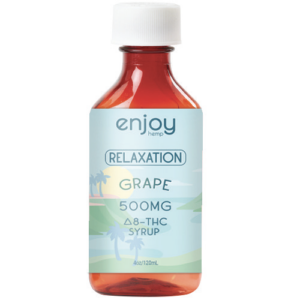 Since launching earlier in 2021, Enjoy Hemp has continued to produce cannabis products centered around providing the customer with detailed information on how the commodity was derived and its effect on the user. The company recently launched Delta-8 THC Syrup to further its offerings. The syrup transforms any beverage into a high-potency, THC-infused and flavor-enhanced experience. By focusing on hemp-derived products, Enjoy Hemp's Delta-8 THC products are designed for customers to "enjoy life" how they choose.
"Having launched Enjoy Hemp at the beginning of 2021 with great success, we are excited to launch our Delta-8 THC Syrup," says co-founder Adam Levit. "Normally, cannabis products are sold as strains and flavors that don't provide the consumer much background about the product. We listened to customer demand and created products that are centered around the effects and experiences that customers are looking for."
Enjoy Hemp offers only vegan, all-natural and gluten-free products that are entirely third-party laboratory tested for potency and purity to produce a potent and all-natural Delta-8 THC experience. 
Each syrup bottle is infused with 500mg of Enjoy Hemp's Delta-8 THC and comes with approximately 13 servings of 40mg per dose. Utilizing water-soluble nanotechnology, Enjoy Hemp's syrup absorbs up to five times faster than other Delta-8 THC products. Users can feel the effects in as little as 15 minutes, lasting up to six to eight hours. The syrup can be ingested on its own or infused with any beverage, including cocktails, water and exotic sodas. Enjoy Hemp's products are manufactured in Bend, Oregon, with the state's climate and agricultural setting providing optimal growing conditions and are derived from 100% USDA Organic Hemp.
"What makes Enjoy Hemp unique is our dedication to transparency and our accessibility to our consumers," says co-founder Jordan Shidlofsky. "Enjoy Hemp is the only syrup on the market that's designed to allow consumers to choose how they want to enjoy life with our Relaxation or Uplift blends! Plus, the effects of our products are easily identifiable on our packaging for the consumers who may be overwhelmed with the dispensary shopping experience or know how they want to enjoy life."
To ensure transparency to its customers, Enjoy Hemp's products are third-party laboratory tested by certified independent laboratories and have a Certificates of Analysis (COA) correlated to the lot number of each product. The company tests every product for cannabinoid and terpene content, heavy metals, pesticides, residual solvents and microbials.
Delta-8 THC ("Delta-8") is a cannabinoid derived from either hemp or cannabis. Delta-8 is a cannabis compound that has become popular because of its similarity to Delta-9 THC, the main compound in cannabis that may cause euphoria, happiness, sedation and other psychotropic effects without the adverse side effects such as paranoia or anxiety.
Enjoy Hemp is the brainchild of Levit and Shidlofsky, two friends who met while attending Florida State University and later attended law school at Florida International University. Five years after graduating from law school/while practicing law, they launched Lunchbox Distribution and Lunchbox Alchemy CBD, distributing and offering full-spectrum and broad-spectrum CBD made with the finest, all-natural and organic ingredients. In 2021, Levit and Shidlofsky launched Enjoy Hemp to create products that promote "enjoying life" and continue to be partners in the business.