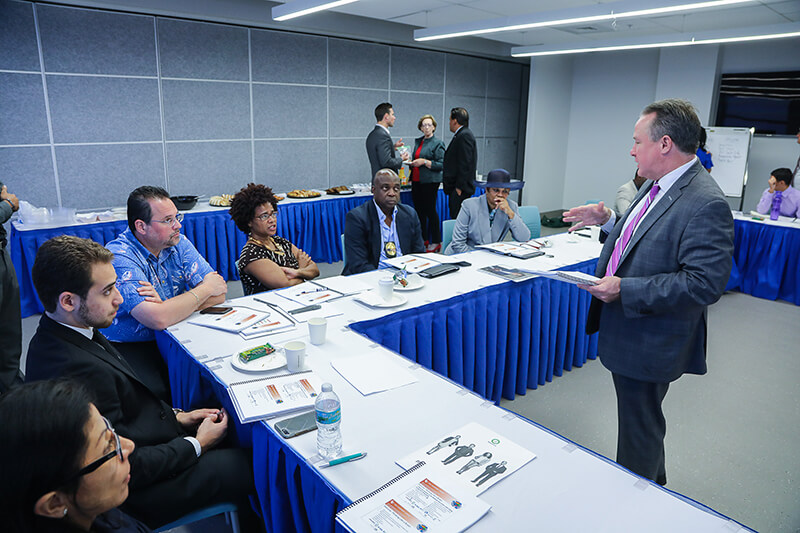 Miami Entrepreneurs Work on Management Skills at CEO Leadership Forums
By Alma Kadragic
Miami-Dade Beacon Council is a founding sponsor of the program, which is free to CEOs. Sheri Colas-Gervais, vice president of urban development and economic initiatives, spoke about Beacon's support of small business through its Small Business Committee—several of the participating CEOs are members.
As the expert presentations began, Russell Slappey, CEO of Nperspective CFO & Strategic Services, made the key point of the entire session: "You always have to be ready to sell your company," he said. "You may be only a year old, but if someone wants to buy, you need to know what your company is worth."
From Slappey, the CEOs learned tips about valuation. They then worked on an interactive exercise to understand valuation from both sides: buyer and owner/seller.
Maria Palomeque from staffing company AppleOne and another founding sponsor of the forums in Miami discussed the importance of employee satisfaction and the price paid by an entrepreneur who must replace a manager. The cost—without moving fees—can reach $125,000, making a strong case for more training rather than hasty firing.
The final presenter, founding sponsor Jody Ann Johnson of Action Coach, focused on "the secret sauce of engagement," or the art of fascination. She outlined the importance of working on personality because "anyone can learn to be fascinating," even though people tend to think that being fascinating is something you're born with. Like so much else in business and life, fascination is related to training and practice.
The next workshop is Sept. 19 at the Idea Center of Miami Dade College. To register, visit ceoleadershipforums.com.