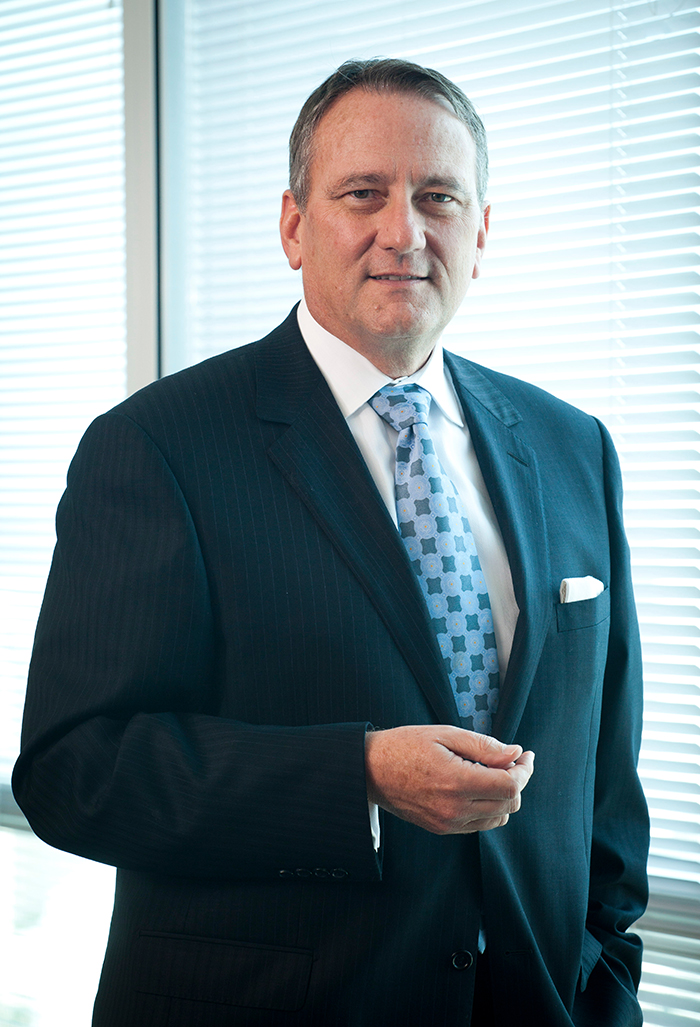 More Growth Ahead
Sabadell United is on track to do $1 billion in new loans this year and looking at more acquisitions, President Dwight Hill says.
Over the last five years, Sabadell United has emerged as a major force in Florida banking with organic growth and a series of mergers. It has 26 branches and 40,000 customers. The bank had a $7.8 million profit for the second quarter, up from $7.1 million in the first quarter, and assets hit $4.9 billion, up from
$4.7 billion.
For three decades, Hill played a key role as a senior executive at Sabadell United and its predecessors; he was promoted to president in March. He also has a long history of community involvement that includes being chairman of the American Red Cross of Miami and of the development committee at Carrfour Supportive Housing and being on the boards of Friends of WLRN and the Florida Bankers Association.
Sabadell United is part of Spain's Banco de Sabadell, which reported a profit of $194.74 million in the second quarter, up 53.7 percent from the previous year. In addition to Sabadell United, Banco de Sabadell also has an international bank based in Miami.
One reason Sabadell United can grow aggressively is its strong capitalization, as indicated by a top five-star rating from Bauer Financial. One area the company is targeting is residential lending, which can require educating customers and real estate agents. "It was perceived by many of our international buyers that they couldn't get financing in the states – that it was complicated and it was expensive," Hill says. The bank is currently doing about $300 million in new residential loans with an average size of $1 million.
Another part of Sabadell United's growth strategy is turning transactional relationships into broader relationships, Hill says. The bank includes a private wealth practice that stems from the acquisition of Lydian Private Bank
in 2011.
Hill says that entrepreneurial clients with small- and medium-size businesses are another target for the bank.
Amid all the questions about Latin America's economy, the bank is bullish on Colombia, Peru and Mexico. In early August, Banco de Sabadell obtained a license for a freestanding bank in Mexico; Hill says it would like to do so in Colombia and Peru as well.
The biggest growth on the international side last year came from Venezuela, Hill says. Most of the money didn't come from Venezuela directly, but via other Latin American nations or financial institutions. He's hearing that most of the wealth has already left the country and there's less volume coming out now.
Sabadell United is working on EB-5 investment products, including those for immigrants from Brazil, which faces political issues, a lower currency and a drop in commodity prices.
Hill says, "Political and economic instability in our Latin American neighbors can be very beneficial to South Florida." ?
Banco de Sabadell in South Florida
1990: Banco de Sabadell opens an agency office in Miami.
2007: Sabadell acquires Miami-based TransAtlantic Bank.
2008: Sabadell acquires BBVA International private banking business in Miami.
2010: Sabadell acquires Miami-based Mellon United National Bank.
2011: The renamed Sabadell United Bank acquires Palm Beach-based Lydian Private Bank to launch Sabadell Bank & Trust.
2012: Sabadell United becomes Florida's sixth-largest bank as measured by deposits.
2013: Sabadell United acquires Lloyds TSB Bank PLC's private banking business in Miami.
2014: Sabadell United acquires JGB Bank of Miami.