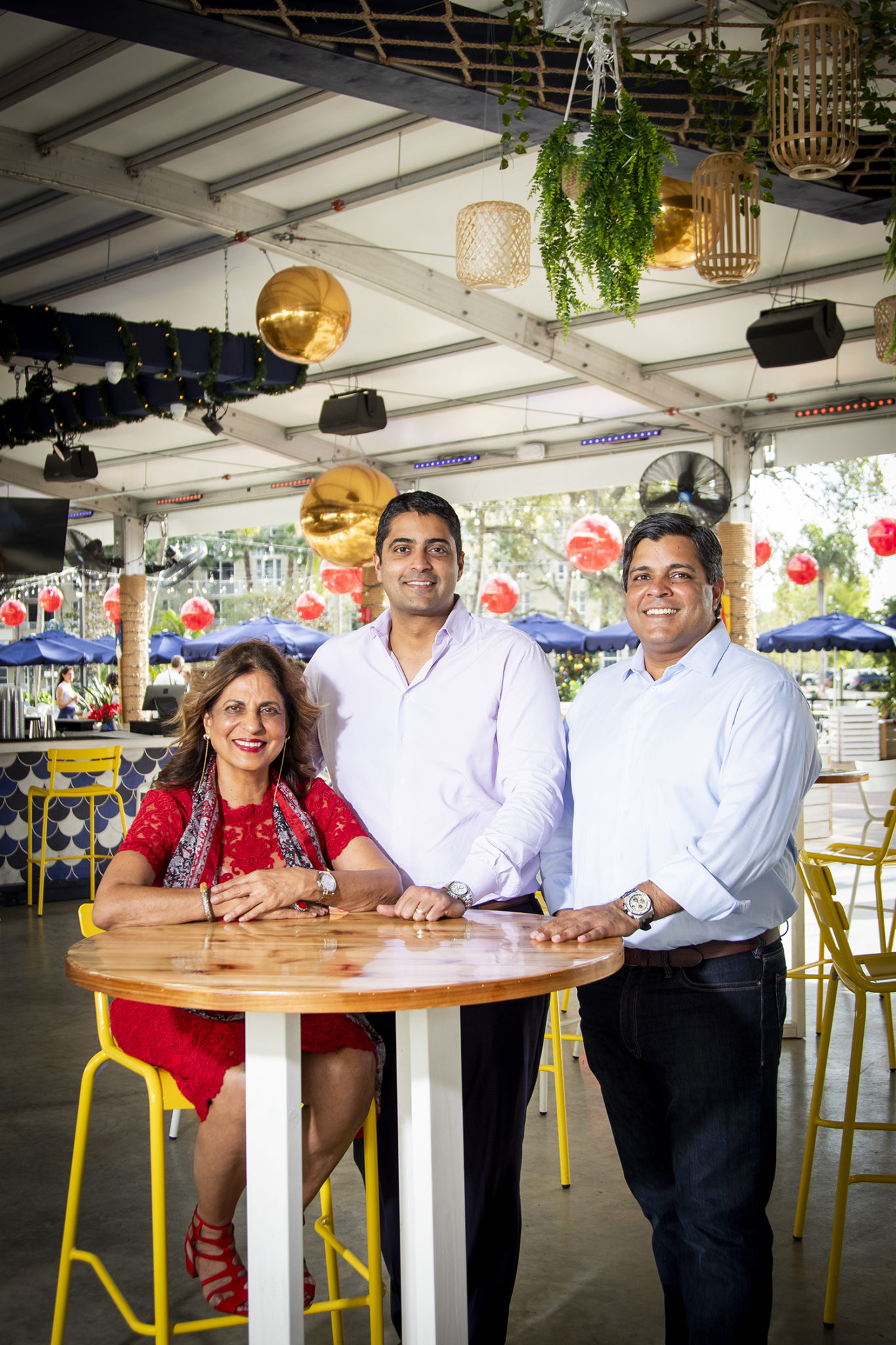 Motwani family's contributions go far beyond the beach
The Motwani family has an increasing role in South Florida's hospitality and development industries, but it also is marking the 25th anniversary of patriarch Ramesh "Bob" Motwani's death by fostering more hospitality education.
The family recently held a fundraiser at the Conrad in Fort Lauderdale and raised $300,000 for the R. Motwani Family Academy of Hospitality and Tourism Management at Broward College. It's the first named academy at the college, aimed at preparing students for careers in those industries.
SFBW caught up with Ramola Motwani and her sons, Nitin and Dev, at The Wharf in Fort Lauderdale and at the Rivertail restaurant next door on the New River.
The Motwanis' current business strategy parallels their initial success on the beach: Find opportunities in neighborhoods poised for improvements and redevelopment.
The Motwanis moved to Fort Lauderdale in the mid-1980s, seeking a better climate for Bob, who had scleroderma, an autoimmune disease. The beach was still known for spring break and had crime problems at the time.
The Motwanis thought it could be transformed and started accumulating land that is now home to some of the beach's top hotels and condos: the Conrad Fort Lauderdale, Paramount Fort Lauderdale, the Gale Hotel and the upcoming Four Seasons. Bob became active in civic affairs, a tradition that continues in the family.
Ramola remembers him saying, "God willing, someday somebody like Hilton will be here." It ended up not just being a Hilton, but its upscale Conrad brand.
Ramola long has supported Broward County high school's hospitality program and wanted to help higher education. Dev Motwani is on the Broward College Foundation board and the family realized the college's hospitality program needed a bigger champion. She envisions a speaker series and internship opportunities.
"When you talk about the hospitality industry, oftentimes, hotels come up, but now every industry is a hospitality industry, because it's all about customer service and how you treat that person," Ramola says.
Current projects
The demise of Las Olas Riverfront, a mixed-use entertainment complex, had left a big hole in activity along Riverwalk, but now the Motwanis and their partners are activating the north side of the New River from Andrews Avenue to the Florida East Coast Railway.
Rivertail is in leased space in front of 4 West Las Olas, a 25-story, 261-unit project being developed by Elevate Partners. One of Miami's top chefs, Jose Mendin of Pubbelly Sushi and La Placita, has brought his chops as a five-time James Beard Award Best Chefs in America semifinalist.
The Motwanis sold off one Riverfront parcel for PMG's X Las Olas. The project's first phase of 650 micro-units and co-living spaces will open this year.
"We just felt like that was the right product for this his area being actually in the midst of the entertainment district, next to the Himmarshee district," Dev says. "We actually kept the retail in that project so that we could control the type of clientele that we brought in to make sure we really activated the area."
Two tenants have been announced at the PMG project. One is Matchbox, which started in Washington, D.C., and has grown to 11 locations featuring wood-fired pizzas, miniature hamburgers, fresh salads and chef-inspired entrées. The other is Big Buns Damn Good Burger Co., a fast-casual burger concept from Arlington, Va., that serves burgers, burger bowls, shakes, craft beer and other alcoholic beverages.
There's about 11,000 square feet more of retail for lease, which is being handled by Tricera Capital, which is a partner on the retail space.
The Wharf has emerged as the riverfront partying space for downtown and Flagler Village. It covers 1.25 acres with a 6,000-square-foot canopy, 20 bar stations, room for 600 patrons and an impressive high-quality sound system. Expect lines to get in on the weekends.
Dev Motwani says he visited The Wharf on the Miami River and thought it would fit the New River location since he planned to hold off on more permanent development.
"This area is the heartbeat of our Riverwalk, and when it went down before we bought it, and while we owned it, the foot traffic on the Riverwalk suffered, so we wanted to make sure whatever we did activated it gave and gave it that heartbeat," he said.
Nitin long had known Rodney Barreto of Prime Strategies, who partnered on The Wharf in Miami, and they also brought in Emi Guerra of Breakwater Hospitality and MV Real Estate Holdings' Alex Mantecon, who own and manage the Miami site.
A few blocks north of The Wharf is Flagler Village, another neighborhood in which the Motwanis have been active. They own the 202-room Flagler Village hotel, which is a dual-branded Hilton Hotel (Tru and Home2 Suites) that's opening this year. They sold the site for the ORA Flagler Village Apartments to Fairfield.
Nitin, who is managing member of Miami Worldcenter Associates, which has Art Falcone as founding principal, helped develop the Rise apartment building in Flagler Village. (See the January issue for more on Worldcenter.)
On the beach, the Motwanis have plans for a boutique condo building with 21 units and 11 stories at 530 N. Birch Road, but they are waiting for sales on other projects in the neighborhood to settle before starting.
Dev Motwani says the next hot spot is south of the New River. The family is developing the 34-story 629 Residences, which has been approved for 246 units at 629 SE Fifth Ave., a block south of the parking garage for the county courthouse.
In Pompano Beach, the family just opened Broadstone Oceanside, which has 211 luxury apartments on the Intracoastal Waterway. It also has approval for a 92-unit, 28-story condominium, but hasn't started sales yet.
In Plantation, it bought the Sawgrass Inn, which has approval for 306 units in six stories at 1711 N. University Drive. That's across from the Magic Leap headquarters.
In Dania Beach, it bought the site of the former Pirate's Inn at Federal Highway and Dania Beach Boulevard. The family plans to break ground this year for a 306-unit, mid-rise apartment project.
Dev says Dania Beach is poised to go through a development spurt similar to the one that's been happening in Pompano Beach.
"We like the fact that we've grown up here, we're local, and kind of see where the path of growth is," Dev says. "And so, we went north naturally as Fort Lauderdale kind of extends north. Nobody really thinks of Pompano [Beach], if you're from out of town. We don't think of it as being a different market and they were doing a lot of great things to enhance that area. Similarly, we saw the same activity in Dania Beach."
So what would Bob Motwani's reaction be, if he could see what the family has done since his passing?
"I think he'd be pretty impressed with how far Mom's taken the vision, kind of going above and beyond," Dev says. "The Four Seasons just takes the whole market to another level."
Ramola says, "Bob certainly would be proud of his sons. I am."♦
A leader in Sindhi culture
Reading through Ramola Motwani's biography shows an array of leadership positions during her career, ranging from chairwoman of United Way's Mayor's Gala, serving on the advisory committee for the Business Improvement District on the beach, chairman of the beach redevelopment advisory board, board member of the Florida Restaurant and Lodging Association, and serving on the Florida Commission on the Status of Women.
What makes her unique among women business leaders in South Florida, though, is her leadership in the global Sindhi community. ("Sindhi" is pronounced like the name "Cindy.")
She has served as president of the Alliance of Global Sindhi Associations and the Sindhi Association of South Florida and a treasurer of the Global Sindhi Foundation.
The backstory is, her family came from the state of Sindhi, which became part of Pakistan when India got its independence in 1947. Many Hindu Sindhis, including her family, migrated to India when their state became part of a Muslim country.
Her parents lost their business interests and left with just their suitcases, she says. However, they managed to rebuild their business holdings with cinemas and a timber business.
Ramola earned a law degree from the Government Law College in Mumbai and began her business career in the United States with an import/export business that she and Bob launched in St. Charles, Missouri.
Ramola said she became passionate about Sindhis because they are scattered all over the world and generally started off in business with nothing.
"Now they have all the ownerships of all these duty-free shops and have been very successful, worldwide," she said.
Nitin Motwani describes the Sindhi culture as entrepreneurial, with an ability to assimilate in other communities, whether in the Caribbean, Canary Islands, Dubai, Africa or throughout the United States.
Sindhis particularly are known for operating hotels.
Nitin says Sindhis prospered by running their hotel businesses efficiently by involving family members and were attracted to the cash flow nature of the businesses.
The Motwani family added a twist by anticipating and fostering a transformation of Fort Lauderdale Beach that would make their properties more valuable.