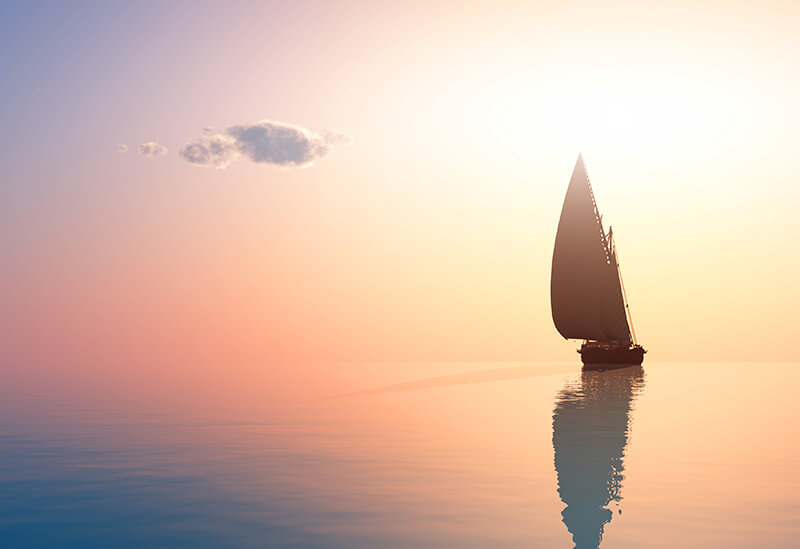 One is Better Than Two
Sail joins power at Miami International Boat Show
By Martin Lenkowsky
Sailboats and powerboats at the same venue will highlight the 77th 2018 Progressive Insurance Miami International Boat Show, Thursday, Feb. 15, through Monday, Feb. 19, at Miami Marine Stadium Park and Basin.
Both the boat show and the Progressive Insurance Strictly Sail Miami show will share the spotlight for the first time. Boaters and sailors alike will have the opportunity to browse, board and buy from a selection of more than 1,400 boats in the water and on land at the show's Virginia Key location. Strictly Sail Miami previously was held at the Miamarina at Bayside the same weekend as the Miami International Boat Show.
"The decision to combine these two world-class events is due in large part to feedback from sail and power exhibitors as well as attendees, for a single, streamlined experience that encompasses all the boating industry has to offer," says Larry Berryman, manager of the Miami Boat Show. "We've built the ideal, most-picturesque boat show venue at Miami Marine Stadium that's perfect for both power and sail, and bringing these two shows together will, without a doubt, deliver the ultimate boat show experience."
Another plus: No more worries about transporting visitors back and forth from two separate locations. Organizers expect as many as 100,000 boating enthusiasts from all across the globe.
Making its U.S. debut will be the Ferretti Group's Navetta 33. This 108.3-foot introduces considerable technical advances to the series, as well as bountiful space.
Yacht and brokerage retailer MarineMax will have many displays, including the North American debut of the 2018 Azimut Yachts Grande 27 Metri Wide Body.
More than 50 sailboats, including catamarans and monohulls, will be at Pier 9. Sailing exhibitors will showcase gear and accessories in Sailor's Cove, inside tents F and J. The cove will host daily seminars presented by top sailors, along with meet-and-greets with well-known sailing experts.
The show is expected to have an $854 million economic impact statewide.
"Boating and the Miami Boat Show are big business for Florida, bringing visitors, sales and revenue from around the world to our state each February," Berryman says.
Berryman also is excited about this year's enhanced and elevated VIP Experience. "We have an exclusive VIP lounge and outside patio deck with all-inclusive food and beverages," he says. "It's an area attendees can sit down and enjoy the show at a different level."
This is the third year for the show since it moved to its current Virginia Key location, and the marina has expanded to 700 boat slips—up from 420 the first year. Berryman says there will be more than 150 yachts 40 feet and longer. That's up from 100.
In addition to the Miami International Boat Show, the 30th annual Miami Yacht Show will be held simultaneously, on Collins Avenue in Miami Beach, across from the Fontainebleau and Eden Roc hotels. This display of new and used vessels covers more than 1.2 million square feet, from 41st to 54th streets.
The show will feature extraordinary yachts and super yachts from custom builders, as well as a new layout and design at its Indian Creek Waterway location. Transportation between both shows is available from the Miami Yacht Show's bus stop at Collins Avenue and 44th Street directly to the International Boat Show from 9 a.m. to 5 p.m. daily.
Boat show organizers describe Kevin Murphy as their "go-to" guy when it comes to sailing. For more than 20 years, he managed Strictly Sail Miami for the National Marine Manufacturers Association. He also is pleased with the decision to combine both shows.
"Combining the shows is a great way for new people to look at sailboats," he says. "It'll have luxury. It's clean and quiet. You'll have everything in one place."
For some in the community, the boat show is more than an opportunity to see and buy the boat of one's dreams. Mahogany Youth Corporation, a Miami-based nonprofit organization, aims to get disadvantaged youngsters into fishing and the environment as a way of life. It has been involved with the show for more than six years, says Kathleen Elliott, the organization's vice president of operations.
"They give us support. They support us with an opportunity to raise money," she says.
Elliott, whose husband, Robert, is the organization's founder and director, says the boat show provides a space in which to operate. "As you come in, we're very visible," she says. "We sell raffle tickets and tell people about our organization. We have environmental information there. The kids get involved, inspired and motivated."
For information about the organization, visit mahoganyyouth.com ♦
Sailing industry undergoing changes
By Martin Lenkowsky
The lyrics of "Sailing," the timeless 1980 song from singer-songwriter Christopher Cross, say it all: "And if the wind is right, you can sail away and find tranquility. Oh, the canvas can do miracles, just you wait and see. Believe me."
In this day of high-tech powerboats coming in all shapes and sizes, what makes Mother Nature's power source—the wind—still so appealing to some mariners?
"It's quiet, green and peaceful," says Kevin Murphy, who, for more than 20 years, managed the Strictly Sail Miami Show for the National Marine Manufacturers Association. "Sailing is good, quality time."
Sailing makes up only about 5 percent of the marine industry worldwide, Murphy says. However, South Florida's prime location and climate appeal to boaters who prefer sailing. "Florida is the gateway from the U.S. to the Caribbean," Murphy says. "A lot of boats here go to the Caribbean for charter."
Murphy says the sailing industry has taken a hit for a variety of reasons. High insurance costs, recent hurricanes and economic factors all have been contributing factors. But, Murphy says, the sailboat charter industry is doing well. He says some boaters enjoy traveling to foreign ports and chartering sailboats, often with captain and crew. "That's very hot right now," he says.
Midsize sailboats aren't as popular as they once were, he says, but things are looking up for smaller vessels. "There's been a surge in small-boat sailing," he says, "and that's a good sign for younger kids getting into sailing. Catamarans are doing really well."
Sailing requires more skill than simply turning on an engine, and Murphy says that knowledge often is passed down the generations. Many of today's sailboats come equipped with technology to make sailing easier, but some old-school sailors prefer doing things the traditional way. "They're just tools in the tool box. You don't have to use them," he says. "An old-time sailor enjoys the bad weather and struggling with the wind."
Staley Weidman, a licensed yacht- and ship broker and CEO of the Catamaran Company's yacht sales division, says the catamaran market has seen huge growth in the past five years. "We're selling newer and larger catamarans," he says. "There's a great variety of products available. There's a lot of innovation in terms of design and use of space. There's now more interior living space."