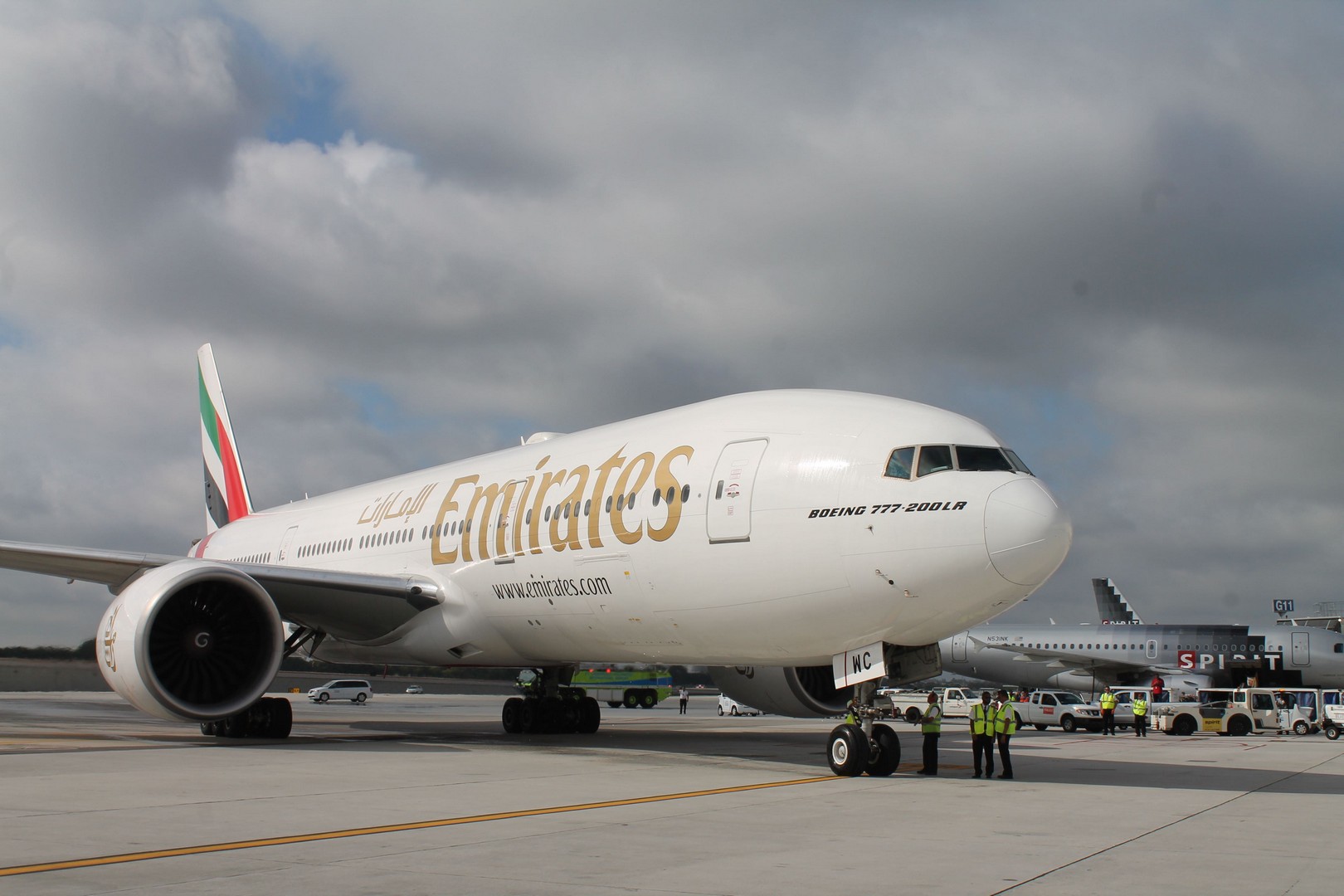 Emirates Airline starts FLL service
Fort Lauderdale-Hollywood International Airport (FLL) hit a major milestone Thursday with the arrival of the first daily Emirates Airline flight from Dubai, United Arab Emirates.
Water cannons from airport fire trucks greeted the Boeing 777-200LR aircraft as it landed and taxied up to terminal four at 10:40 a.m. on Thursday.
The flights are expected to foster travel and business flights to not only the Middle East, but Europe, Africa and Asia.
"Emirates is a premier airline that serves 154 destinations in 82 countries across six continents," said Mark Gale, FLL's CEO and director of aviation for Broward County. "We are now connected to the world through FLL like never before. This is a game changer."
Gale said the flights' economic impact has been estimated at nearly $105 million annually and help support 1,000 existing and new jobs.
Broward County Mayor Barbara Sharief said Emirates is helping make FLL a truly international airport and repeated a quip that she overheard: "FLL had scooped Miami" by adding the service.
Hubert Frach, Emirates senior VP of western operations, said the initial flight was 80 percent full and the airline has strong bookings in the holiday season.
Emirates says travelers from FLL will have rapid connections in Dubai to cities such as Bangkok, Phuket, Kuala Lumpur, Singapore, Amman, Bahrain, Beirut, Dammam, Doha, Ahmedabad, Bengaluru, Mumbai, Delhi, Hyderabad, Chennai, Islamabad and Lahore.
Emirates also had a code sharing agreement with Jet Blue, which has been rapidly expanding its hub at FLL.
Emirates' daily flight EK214 will depart FLL at 8:20 p.m. and arrive in Dubai (DXB) at 7:40 p.m. the following day, with a flying time of 14 hours and 20 minutes. The return flight, EK213, will depart at 3 a.m. Dubai local time and arrive at FLL at 10:25 a.m.
Dubai is a major global tourism and business center with attractions such as Jumeirah Islands, an aquarium, an indoor mall with a ski slope and the Burj Khalifa, the world's tallest building at 2,717 feet.
Emirate's Fort Lauderdale services has eight private first class suites, 42 business class lie-flat beds and 216 economy class seats. Emirates was ranked the world's best airline in the 2016 Skytrax Awards.
The first class private suites come equipped with a sliding door for privacy, a minibar, adjustable lighting, a vanity table, a mirror and wardrobe. The suite seats convert to a fully flat bed with a mattress. Adjacent seats can be combined by the lowering of a privacy divider.
Business class seats include a 20-inch TV screen.
Emirates' inflight entertainment system offers more than 2,500 channels of on-demand entertainment at every seat. The Skytrax awards ranked Emirates first in this category.
Passengers also have access to Emirate's AeroMobile system, which allows use of personal cell phones to make phone calls and exchange text messages.
The airline is also known for regionally inspired dishes, complimentary wines and children's menus and activities. First class and business class passengers may travel to and from airports via Emirates complimentary chauffeur-driven service.
Emirates has carried more than 14 million passengers on U.S. flights since launching services to New York in 2004. The airline currently serves 11 U.S. gateways – FLL, Orlando (MCO), Chicago (ORD), Boston (BOS), San Francisco (SFO), Los Angeles (LAX), Seattle (SEA), Dallas (DFW), Houston (IAH), Washington (IAD) and New York (JFK), as well as operating a trans-Atlantic route between JFK and Milan and freighter services to Atlanta and Columbus. Emirates SkyCargo transports up to 650 tons of U.S. exports each week – including auto parts from New York, apples and cherries from Seattle, and oil and gas equipment from Houston.