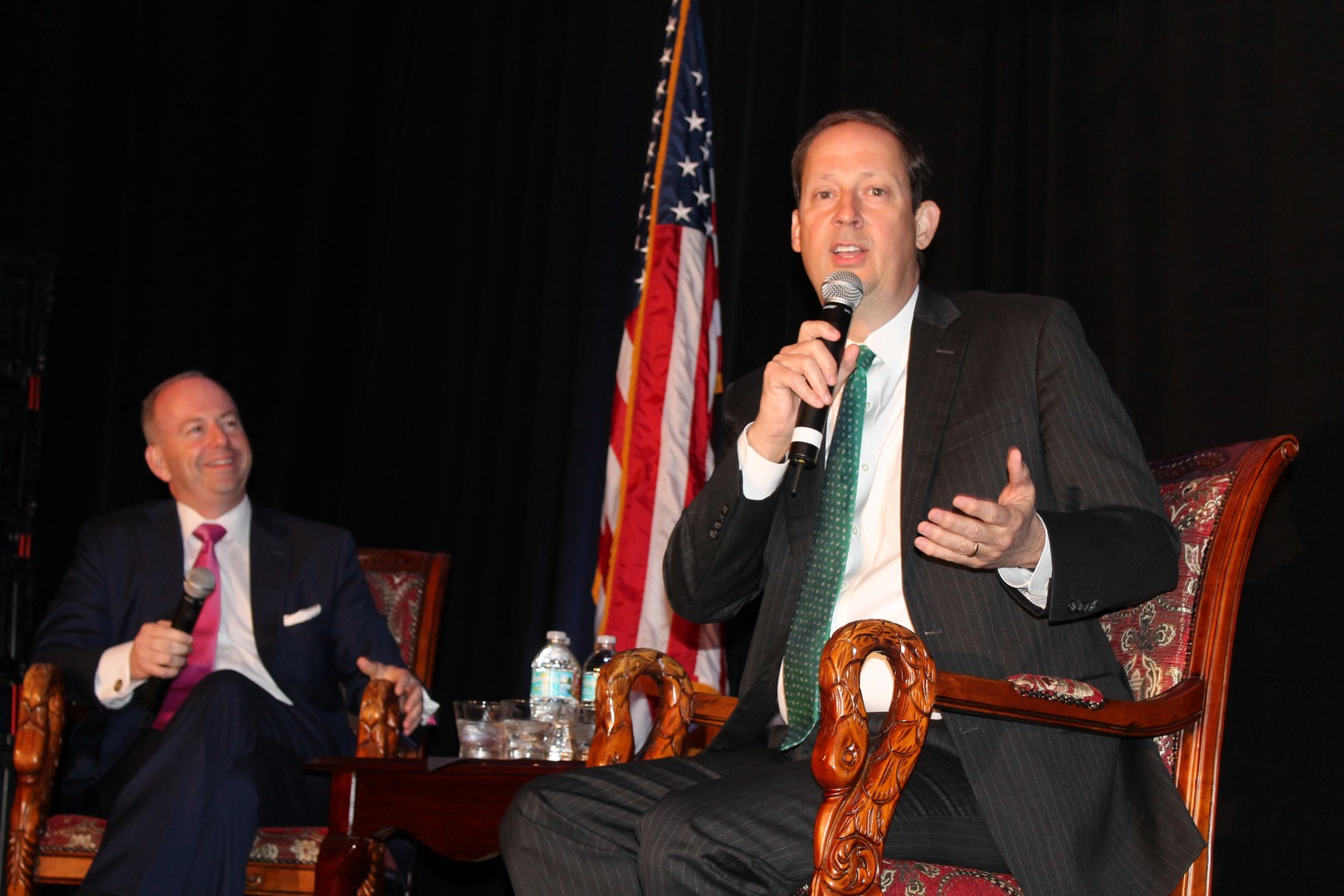 Upcoming Florida senate leader Joe Negron shows sense of humor
State Senator Joe Negron (R-Palm City), who is president designate of the Florida Senate for the 2016-2018 term, told an amusing anecdote about a teen-age prank to make a point about a serious issue.
Negron talked about key legislative priorities during the eighth annual State of the County forum held by the Broward Workshop.
In 1980, Negron recounted how he was growing up in Hobe Sound and supporting Ronald Reagan in his primary quest against George H.W. Bush. The Bush family had a home on exclusive Jupiter Island, which has simple white signs with families' last names, Negron said.
"I thought it would be funny, a friend and I, to put a Reagan sticker over the Bush name both ways," Negron said. For good measure, they also put a few more Reagan signs around the island.
Full of adrenalin after accomplishing his sneaky mission, Negron said he answered, "Ronald Reagan headquarters," when the phone rang at home, only to find the caller on the other end was a lieutenant from the Jupiter Island Police Department.
"You are on video. You went onto the Bush property and he start recited all the things I did wrong," Negron said. He quickly complied when the lieutenant gave him 40 minutes to come back and clean everything up.
Looking back on the episode, Negron said he could have been charged with trespassing, defacing property and criminal mischief – not something he would wanted to explain later when he joined the Florida Bar.
Negron got applause when he came to the point, "We should not and will not tolerate serious wrongdoing, but at the same time let's not criminalize adolescence."
Negron didn't elaborate on what laws are needed, but the state has moved to decriminalize teens caught sending explicit pictures to each other,
Talking about other legislative priorities, Negron said he wants Florida's universities rank with national elite state universities, mentioning the University of North Carolina, University of Texas at Austin and the University of Michigan. He was getting ready to visit all 12 of the state universities. He credited Florida Atlantic University with dramatically improving the graduation rate.
He wants to work on the environment, mentioning a bill to restore the Everglades that was just passed, which provides $200 million in funding plus another $50 million to clean up the lakes and springs. He also outlined how beach renourishment is progressing in Broward County, crediting community leader Ina Lee "The Beach Lady" as a strong advocate.
Negron, who is also an attorney with the Gunster law firm, also mentioned his support of a bill passed by both chambers of the legislature that would create a list of companies that support a boycott of Israel. The goal is for the state to avoid investing its pension fund in them and avoid entering into contracts.
The state also needs to get to the next economic level, he said. One positive move was the state's removal of the sales tax on manufacturing equipment.