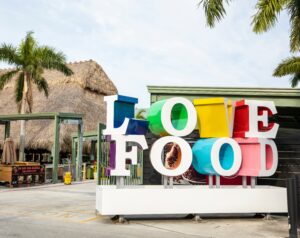 Shoppers at the Yellow Green Farmer's Market (YGFM) will now have more opportunities to scour the center for a bevy of distinctive food concepts and clothing and jewelry products. Hours expanded to include Saturday and Sunday from 10 a.m. to 7 p.m. so patrons can enjoy the two bars offering an extensive collection of cocktails. 
In addition to expanded operations, YGFM recently added four new tiki huts for covered and open-air dining with an entertainment pavilion featuring live music and TVs to watch sports. With the expansion, the 190,000-square-foot market will feature over 600 vendors featuring locally sourced fruits and vegetables, native and exotic plants and artistic creations and decor as well as close to 200 food and beverage booths.
The main entrance to the market is at 3080 Sheridan Street in Hollywood. All-day parking in the satellite lot is $10, while parking in the adjacent lot next to the market is $10 for three hours with the first 30 minutes free. Along with the new hours, YGFM plans to open an indoor food hall and an annex offering antiques and collectibles in 2022.
For more information, visit Ygfarmersmarket.com or email sales@Ygfarmersmarket.com for vendor opportunities.