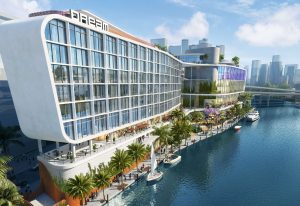 As Miami and South Florida continue to see an influx of residents, a proposed waterfront hospitality-centric complex centered around a 165-room luxury hotel hopes to capitalize on the need to provide contemporary leisure and entertainment options for the bevy of new residents. Slated to break ground this year and be completed by 2025, developers of the Riverside Wharf, a two-tower, 200,000 square-foot project in the Miami River district, hope to use the development to host multiple food, beverage and entertainment venues along with a deep-water yacht marina capable of accommodating megayachts to transform Miami's hospitality scene.
"Riverside Wharf will be a remarkable experience and one Miami has never seen before," Alex Mantecon says, who founded Breakwater Hospitality Group with Emi Guerra. "Today, the market is thriving and craving a hospitality-driven project. We found that people have changed their habits in recent years, not only interested in an unparalleled living experience but reconnecting with the world around them in an immersive way." 
Mantecon and Guerra envision Riverside Wharf as a re-imagined The Wharf Miami, a popular entertainment venue along the Miami River. The proposed project will include the expansion of The Wharf Miami along with 16,000 square feet of signature restaurants, a 12,000-square-foot event hall, a world-class nightclub and a rooftop day club with two pools. It is designed by Jon Cardello of Cube3 architects with landscape design by Savino-Miller Design Studio.
"The Wharf has evolved to Riverside Wharf, covering the spectrum of luxury, hospitality, entertainment and everything in between," Guerra says. "With our neighbors in the Miami River district, we are very committed to making positive contributions to support its growth and the future of Miami."
Mantecon and Guerra recently opened Carousel Club at Gulfstream Park, an open-air entertainment venue offering food and cocktails. They will also open JohnMartin's in Coral Gables and Pier 5 at Bayside as a part of the shopping center's renovation. Riverside Wharf has been an idea of theirs in the works since 2016 when Breakwater Hospitality and MV Real Estate Holdings (MVREH) opened The Wharf Miami. 
"South Florida's hospitality business was built on such a strong foundation that even though it has experienced challenges, we were well-equipped to thrive now more than ever," Mantecon says.