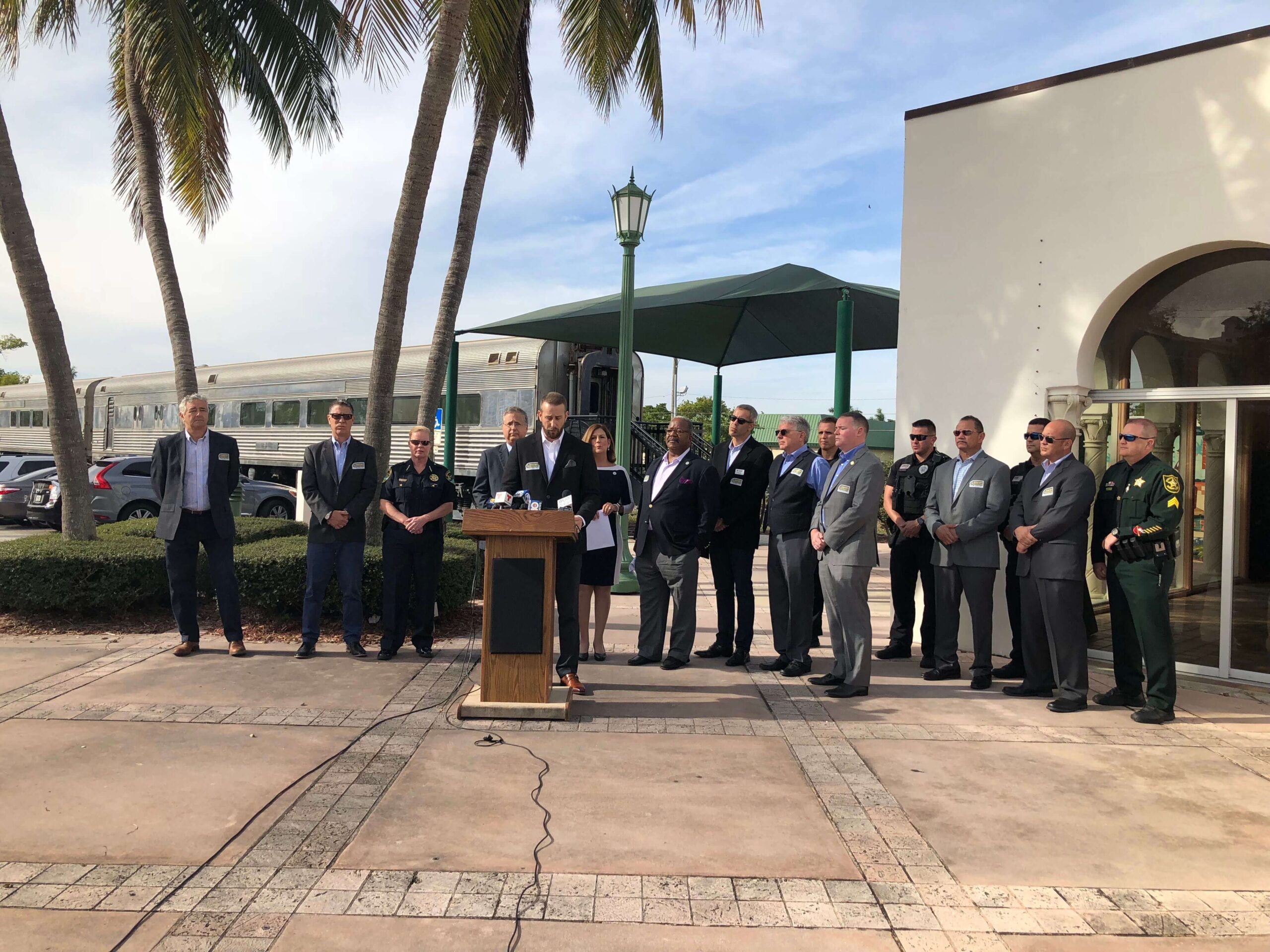 Brightline deaths fuel more safety efforts, legislation
In the wake of four deaths from people hit by its trains, Brightline held a news conference Friday to announce expanded outreach efforts regarding rail safety. Meanwhile, Treasure Coast politicians are using the deaths to further oppose the high-speed rail service.
As my blog post yesterday notes, Brightline isn't alone in the rail safety arena since Tri-Rail trains have also encountered tragedy. The event Friday continued Brightline's safety education efforts with Tri-Rail, the Palm Beach Transportation Planning Agency, the Broward Metropolitan Planning Agency, local law enforcement and cities and counties along the corridor.
"Increasing awareness about rail safety is of critical importance, which is why we continue working with our transportation partners to help spread the word," Patrick Goddard, Brightline's COO and president, said in a press release. "For the past year, we have been engaged in the communities along the corridor, and we will continue these outreach efforts. We implore the public to be patient and not circumvent the safety devices in place to keep you safe. Your life is worth more than waiting a few extra seconds for a train to pass."
As part of its expanded outreach plan begun in early 2017, Brightline will continue working with Operation Lifesaver to create an additional PSA campaign, including materials in English, Spanish and Creole; installing additional signage that warns motorists and pedestrians to stay off the tracks at grade crossings along the corridor; activating safety ambassadors; and attending community events and passing out rail safety information along the corridor.
The last two deaths involved a pedestrian and a bicyclist circumventing flashing signals that warned of trains approaching, according to witness reports. House Speaker Richard Corcoran wants to look at safety issues and State Sen. Debbie Mayfield has again introduced legislation that seeks to enact safety standards for high speed rail.
Mayfield tweeted: "Two deaths in six days is two too many. These senseless deaths only confirm the need for the legislature to pass #SB572 in order to put protections and safety measures in place to protect Floridians."
The reality is there are safety measures already in place, but people are ignoring them and getting killed. Brightline says all public at-grade railroad crossings along the FEC Railway corridor in Brightline's operating route have comprehensive safety infrastructure in place, including gates, constant warning time (predictor systems), bells, flashing red lights and signage.
While Mayfield is positioning herself as pursuing noble cause, she's also playing to her audience in Rockledge, near Cocoa. Brightline has faced a lot of opposition from residents who don't see any benefit from high-speed trains that won't stop in their cities. So far, they haven't been successful in stopping Brightline, which is poised to start construction of service to Orlando.
The Sun Sentinel called out Mayfield in an editorial last year: "It's time we called out the "Rail Safety Bill" being sponsored by Sen. Debbie Mayfield, R-Melbourne, for what it is — the latest version of anti-growth NIMBYism ("Not In My Back Yard") to come out of the Treasure Coast."
For the past year, meanwhile, Brightline says it has partnered with Operation Lifesaver, developing a rail safety campaign and volunteering at community events.
Brightline says it is committed to equipping the general public with the knowledge necessary to stay safe around not just Brightline tracks, but all other tracks and highway-rail grade crossings located throughout the country. Approximately 40 Brightline employees are trained Operation Lifesaver volunteers and attend community events to teach their neighbors how and why it's important to stay safe.
Brightline also talked about some of its previous outreach efforts, which show it has been proactive in trying to address safety issues. The company says it has run public service announcements on radio and TV in South Florida to ensure the public is aware of the laws in place to keep them safe, like waiting for the gate arms to return to the upright position before traversing through the grade crossing after the train passes.
Brightline didn't mention it, but I've seen videos of horrific rail accidents where pedestrians saw a train clear the tracks only to be hit by a train coming on an adjacent set of tracks.
Brightline also gave some perspective on the number of people killed in rail accidents vs. motor vehicle accidents.
"When comparing motor vehicle deaths to train deaths, the statistics are staggering. According to the National Safety Council, less than two percent of all transportation fatalities in 2016 were by train, with as many as 40,000 motor vehicle deaths occurring that year. A total of 771 railroad incident deaths were reported in 2015," Brightline says.
According to Operation Lifesaver, 95 percent of all rail-related deaths involve drivers going through a crossing or a person on the tracks. Here are Operation Lifesaver's top five rail safety tips below:
Look and listen for a train as you approach all railroad crossings—obey all signs, warning lights and gates.
Trains are quieter and faster than you think—never try to beat a train.
Because of their size and weight, it can take a mile or more to stop a train.
Always expect a train on any track; avoid distractions when you approach a crossing.
Railroad property is private property. Walking on the tracks is illegal and dangerous.