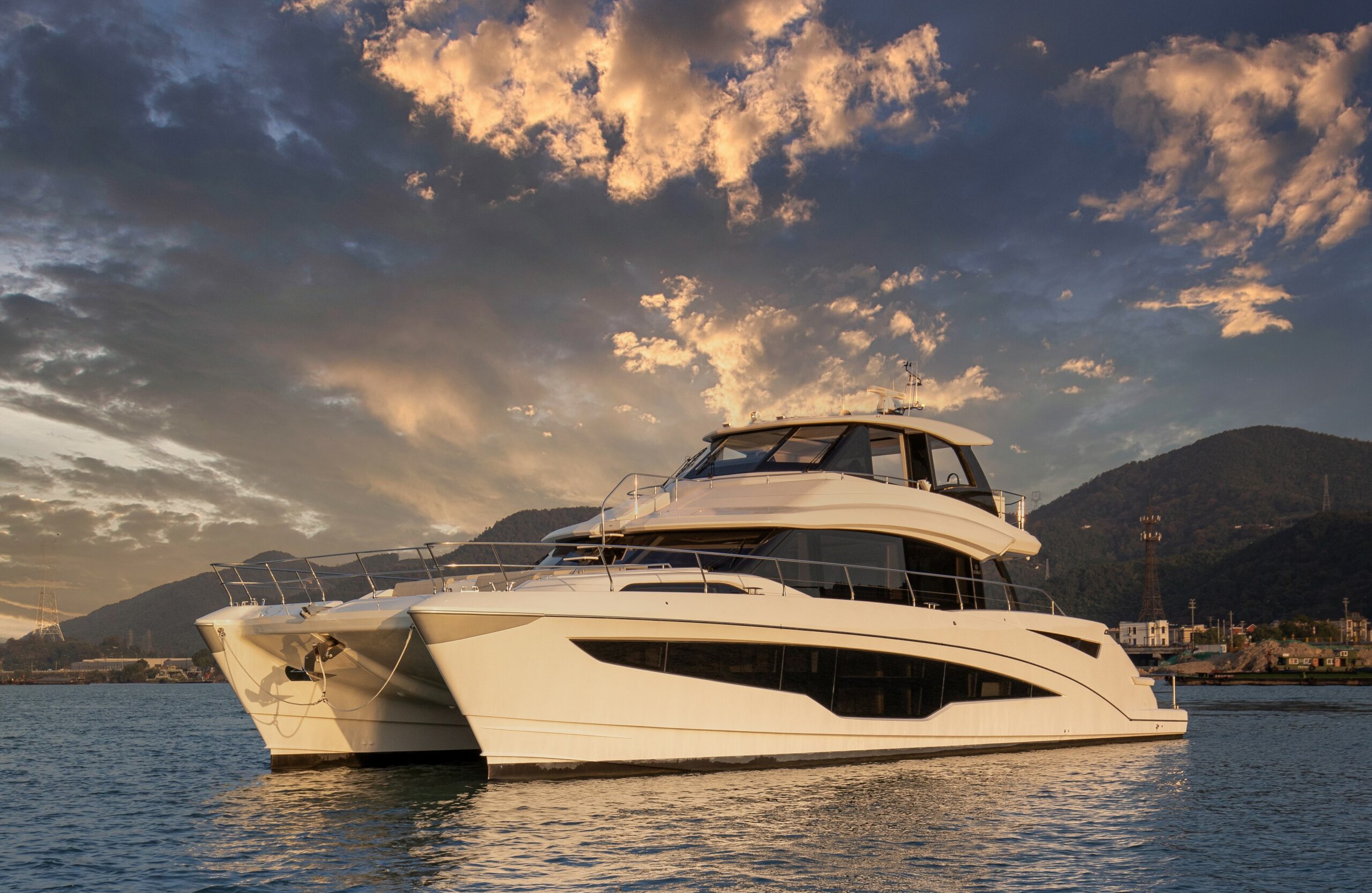 The Catamaran Turns Sporty and Sleek
Aquila's flagship vessel is geared for seafarers looking for mid-sized comfort and efficiency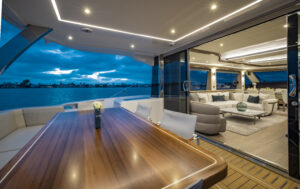 As large, methodical catamarans evolve to become more luxurious, sleeker and high-performing, the Aquila 70 Luxury Power Catamaran strives to capture the audience looking for more speed and maneuverability while maintaining a significant presence on the water.
Featured as the new flagship for Aquila Power Catamarans, the Aquila 70 debuted at the Palm Beach International Boat Show earlier this year. The catamaran aims to provide clients a more sporty and European-like vessel while meeting the latest performance and luxury standards.
"She's not your typical catamaran," says Alain Raas, Aquila Yachts brand manager. "We made it look more like a traditional motoryacht, where you have more of a European flair, rather than traditional catamarans, which have been boxy, with right angles and other sharp angles. We've moved away from that and incorporated a lot of European design and made the boat more flared, more sporting. When you look at it, the side profile doesn't look like a catamaran until you actually get up on her and realize that, 'Wow, this is actually a catamaran.' "
Billed as a production-based, semi-customizable boat at $6 million, buyers can choose between four to six cabins and an up or down chef's galley. Other options include a climate-controlled flybridge with a more contemporary and open feel. Interior designs feature Natuzzi Italia furnishings with dark or light options.
Performance-wise, twin Volvo Penta inboard diesel motors combine to produce 2,000 horsepower and joystick steering coupled with hydraulic bow thrusters to enable peak performance on the high seas. Computer system interceptors help the vessel reduce pitch and roll automatically. The ship's carbon-fiber reinforcements allow it to reach a top speed of 27 knots (31 mph) while operating efficiently for long stretches at reduced speeds.
"What we focused on is how do we make the power catamaran of this size perform well in all conditions," Raas says. "We spent a lot of time on computer simulation underneath the boat, making sure that it's as fluid as possible, so there's the least amount of resistance. This adds a lot of buoyancy, as well as efficiency, once that water is broken to get that water moving down the hulls."
While Raas reports some younger buyers looking to use their bitcoin earnings or stock portfolios have inquired about the newly launched catamaran, the overwhelming majority of consumers have been yacht owners looking to downgrade from 100- to 120-foot single-hull yachts.
"Generally, what we are seeing is that owners want to be able to run a boat that still gives them the same amount of livable space," he says. "That's really where this yacht bridges the gap—the buyer can be an owner-operator or a captain and crew boat. It just depends on the client's experience and what their preferences are. It's great to see movement in terms of sales both domestically as well as internationally."
Outside furnishings include spacious seating and a dinghy launching area with a deep swim ladder that allows people to enjoy the recreation opportunities the Aquila 70 provides. Inside, a 27-foot-wide master suite featuring Versatile interior layouts leaves plenty of walk-in closet space. Though space is maximized throughout—the yacht boasts a 27-foot beam and a 300-square-foot salon—performance is never sacrificed.
"When you get into this sort of size range, your beam typically goes well over 30 feet. So what we've focused on is trying to keep that down in size so that we can improve the performance of the boat," Raas says. "You have a very smooth ride, a level ride. And when coming up on a plane, she stays very flat. She has very minimal bow rise when she is getting up to cruising speed or even at top end."