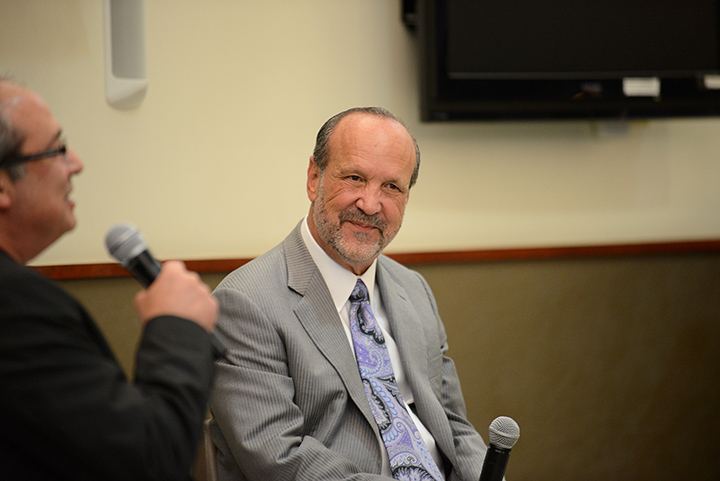 The Über Lobbyist
Ronald L. Book is a civic and charitable leader who is ranked as the state's top lobbyist by Sunshine State News Service with his three-member firm earning $5.6 million in fees for 2013.
Book has a bachelor's degree from Florida International University and a law degree from Tulane University.
His activity in state affairs goes back about four decades and Ronald L. Book P.A. has celebrated its 25th anniversary. He is a former Director and Special Counsel for Governor Bob Graham's Cabinet and Legislative Affairs Office. Over the past decade and a half, he has raised over $25 million for various candidates and causes.
Ron was Director of the Administrative and Governmental Law Department for Miami-based Sparber, Shevin, Shapo, Heilbronner & Book, one of Florida's most influential law firms from 1977 to 1987.
Among his top clients are: AutoNation, the Miami Project to Cure Paralysis, Ashbritt, the West Flagler Kennel Club, Miami Dade County, Jackson Memorial Hospital and the University of Miami.
He has represented the Miami Dolphins, Florida Marlins and Florida Panthers and has helped sports teams gain funding for projects.
Ron has represented many non-profits, including, The Dan Marino Foundation and The Autism Society of Florida. He has been a strong advocate for the homeless, serving as chairman of the Miami-Dade County Homeless Trust and administering over $250 million in funding. In 2004, Ron was awarded the Alvah Chapman Humanitarian of the Year Award for his 16 years of service to the homeless in Miami-Dade County.
Here are edited highlights from an interview that was conducted live before an audience at JM Family Lexus by Gary Press, the CEO of Lifestyle Media Group and SFBW magazine. JM Family and TD Bank sponsor CEO Connect.
You were ranked in June by Sunshine State News Service as "the top dog" on the Florida lobbying scene with your firm bringing in $5.6 million. How do you manage to stay on top?
There is an old saying that behind every man there is a good woman. I'm fortunate to have two women who are government affairs experts. Kelly Mallette, director of government affairs, has been with my firm 20 years. Rana Brown, government affairs consultant, has been with my firm seven years.
I'm fortunate to have two people whose work ethic is like mine. We speak in the firm about capacity – how many matters you can handle well at one time. It's not simply about juggling, but how you control the matter and move it.
People ask when I'm going to quit what I'm doing. I'm never going to quit what I'm doing. I probably work harder today than I did 20 years ago, 10 years ago. I try to get in the office at 6:15 in the morning and work until eight or nine in the evening.
Over the course of building your career, do you have a matter that you wish you didn't do?
I wish I didn't act like Pac-Man in the early years and take everything. In the early part of your career you are trying to build a name and reputation. We represented the gun manufacturers for a really long time in opposition to gun control and even waiting periods and cooling off periods. If I had one to take back, that's one I would take back.
We have a vote on Nov. 4 on Medical Marijuana with polls showing it should pass easily. What are your thoughts?
The public knew a year ago it was going on the ballot and what their position was. They have made up their minds. The poll a month ago has medical marijuana at 90 percent support. The public gets this issue.
You will see under voting in races all cross the ballot because people are going out to vote for medical marijuana. Our prediction is that in only four to five years you will see recreational marijuana on the ballot and passing by overwhelming majorities.
A blog writer says you are the last of a breed of lobbyists who are bigger on their own than any other firm and there won't be anyone else like you. What's your reaction to that?
You know I chuckled at the thought of somehow being a dinosaur. My world is a man's world. It is a man's world because that's what the capital is. It's not a man's world in my firm and everyone gets treated the same way.
There is just no substitute for hard work. When we go to Tallahassee we go prepared. Lots of people who do what I do don't go to the microphone. I don't want my clients to make presentations.
You trust us to know what you want us to do. We're supposed to think for our clients. If that's a dying breed, God bless the rest of them who think they can do it another way.
How would you describe the state of the economic recovery in Florida?
Since the second quarter of 2007 until up about eight months ago I have been going to so and so group and saying I don't have anything good to tell them. I'm here to tell you Florida is back.
Florida had a billion dollars more to spend in the 2014/15 budget than it did in the 2013/14 budget. If estimates are right, we'll have another $1 billion-plus surplus above the rainy day fund than we had a year before.
I represent one of the wealthiest people in America, Richard LeFrak. He was buying the Gansevoort Miami South Beach, paying $225 million and was going to put in $200 million. [The February 2012 deal involved the LeFrak Organization, Starwood Capital Group and Invesco. The hotel is now called the Perry South Beach.]
I thought his head should be examined – the recovery hadn't begun. He projected that the pro forma at the Gansevoort was $750 to $800 a square foot. Those units are now selling for $1,700 or $1,850 a square foot. Florida is back.
Tell us your thoughts on how gaming will continue to unfold in the state and the role you've had in this, such as representing West Flagler Kennel Club.
I have been saying for three years that nothing is going to happen and I don't see anything happening. A lot will depend on what happens in the governor's race. Both candidates are largely in bed with the Indian tribe.
It is hard to get a bill that expands gaming in any appreciable way through the Republican House. The only way you will pass gaming out of the House is if the Democrats join with it.
I just don't see the scenario in which Crist or Scott bring forth something that skewers the Indians – no play on words intended. I just think that at the end of the day, there is probably a slightly better chance for something other than a gaming compact with some modest enhancements for pari-mutuels if Scott is governor vs. Crist.
How do you see the race for governor unfolding?
I'm fairly objective. I used to be a Charlie guy and I'm a Rick guy today. The day Crist announced he had a 13, 14, 16 percent advantage over Scott. He has gone backwards since he has announced.
The election result will be determined by the three South Florida counties. It will largely be determined by whether the brains behind Barack Obama will be able to replicate the turnout for his election.
What's the professional success for which you are most proud? What's the professional failure that still bothers you and why?
The high point is probably the port tunnel in Miami-Dade. Charlie Crist pulled the plug and started to distribute the half billion set aside. Kelly and I got a call after it was dead. The issue was in a meat grinder dead.
Three or four weeks passed and it was still dead. We demanded to find a way to dig the tunnel from under the bay bottom. We got it out of its coffin. The rest is history and the tunnel is open.
If there is a second great moment, it is the Miami Project to Cure Paralysis. When I went to the legislature in 1997, I had General Norman Schwarzkopf in tow. He was touring the Miami Project because of all the brain and spinal injuries from individuals in the military and the project was doing such great things.
We wanted $10 million. We got $9 million and I went back the next year and got the next million. $3 of every $158 of red light camera tickets goes to the Miami project. It was Kelly's idea to tie brain and spinal injury to red light cameras. $10 goes to our other clients, the level one and level two trauma centers, to make sure when someone we know gets scraped off the windshield the state is doing its part on real trauma accidents.
Having been in the top three of lobbyists for 25 years, I took it very personally when I took the Miami Dolphins to the Legislature – the only professional team that doesn't get sales tax rebate. When they took the bill up in third reading we lost by one vote.
I was crushed. I got the House vote count and thought, "Who can I turn around?" You get one chance to move on a motion to reconsider. The opposition got to the motion to reconsider before we did and they killed it and we lost.
Two years go by and we came back with a bill for the new owner. We got crushed again. We passed the bill out of the Senate. We went down to the House and we thought we had a commitment to bring it up in the House. The speaker on the last day wouldn't bring it up. I was crushed.
I have replayed those losses not a hundred times, but a thousand times wondering how I could have done it differently.
This year we passed a bill that will fund up to $90 million when the owner [Stephen M. Ross] is writing a check for $400 million – the only franchise owner that has done that in the history of major league owners.
Tell us about your charitable endeavors with your daughter Lauren Book, whose Lauren's Kids fights the issue of childhood sexual assault.
She travels around the country and around the world for her foundation. We have made Florida and a lot of the states around the country safer.
Once a year she laces up her sneakers during National Sexual Assault Awareness Month. She is starting in Key West and traversing the state.
The Justice Department has said 95 percent of sexual abuse is preventable. Until the last gasp of my days, I will support what she does to make this state, community and nation safe. The pedophile predators are worse than sewage in the scum pond.
[For more information on Lauren's Kids and Lauren's 1,500-mile annual walk, visit laurenskids.org.] ?
SFBW's CEO Connect is an invitation-only event that combines high-level networking with cocktails and appetizers, plus a live interview with a top business executive.