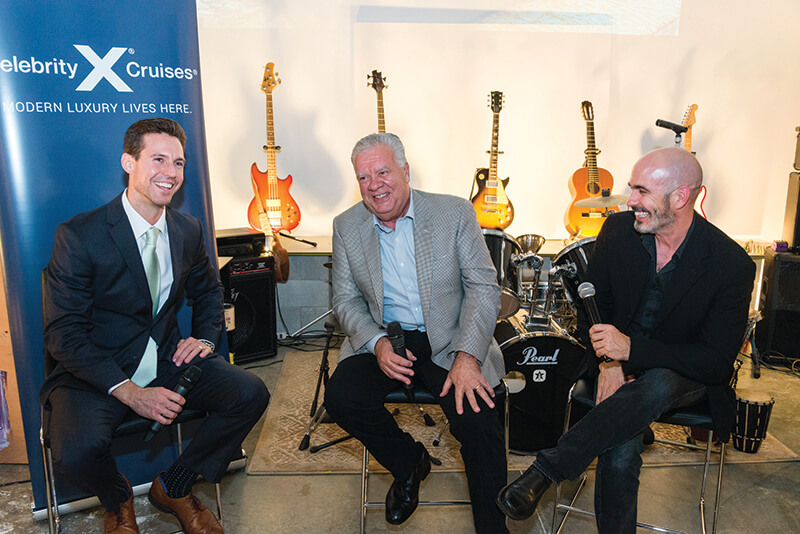 A Chat with Two Architects
Garcia Stromberg intertwines architecture, design and the arts
Garcia Stromberg has been involved in a multitude of architectural projects for more than 25 years. From the western coast of Saudi Arabia to remote areas of Central America and in the United States, particularly throughout Florida, the firm has immersed itself in the cultural diversities of the locations in which it works.
Its services go beyond architecture to include interior design, graphic design, web design and marketing strategies.
The firm is led by CEO Jorge H. Garcia, who founded the firm in 1987, and Peter Stromberg, who is principal design director and president.
Garcia is an honors graduate of the University of Miami, a licensed architect in 13 states, and has expertise in the design of national and international facilities, including hotel and resorts, commercial, institutional, mixed-use developments and residential projects.
Stromberg is a graduate of Mississippi State University. His design vision is the guiding force behind a number of notable national and international projects.
He is a musician and artist. He believes art—painting, sculpture and music—is free of boundaries and allows form to flow fluidly. That helps him constantly learn and perform better as an architect.
SFBW Associate Publisher Clayton Idle interviewed Garcia and Stromberg at their studio in West Palm Beach. The following transcript has been edited for brevity and clarity.
What sparked your interest in architecture?
Garcia: When I was a child in Cuba, my uncle was an architect and my parents would go to his house all the time. In his den, he had all these drafting boards and beautiful paintings. He was a great painter. And I thought, "Oh, my gosh, this is what I would want to do one day."
Stromberg: I grew up playing music in rock bands and wanted to pursue a career in it. And I was always fascinated with drawing and sketching. When I went to college, my father said I might want to look at something else and have music as a fallback. My other interests were in architecture and building. My grandfather was a master carpenter, which led me into that realm. And I saw a way to combine all the arts into what architecture can offer.
What are the dynamics between you as partners?
Garcia: We are, in many ways, extremely alike, and, in many ways, we couldn't be more opposite. We trust each other and are able to handle our likes and dislikes with respect.
Do you guys ever disagree?
Stromberg: Every day. And I think that's what makes our chemistry so amazing. At our studio, we have an amazing team. If you surround yourself with amazing people, you'll end up doing amazing things. There is no real ego in our friendship and business relationship.
Jorge, you really seem to have deep roots in the South Florida scene, earning your associate degree from Miami-Dade College and your bachelor's in architecture from the University of Miami. Have you always lived here?
Garcia: I moved to Miami when I was 8 years old from Cuba.
Jorge, what led you to form your own firm in 1987?
I had come from an interesting education. Bernardo Fort-Brescia [the founder of Arquitectonica] was one of my professors at UM, and he's one of our biggest competitors. After school, I worked for several firms and a big development company. In 1987, I decided to go out on my own.
Peter, where did you grow up and how did you end up working with Jorge?
Stromberg: I grew up all over the country, which I think led to my interest in architecture. I was born outside of Boston and, because of the car business, I spent time in New York, Chicago, Detroit, Dallas, Las Vegas, Pensacola and Jacksonville. Originally, I was working in construction when I moved to South Florida and was able to manage jobs on construction sites. One day, Jorge was on the job site and we met. And he asked me to come work in his office. I was finishing up the school year, when I started working for him out of his Stuart office.
Do you have an all-time favorite project?
Garcia: I don't know if we will ever have a client like Wayne Huizenga. He set us on the map. He could have selected any other architecture firm, and we ended up with him. In the early '90s, we did the Floridian Golf and Yacht Club for him.
The Great Recession caused a lot of turmoil in the world of business. What was your experience like, and how did you manage to hang in there and come back?
Garcia: We grew to 82 people with offices in Boca Raton; Orlando; Stuart; Naples; Vacaville, California; and Panama. We went from 82 to six, in a very short time. We tried to save the ship from sinking. When we went down to six, we scaled back on expenses, moved into a smaller office. And eventually as we bounced back and grew, we hired back many of our people. The one thing we learned, we no longer do work for people we don't want to work for.
How is Garcia Stromberg different from other architecture firms?
Stromberg: When you call us, we meet with our clients and don't send somebody. You get us—me and Jorge.↵
About CEO Connect
SFBW's CEO Connect series is an exclusive, invitation-only monthly event that brings together South Florida's top business leaders to meet and mingle.
The presenting sponsor is Celebrity Cruises. Gold sponsors include Foundation PEO Solutions, Inc., FXE Fort Lauderdale Executive Airport, Greenspoon Marder, MBAF, TD Bank and SLS Brickell.
The evening begins with a cocktail reception for about 100 guests followed by the highlight of the event, a live interview conducted by Gary Press, SFBW Chairman and CEO, and a well-known C-level executive who provides insight into their personal lives, careers and views on issues affecting the business community.
Partnering with SFBW on this exclusive event provides an opportunity to network with the area's business elite, generate new business opportunities, and increase brand awareness. For information about event sponsorship opportunities, email Clayton Idle at cidle@sfbwmag.com.