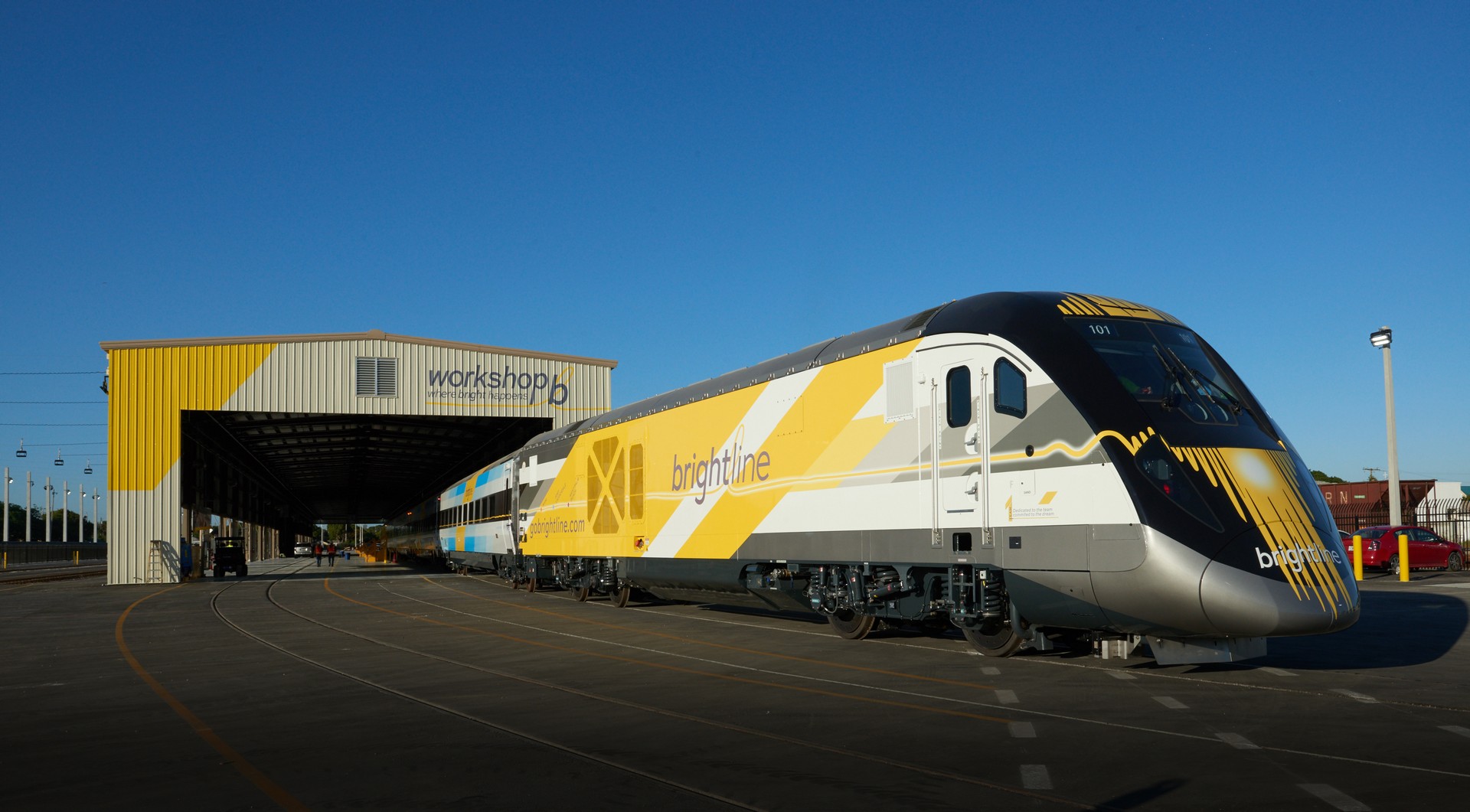 Brightline unveils cool new trains
The Brightline high-speed rail service unveiled its first train set, nicknamed BrightBlue, during an event Wednesday morning in West Palm Beach.
The unveiling took place at Workshop b, its 12-acre railroad operations facility on 15th Street in West Palm Beach, where trains will be repaired, maintained, cleaned and stored.
Construction of Brightline's train stations in West Palm Beach, Fort Lauderdale and Miami is nearing completion with service expected to launch this summer. Eventually, the service is expected to extend to Orlando International Airport.
If your experience has been riding the existing Amtrak or Tri-Rail services in South Florida, the Brightline trains represent a new generation in terms of comfort and amenities. While Amtrak and Tri-Rail are government subsidized, Brightline is notable as it is the nation's only privately funded passenger rail system.
The first experience many of us will have with Brightline is seeing the distinctive, brightly colored trains whizzing along the Florida East Coast Railway tracks through the downtown areas from West Palm Beach to Miami, with a stop in Fort Lauderdale. BrightPink, BrightRed, BrightOrange and BrightGreen is the name for the other train sets being built by Siemens in California.
If you are riding the trains, the innovations start when you are boarding. A ramp will pop out of train car doors and drop down to platforms to make boarding easy. That will make it easy to roll on luggage, a wheelchair or a stroller. (Forget about those "Mind the Gap" reminders you hear in London.)
The interior aisles are 32 inches, which Brightline says are wider than any other trains. Doors between the train cars will open and close automatically.
Passengers can hang their bikes on the walls. Those with pets can put small carriers under the seats or arrange for bigger carriers elsewhere in the cars.
Brightline also gave further explanation of its two types of coaches, Select coach and Smart coach.
Each train will have one Select coach with 21-inch wide seats that recline and three Smart coaches with 19-inch seats. Tables will be included with some seat groupings, so you could have a mini-conference of two or four people with a table between them as you ride the rails. Other seats will have drop-down trays–a small tray can be used alone for a smartphone or glasses and a larger table can be added for items such as laptops, books and food.
Some of the photos provided by Brightline show beverages, but there was no word yet on what's going to be served. (I'd personally lobby for wine and beer for cocktail hour.)
Brightline is offering complimentary, powerful Wi-Fi, powered by multiple antennas on every train and a lot of power outlets and USB connections. I think this could be a big productivity selling point vs. being stuck in traffic on I-95.
There are overhead luggage racks, under seat storage for small items and luggage towers for big items.
Each coach has an ADA compliant restroom with toilets that flush with a wave of the hand. (They also flush when the door is opened if you forget to flush.) Dyson fixtures dispense water and then dries your hands. That's smart because it will minimize water dripping on the floors and creating a mess.
Riders will be able to reserve specific seats through Brightline's mobile application, website or station kiosks and choose from an array of amenities and pricing. They will also be able to book parking or ground transportation to make their journey more seamless.
Brightline says 120 workers at Workshop b will keep the trains running. A 500-foot long maintenance pit will let them climb under trains to do service work and daily inspections.
About 70 Siemens employees will provide the service and maintenance for the trains.