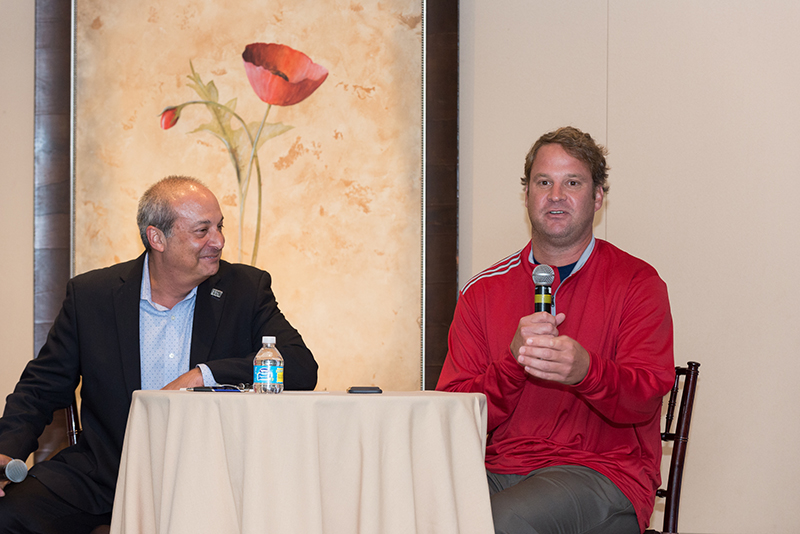 Coach on Fire
Lane Kiffin's humorous banter lights up CEO Connect
Lane Kiffin was named Florida Atlantic University's head football coach in December. He joined the Owls after three seasons at the University of Alabama, where he served as the Crimson Tide's offensive coordinator and quarterbacks coach. The team won the national championship in 2016, and Kiffin was a finalist for the Frank Broyles Award in 2014, which goes to the country's top assistant coach.
Before that, Kiffin spent more than three seasons as coach at Southern California, where he went 28-15. Previously, he was coach at Tennessee (2009) and the NFL's Oakland Raiders (2007-08), where, at age 31, he was the youngest head coach in pro football's modern era.
Before he became a head coach, Kiffin spent six years as an assistant at Southern California, including two years as the offensive coordinator. During that stint, USC won two national championships and compiled a 65-12 record. He graduated from Fresno State in 1998 after playing quarterback for three seasons, and he began his coaching career as a student assistant at Fresno State under Pat Hill in 1997 and 1998 before moving on to Colorado State in 1999 as offensive line assistant. He spent 2000 as defensive quality control assistant with the NFL's Jacksonville Jaguars under Tom Coughlin.
Kiffin attended Bloomington (Minn.) Jefferson High, where he played football, basketball and baseball. He has two daughters, Landry and Presley, and one son, Knox.
SFBW Chairman and CEO Gary Press interviewed Kiffin at the Broken Sound Club. The following transcript has been edited for clarity.
You are in such a public position where when you get fired its front-page news. What advice can you give to those of us who experience setbacks—although usually behind closed doors?
Um, that's a positive way to start.
We'll give you better questions as we go along.
Yes, I have been fired, so please don't video this. In those situations, you do feel like everyone is looking at you. Especially when I was still in the city where I got fired, everyone's looking at me. You get judged. I had to let it go and say, "OK, I know what we did, I know what happened and I know where we are going." And you can't worry about what everyone is saying. My advice: Just ignore it.
Those of us in business know how difficult it is to recruit talent. What has been your strategy to do that at FAU, and how happy are you with your first recruiting class?
I would urge you not to hire on résumés. We get these people who come in all the time, and they've been to these big places and everything looks good on paper, but you can tell they don't have any passion. I've found that those who have passion and are excited to be a part of the team, and you can mold, versus the ones who are already stuck in their ways, make the best hires.
What would you need to accomplish to consider your first season at FAU a success?
We don't look at things like needing to win "this many" games to be successful. It really is about, just like in your companies, continuing to get better. You keep pounding a rock every day.
We are trying to make small wins every day. You have to focus on the process, not the outcome. The outcome is the scoreboard. The outcome is how many wins at the end of the year. I can't affect that. I can affect the process, which how I go about things every single day and that will work on the outcome.
What do you think of Alabama coach Nick Saban?
I spent the last three years with Nick, coaching in Alabama, and it really was good. I was interviewed by a paper when I was there, and I said that being there was like dog years, and he didn't like that. What I meant was, every year there was like seven years of education with him, so it was like having 21 years of education in three years. Because he's the best at what he does. What he does, as CEO of the program, is that there is nothing that goes on in the program that he doesn't know. Nothing gets done unless it goes through him.
He leads by example and everyone sees it. He's the first one in the office, he's the last one to leave.
What's it like living in Boca Raton compared with Tuscaloosa and some of the other places you've lived as a coach?
It's great. Boca is like Los Angeles. People have other things to do and a lot of people don't know who you are, which is good. When you are in SEC territory, like Knoxville or Tuscaloosa, you don't ever go to the gas station or grocery store because it would take two hours because everyone would stop you to take pictures and ask for autographs.
Given your name recognition there will always be jobs out there for you. What was the allure of coming to FAU?
I just figured out that I can read your note cards, so I can figure my answer out before you ask.

OK, here's the next one.
I don't like that one, go to the next.

The allure really came during the interview process. Being in a lot of interviews over the years, you can tell as you go through it which company, which university, is really dedicated to winning.
To see FAU's president John Kelly at my interview, which isn't normal—you usually meet the president at the end of the process—not only was he there, but he was driving the interview. He had been at Clemson and had seen how championship football changed an entire university. That was very critical to see the leadership here and his dedication to bring a championship program to FAU.

What are your tried-and-true tactics to motivate players, and how has that changed over the years?
Everyone is different. I am going to treat you fairly, but I'm not going to treat you the same. And so, we find different ways to motivate our players. That goes back to understanding your employees to what motivates them.

What keeps you up at night?
I sleep well actually. I'm in Boca.
Sometimes leaders of organizations find themselves in bad situations, which seems to have happened during your time at USC. [The football team was penalized in 2010 by the NCAA for breaking recruiting rules. The punishment included a two-year ban on postseason play, a reduction in available scholarships and forfeiture of 14 victories.] How did you handle that and what advice would you give to someone in that sort of situation?
I talk to our players and coaches all the time and say, "[Expletive] happens." All right. So now what? Sure, we can focus on all the bad things at your company. We can sit and complain about it all day long, but what are we going to do, really? And I got that from a motivation guy years ago who used to come and help us with our program. As harsh as it sounds, one of his buddies got cancer and he went there and said to him, "So what now what?" I use that a lot with our players when they go through tough things.
So that was our situation, we got hit with all these scholarship reductions, saying we would never win any games and so what can we do to find our way out of it and figure it out.
Too many people waste time complaining. You have to move forward.
Do you use any tests or assessments with players?
We are limited by recruiting rules [in college]. In the NFL, you can do more of giving tests to your players. I think that if I wasn't limited by the rules, I would use personality profiles. Those will tell you a lot. Not only are you looking for a type of person, you need a balance within your unit so you have people who are more soldier types, more creative types and you can mix it in. Once our players are here, we are allowed to use assessments, and that helps coaches figure out how the person is motivated and how to deal with the person. This is why this player isn't learning. Or, this is why these employees aren't responding. Say you're yelling at the person. Sometimes, that doesn't work, so you it's better to bring them in one-on-one.
You have to have the right dynamics on your staff and bring out each person's strengths. Let's not focus on the negatives but on what they can do, and empower them.
Where did you grow up?
Everywhere. I've moved about 25 times.
Aside from Saban, who were your key mentors?
I was at USC for six years as assistant coach with Pete Carroll, where we won a couple of national championships and had three Heisman [Trophy] winners. I've been very fortunate to be with him and coach Saban, who are opposites. That shows you, it's not how you run your business, it's that you have a philosophy on how you run it, and you stick with it.
How do you put losses behind you or do they tend to gnaw at you?
First off, I go by the 24-hour rule. So, whatever happened, good or bad, when it is 24 hours later, you've got to move on. Because that loss can hurt you and cause more loss. We've got to get over it.
It's actually harder when you have a big win. You think everything is great now, so you can coast. I've screwed that up being younger.
Do you have any personal goals?
I never look at personal goals. I'm not saying that's right or wrong. I just enjoy going to work and I enjoy getting our players better. And I enjoy coaching our coaches, improving them and seeing where that takes us.↵