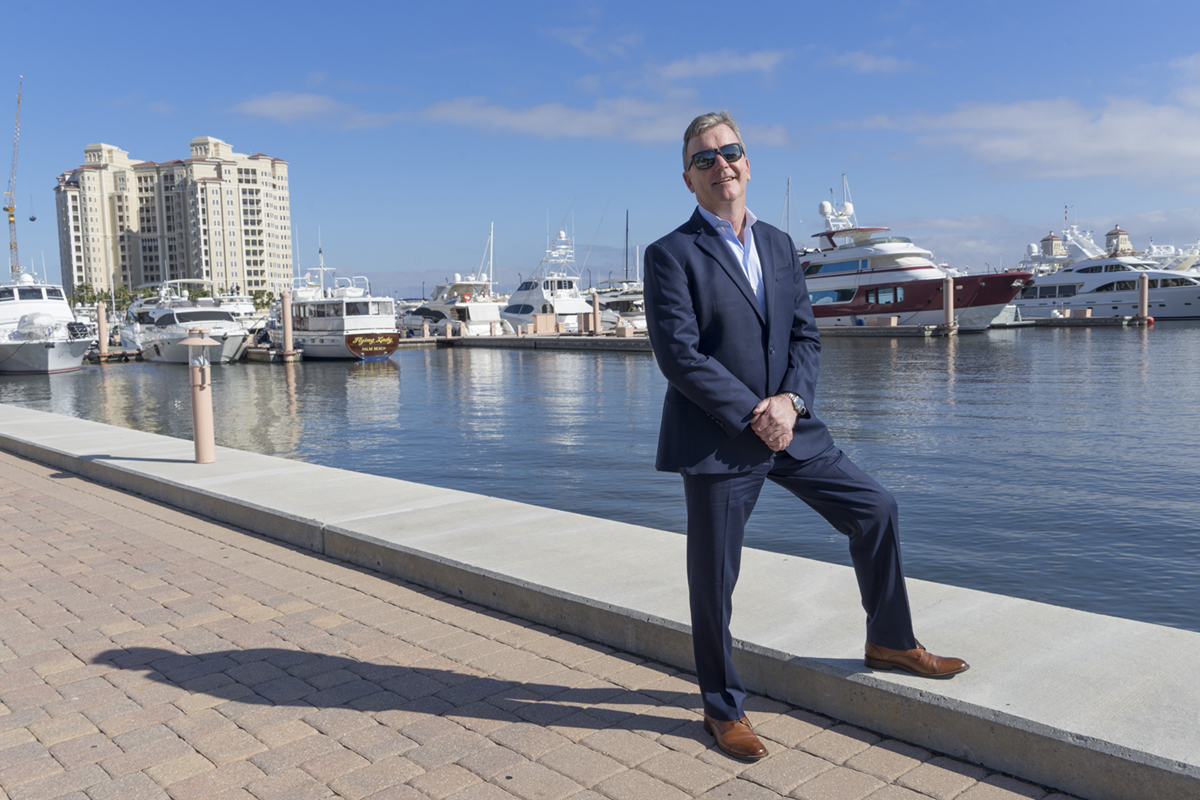 Informa's Andrew Doole poised for more boat show growth
Photography by Patrick Clinton
Andrew Doole enjoyed small-craft sailing as he grew up in Leigh-on-Sea, in southeast England, near the mouth of the River Thames.
These days, though, his world includes a much bigger array of sailboats, power boats and mega yachts.
He deserves the moniker of "Captain of Florida Boat Shows" in his position as president of U.S. boat shows for Informa Global Exhibitions. Informa produces the Fort Lauderdale International Boat Show, Miami Yacht Show, the Palm Beach International Boat Show, the St. Petersburg Boat Show and the Suncoast Boat Show in Sarasota.
During an interview with SFBW, Doole discussed how Informa is in growth mode. It's interested in buying boat shows to add to its portfolio after spending $8 million to improve the quality of shows in South Florida.
Its crown jewel, the Fort Lauderdale International Boat Show, also is anticipating expansion of the Greater Fort Lauderdale/Broward County Convention Center and new digs at the Bahia Mar Fort Lauderdale Beach, a DoubleTree by Hilton resort that is poised for a major expansion.
Informa manages the Fort Lauderdale show for the Marine Industries Association of South Florida, which owns it. Informa employs 60 people in its Fort Lauderdale office, but that can swell to 200 during events.
Characteristics of the shows
Each of Informa's shows has its own unique characteristics.
Fort Lauderdale is the world's largest boat show, draws exhibitors and attendees from 50 countries. The 2018 show, which ran Oct. 31-Nov. 4, had more than 1,000 boats. "We go from 20 feet to, this year, we had 320 feet. It's a vast range and big numbers," Doole says.
It also showcases every facet of the marine industry in Fort Lauderdale, which is a global hub for marine electronics, yacht servicing and refurbishing.
The Miami International Yacht Show, which was held in mid-February, draws a heavy audience from Latin America and Canada, the latter especially appreciate the opportunity to get out of the cold, Doole says. The show had a major change this year, moving from its three-decade home along Collins Avenue in Miami Beach to the former site of the Miami Herald in downtown Miami, where Malaysian gambling giant Genting had planned a casino resort.
One issue behind the move was the National Marine Manufacturers' Progressive Insurance Miami International Boat Show moving a few years ago from the Miami Beach Convention Center to Virginia Key, Doole says. The Miami yacht and boat shows coincide and have a symbiotic relationship, but the move put them too far apart. It sometimes took showgoers 90 minutes to go between the two locations, and attendance suffered as a result, Doole says. Water taxi and other modes of transportation put the shows only about 20 minutes apart this year.
Moving to downtown Miami made it much easier to get to the show, because it's close to Interstate 95 and the Brightline station in downtown Miami. Parking was easier with 3,500 nearby spots. The site also yielded a lot more landside space for exhibitors and VIPs.
The downtown Miami site also is close to Island Gardens, the superyacht marina on Watson Island, which is home to the yacht show's biggest vessels. Altogether, the two shows were able to accommodate nearly 500 boats.
Informa and the marine association coordinated more closely on this year's Miami shows, marketing them together and selling bundled tickets.
The Palm Beach International Boat Show, which is at the end of this month, also has a downtown location, along Flagler Drive in West Palm Beach. Like the Fort Lauderdale show, it offers a little bit of everything, including mega yachts.
Doole likes the show's timing, saying it occurs before a lot of town of Palm Beach residents head back north for the summer.
The St. Petersburg Power and Sailboat Show is the largest on Florida's Gulf Coast, taking place in December along Tampa Bay.
The Suncoast Boat Show in downtown Sarasota show presents a boutique experience in April in a fast-growing area, Doole says.
Informa is a global giant
While Doole's purview may seem geographically expansive, it's nothing near the scope of Informa, which includes Informa Global Exhibitions. Informa is headquartered in London, with 11,000 employees and divisions in academic books and journals, data-driven intelligence publications and services, exhibitions, conferences and learning platforms.
Informa Global Exhibitions in June completed a merger with UBM, which created the largest business-to-business events and exhibitions organizer globally. The combined companies do 700 shows worldwide.
Informa's purchase of Show International in 2017, which came with the five Florida boat shows, presented an opportunity for the company to learn more about the Florida market and cross-market the shows. For example, some of the vendors at Informa's Monaco Yacht Show are good prospects for the Fort Lauderdale show, because both attract a global audience.
Informa has the ability to clone a successful show in one market, such as China, into another market, whether the United States, Latin America or Europe, Doole says.
Long career at Show Management
Doole joined Show Management in 1982 after meeting an American woman in London, and he started selling exhibition space. By the time Informa bought Show, he was chief operating officer.
Doole worked for 11 years with Show Management owner Efrem "Skip" Zimbalist III, whom Doole credits with modernizing the company and focusing it heavily on the consumer experience.
Phil Purcell, president and CEO of the Marine Industries Association of South Florida, says Informa has spent lots of money on infrastructure, such as docks and electrical systems, and has worked to elevate the consumer experience for attendees. The partnership has made great strides, he says.
Purcell has known Doole for nearly three decades.
"Andrew is very thoughtful, very consistent, quiet, knows what needs to get down and usually has a plan to how to do it," Purcell says. "He doesn't talk a lot, but when he does you should listen. He's very good at the space he is in, and does a tremendous job working with exhibitors."
Doole says his management style is to encourage people, delegate to them and make them feel part of a process rather than managing from a distance. His team includes many employees who have been there 15 to 20 years.
"In many cases, you don't have to tell them to do anything. You just check and see if they have it under self-control," Doole says.
The Fort Lauderdale show had some key changes in 2018 with a new entry plaza rather than a line snaking through an area that looked like an alley. New entry screening technology eliminated the need to check bags by hand.
Bigger changes are ahead, with Bahia Mar planning new apartment buildings, a new hotel, restaurants, stores and marine space. Doole said Informa is waiting for a start date on the project and has plans to use flex space and the south beach parking lot to provide space during construction. The redevelopment project will be phased, so it won't disrupt the entire site at a single time.
Informa's size and financial ability helped the marine industries association get a 30-year deal to keep the show's site at Bahia Mar, Purcell says. Informa brought in the architectural and planning firm EDSA to make sure a world-class show can be delivered when construction starts.
The boat show also will benefit from the expansion of the Greater Fort Lauderdale/Broward County Convention Center, which is expected to be complete in 2023. The 600,000-square-foot center will add 525,000 square feet of exhibition space, a ballroom that can seat 5,000, and an 800-room hotel.
The expansion will cut down on the number of exhibitors who have to camp out in the parking lot and near the fountain at the convention center, Doole says. "If we can move that under air conditioning, they will be much happier."
Purcell says Informa's trade show expertise has been helpful in developing the convention center expansion. The company's Fort Lauderdale office is close to the center, and Purcell says it could be a solid location for Informa to bring some of its non-marine shows.
Informa has looked at buying other U.S. boat shows, but hasn't yet made a move, Doole says. He thinks that's likely to happen this year or in 2020.
So, does the child sailor who turned into the guy who runs all the boat shows still have a boat himself? Yes—four, actually. Doole lives on north Hutchinson Island and has a vintage Hewes flats boat, a pontoon boot and two 34-foot commercial fishing boats, which he co-owns with his son-in-law. ♦