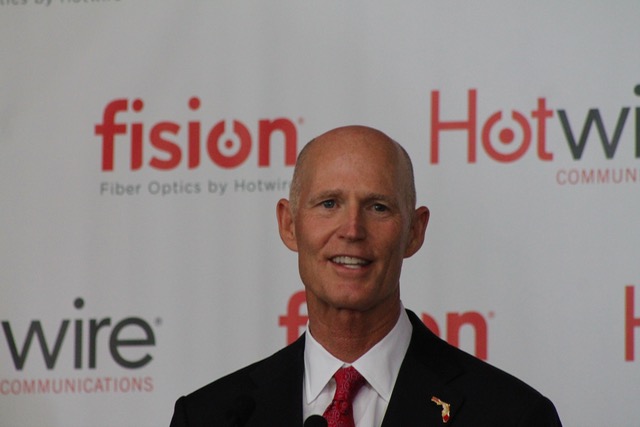 Death star for Enterprise Florida and Visit Florida?
There's a big feud between Gov. Rick Scott and the Florida Legislature with Enterprise Florida and Visit Florida right in the crosshairs.
A bill in the Florida House would kill both organizations, which some legislators see as corporate welfare for business. Both organizations are widely supported by economic development officials in South Florida, who see Enterprise Florida as a key partner in attracting new businesses to the state and Visit Florida as a key way of promoting the state to attract visitors.
Bob Swindell, president of the Greater Fort Lauderdale Alliance, told the Sun Sentinel he was concerned about the disappearance of tax rebate incentive programs and the loss of Enterprise Florida was an important source of referrals about companies that want to relocate to Florida. The Beacon Council's Twitter feed had tweets by the governor about the need for Enterprise Florida Inc. (EFI) to compete with states like Texas.
"TX has been aggressively locating offices in other states. Without EFI, TX will be locating offices here," he tweeted.
Associated Industries of Florida, one of the state's most prominent business groups, issued a statement Wednesday supporting the governor's position.
"As a voice for Florida's business community, AIF opposes PCB 1701, which would take away Enterprise Florida and VISIT FLORIDA. These two public-private partnerships are good for Florida, as they are significant contributors to our state's economy," the statement said. "We cannot emphasize enough just how instrumental these two agencies have been in helping build a business-friendly environment in the Sunshine State. Because of these agencies, job growth and prosperity has accelerated considerably, having a positive impact on Florida's employers and employees."
Riverside Hotel General Manager Heiko Dobrikow, who just received Florida Atlantic University's Business Leader of the Year Award, was in Tallahassee and planned to make some key points to a House subcommittee. On a Facebook post, he said they include:
Every $1 the state invests in Visit Florida marketing yields $3.20 in tax revenue ($5.3 billion collected in sales tax)
Visit Florida's 136 employees serve over 12,000 businesses and these businesses invested $138.5 million as private investments into Visit Florida
From 2010 – 2015 the Visit Florida Budget was increased by $43.3 million resulting in a travel spend increase of $30 billion
Dobrikow outline a myriad of ways local tourism businesses could be hurt if Visit Florida was eliminated.
The governor at times appears at a loss for words about what's happening.
"If we don't fund these things, it will … it can't … it's not logical," Scott said at an Enterprise Florida meeting, according to the Miami Herald.
He said the House is not thinking about the future of the state and reminded reporters of how bad the state economy was just six years ago. "When the House wants to stop Enterprise Florida, they are hurting our poorest communities. They are hurting our rural communities. When they say we don't want to do any more marketing for Visit Florida, what they are saying is we don't need any more jobs in tourism," Scott said.
The move to kill the agencies is being led by House Speaker Richard Corcoran, R-Land O'Lakes, who also wants to kill tax exemptions for film making and the use of hotel bed taxes to fund stadium construction or renovations. Corcoran was elected as part of a Tea Party wave that dislikes what it calls corporate welfare spending.
An interesting subplot in the drama is whether it represents a changing of the guards in state leadership. Scott faces a term limit and can't run for re-election while Corcoran is viewed as someone who might run for governor.
Visit Florida became a ripe target for legislators after it paid $1 million for rapper Pitbull to promote the state. CEO Will Seccombe resigned in December. Deals involving an English soccer club and racing car sponsorship were also controversial.
Incentives offered for jobs by Enterprise Florida are controversial, too.
An editorial on NewPress.com says the state is seeking to recoup $77.6 million in state incentives received by Sanford Burnham Prebys Medical Discovery Institute in Orlando if the financial struggling organization fails to operate in Florida for 20 years.
An opinion article by Watchdog.org Executive Editor John Bricknell says Enterprise Florida is not providing enough jobs or return on investment to justify the expense. A state study also found only 15 percent of Enterprise Florida's budget comes from the private sector, while it was supposed to be a 50/50 split.
If you want to weigh in on the debate, use this link to contact your state legislator.