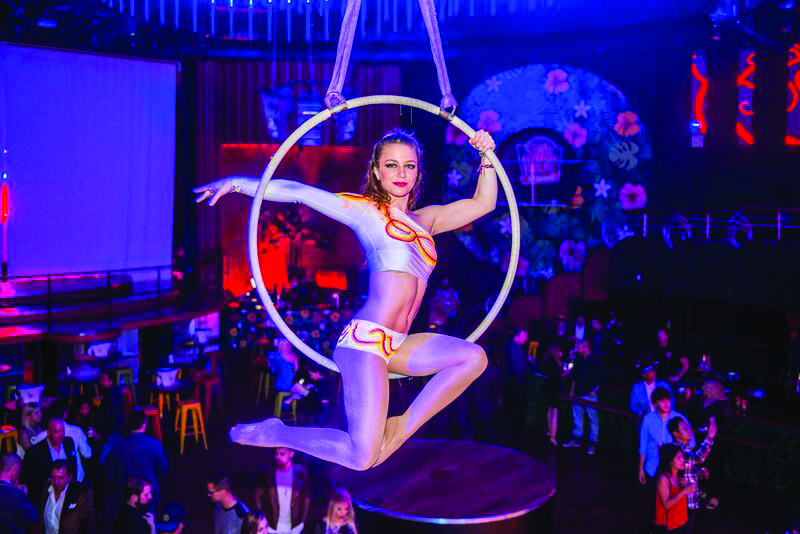 ONE LINERS Miami-Dade
► Triple Five Group's American Dream Miami, the proposed largest mall and theme park in North America, won its first round of approval by the Miami-Dade County Commission.
► Milan-based fashion school Istituto Marangoni has signed a $13.5 million, 10-year lease at 3701 NE Second Ave., in the Design District.
► Airbnb has signed a tax agreement with the town of Surfside, collecting a 4 percent resort tax from local hosts, which will be remitted to the town.
► Tap 42 opened its fourth location, with an expansive menu and beer garden, at 3252 NE First Ave., in Miami's Midtown neighborhood.
► PizzaRev plans to debut its first Florida location in March at 130 Miracle Mile, Coral Gables.
► Donna Shalala, political science professor at the University of Miami and president of the Clinton Foundation, was appointed to serve on homebuilder Lennar's board of directors.
► Federal Capital Partners named Bruce Gago, formerly of Mast Capital, to direct its Miami office as vice president of acquisitions.
► Monument Real Estate Services appointed Gregory J. Lozinak as its new CEO, and said its prior CEO, Stuart Zook, will take the role of CIO.
► Miami International Airport had a record-breaking year in 2016, with 44.6 million passengers.
► Silver Airways, which serves nine Cuban destinations, has partnered with the Cuba Travel agency to give passengers convenient trip booking.
► Celebrity Cruises has named TV personality and interior designer Nate Berkus its "design ambassador" for its new Edge Class fleet.
► Property Markets Group has tapped author and alternative medicine advocate Deepak Chopra to consult on health and wellness-driven designs and amenities at Muse Residences in Sunny Isles Beach.
► Billionaire Phillip Frost, CEO of Opko Health, has donated $100 million to the University of Miami to establish the Frost Institutes for Science and Engineering.
► The University of Miami plans to spend $150 million on a 1,100-bed dormitory complex designed by Arquitectonica.
► St. Thomas University President Franklyn M. Casale announced his retirement after 22 years of service.
► Miami Jewish Health has received a $2.5 million donation from the Mitchell Wolfson Sr. Foundation for building its EmpathiCare Village, a residential complex intended for individuals with Alzheimer's disease and memory loss.
► Civiq Smartscapes will install 300 kiosks with free Wi-Fi capabilities across Miami-Dade, including on public transit buses and trains.
► Ytech International CEO Yamal Yidios has purchased the BankUnited office building at 1428 Brickell Ave., for $26.5 million plus an undisclosed amount from Taplin Co.
► Metro 1 Development and Robert Finvarb have proposed a 24-story mixed-use hotel project in Brickell, just west of the Metrorail near the anticipated Underline park.
► Privé developers scored $102 million in construction financing at Island Estates in Aventura.
► Atlanta-based MDH Partners paid $44 million for six industrial warehouses in Miami Gardens.
► Plans are in place to overhaul Miami Tower's 5,300-square-foot Sky Lobby on the 11th floor, with a projected expansion of 7,000 square feet.
► The Related Group and Allen Morris Co. are negotiating with the City of Coral Gables to redevelop the Coral Gables City Center, a 2.06-acre site near Miracle Mile.
► Venezuela's Auyantepuy Investments have paid $9 million for a block of land in Little Havana, along Calle Ocho.
► A 22,500-square-foot development site in Bay Harbor Islands hit the market for $10.85 million.
► Haber Slade PA is relocating its law firm to Wynwood from downtown Miami and has paid $6.5 million for a 7,470-square-foot building.
► Menin Hospitality has opened Ricky's South Beach, a bar-arcade, restaurant and live music venue, at 1222 16th St.
► Miami developer Ugo Colombo's Brickell Flatiron condominium tower is underway, following the completion of the project's massive concrete foundation pour, which is one of the largest pours to date in downtown Miami's history.