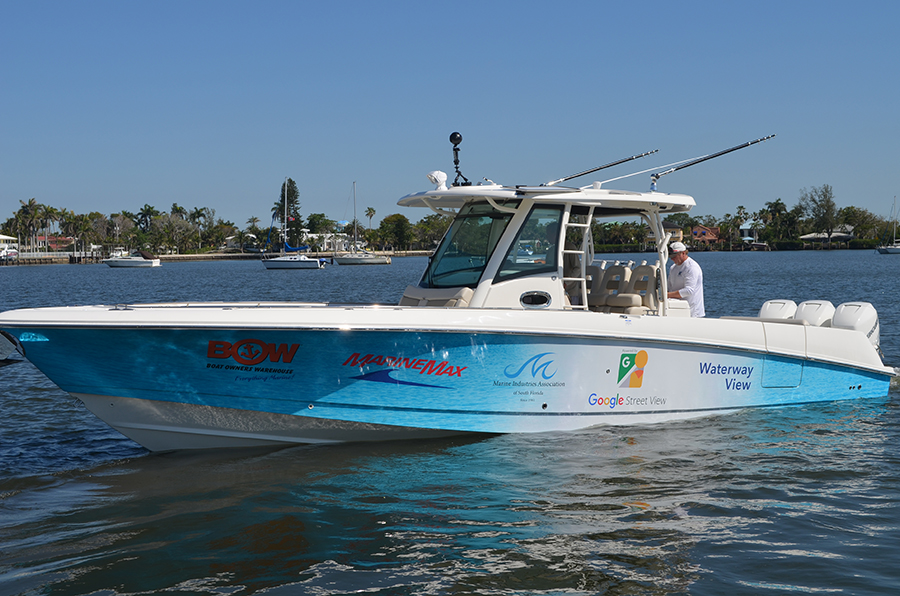 See From the Sea: A smartphone app using Google Maps technology is helping boaters get where they want to go
Fort Lauderdale international Boat Show Special Section
Interested in taking your pleasure craft out for a night on the town? Or perhaps you're looking for a marina with ample slip space to dock your vessel or to gas up your engine? There's a new app available for South Florida boaters.
It's called Waterway View and it's a collaboration between the Marine Industries Association of South Florida and a Google Maps Street View provider using the technology to map the entire Intracoastal Waterway, from Jupiter to Miami, including the New River in Fort Lauderdale as well as the Miami River in Miami. "That's about 120 miles of waterway," says Jim Hilker, CEO of PlacesMobile, who developed the program. "My company has been sanctioned by Google Street View since 2012. Google gave us permission to create our own unique creative project."
Waterway View brings Google Street View imaging technology onto inland and coastal waterways. Hilker says he has brought that same technology to more than 60 associations in the United States and Canada. "I reached out to MIASF and they said, 'Let's team up.' "
Hilker says that, in the past, others have tried similar ventures but did not meet with much success. "You have to get a really good boat and camera. We had to learn a lot as we went along," he says. "Now we've got a system. I own the trademark on Waterway View."
Hilker says the business community has been receptive toward Waterway View and its potential. "It's being financially supported by businesses who want to advertise," he says. "People looking at the app can see a view of a restaurant from the water as well as inside in a virtual tour. People on boats are always looking for places they can take their boat right up to."
Waterway View will make it easier for boaters to find restaurants, gas and marinas, says Chuck Cashman, MarineMax's chief revenue officer. "It'll enhance the boating experience." MarineMax donated a 33-foot Boston Whaler to photograph and film the waterways. "We provided the personnel and the boat."
Hilker says Waterway View is not designed to be a navigational tool. "It's all about visuals," he says. "That's what it comes down to. You can make a decision before you drive your boat there."
Hilker—who is not a boater, by the way—says his goal is to launch Waterway View nationwide.
Phil Purcell, CEO and president of the marine industries association, says Waterway View provides boaters a valuable tool to use. "It's not just for the marine industry; it's for everybody," he says.
Waterway View is available on the Apple App Store and Google Play. ♦