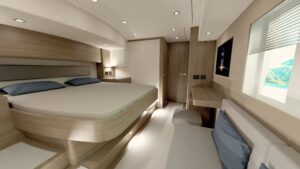 Luxury yachts are known for their extensive amenities and size to produce a palace floating on the water capable of traversing the world. While the industry is known for its extravagance and comfort, fuel efficiency and energy saving remain an afterthought. However, one yachting company has made it its mission to reduce the yachting industry's carbon footprint with its solar-powered vessels. 
Luxury design will always play a significant role in yacht design. Still, Serenity Yachts' next generation of vessels employs green aspects while still focusing on producing performance-driven yachts capable of meeting the demands of the modern sea traveler.
To reduce dependency on fossil fuel while crafting luxury yachts, Serenity Yachts considers how every aspect of the ship―from the carbon fiber hulls to the hydraulic flybridge―will impact the environment while not lessening performance.
"Mankind has always been drawn to the sea and, until now, that has been at the expense of the very environment we set out to enjoy," says Boyd Taylor, executive director of Serenity Yachts. "At Serenity, our yachts allow one to explore the most beautiful and unique places in the world without damaging or polluting them in the process. As stewards of this planet, it is our responsibility to preserve the many delicate habitats and ecosystems that give the ocean its majesty―not only because we do not wish to tarnish it, but because it is simply the right thing to do."
Along with engineering custom-build vessels and providing general refitting services, Serenity Yachts offers seafarers the ability to convert traditional gas-powered boats into more eco-friendly versions. Their yachts feature quiet electric motors equipped with the latest technologies, including cutting-edge navigation equipment, entertainment and innovative home technologies. The company has two lines of vessels: the Serenity 64 and Serenity 74. 
 

The Serenity 64

(pictured, left) offers 65 square meters of SunPower® solar panels and can cruise indefinitely at four to six knots while powering onboard amenities. The vessel features a combined galley and saloon on the main deck, four VIP cabins (each with an en-suite bathroom), one crew cabin and a hydraulic flybridge.

The Serenity 74

 offers 110 square meters of SunPower® solar panels and can cruise endlessly at seven to nine knots while generating power for onboard amenities. It features a combined galley and saloon on the main deck, four VIP cabins (each cabin with an en-suite bathroom), and two additional cabins and baths in the forepeaks that can be configured for family or crew. Its chic interior was designed with fashion also at the forefront, inspired by former Neiman Marcus Fashion Director Ken Downing.