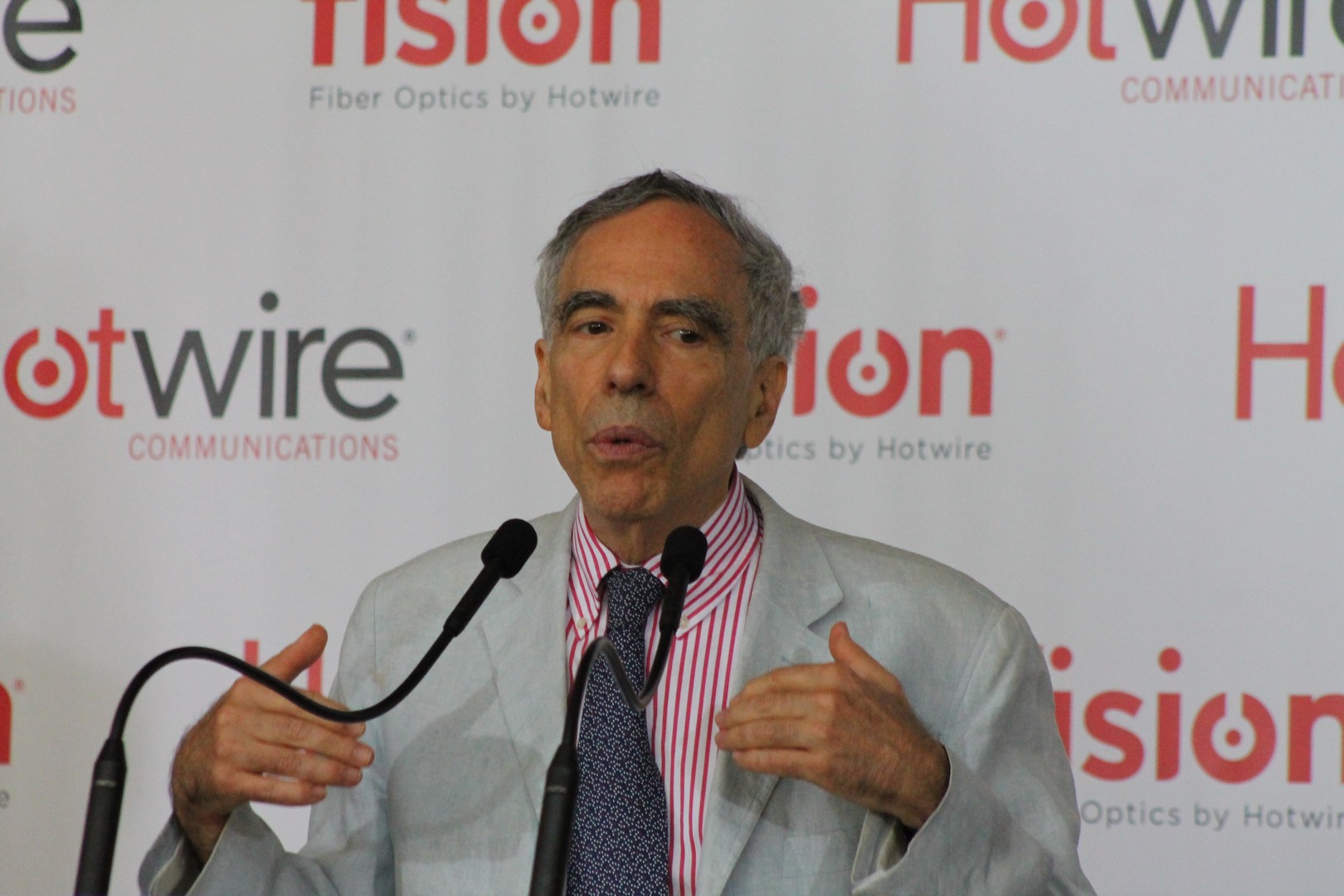 Hotwire Communications bringing HQ, 375 jobs to Fort Lauderdale
South Florida scored a major economic coup Thursday with the announcement that Hotwire Communications will relocate its headquarters from Philadelphia to Fort Lauderdale and bring 375 jobs to Fort Lauderdale.
Gov. Rick Scott welcomed Hotwire Communication's co-founders, Chairman Michael Karp and CEO Kristin Johnson Carp, saying it was great that they could leave the cold, high-tax state of Pennsylvania.
Hotwire Communications – not to be confused with the Hotwire hotel booking website – is a telecommunications company founded in 2000 that delivers fiber optic communications to residential communities, businesses, student housing and hotels nationally. The fiber optics allow customers to get gigabit and 10 gigabit speeds with no data caps, the company says. It has 100,000 customers.
Hotwire will take over the former 193,165-square-foot headquarters of Bank Atlantic at 2100 Cypress Creek Road. The building in its previous state included a cafeteria and fitness center for employees.
Hotwire plans to offer co-working spaces at its headquarters, which could turn it into a broader tech hub for the region.
Hotwire realized about a year ago that it needed more space and a place to centralize operations, Michael Karp said at the ribbon cutting ceremony. He credited the governor's office, the Greater Fort Lauderdale Alliance, and Fort Lauderdale mayor Jack Seiler with a strong offer of support within two weeks of the initial inquiry.
"Two weeks time is incredible," he said. Rather than just leasing space, Hotwire decided to buy the facility. Property records indicate the company paid $21.5 million for the property.
Michael Karp started out as a real estate investor in southeastern Pennsylvania with a portfolio that ranged from single-family homes to a waterfront complex, an executive golf course and a 90-boat marina, a biography supplied by Hotwire states. He eventually entered the venture capital field.
Karp sold Gateway Funding, a home mortgage group, to Blackstone Group in 2015.
The company employed 600 people and made loans of more than $2 billion a year.
He sold ATX Telecommunications for $900 million in 2000 to CoreComm, according to an article on philly.com.
Karp has a personal interest in helping impoverished children and is the founder and chairman of two charter schools.
The Philly.com article indicates Karp isn't afraid to push his sense of what's right. He was removed from the school board in Philadelphia by the mayor, who called him disruptive. Karp, who was appointed by the mayor's predecessor, questioned the school district's plans to build a school on land donated by the University of Pennsylvania while parents of an existing nearby school complained about decrepit conditions.
Karp has also served as vice chairman of the Pennsylvania Intergovernmental Cooperation Authority, which overseas Philadelphia's finances.
Kristin Karp started a catering company in 1993 and turned it into a 50-seat restaurant in the Neenah-Menasha area of Wisconsin. She added two more locations before selling in 1994. Michael Karp hired her to open a restaurant in Philadelphia in 1999. They co-founded Hotwire the next year.