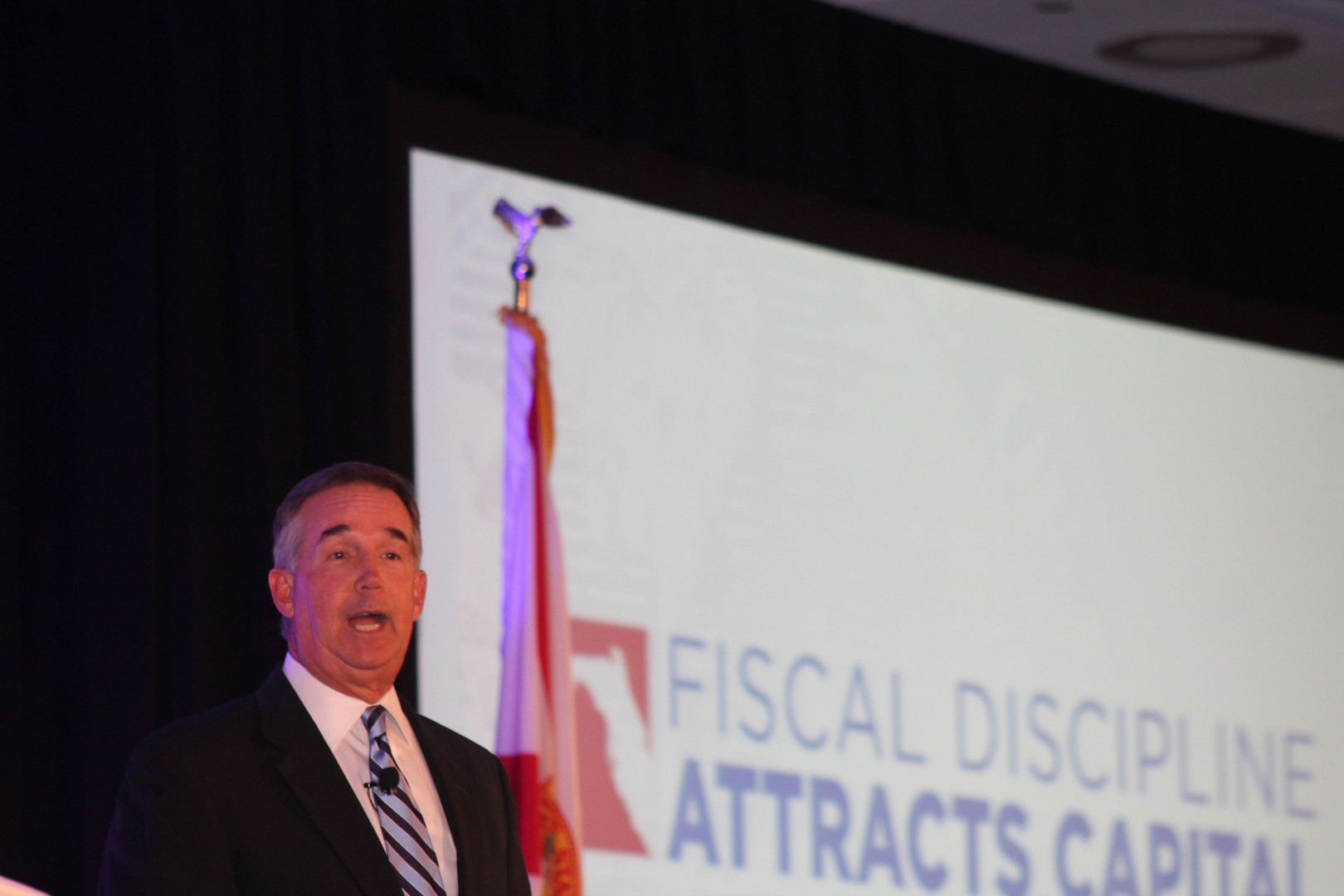 It's not Floriduh, after all
The Sunshine State gets picked on by the national media at times, but from a fiscal standpoint it has turned into one of the national leaders.
State CFO Jeff Atwater presented a series of slides that illustrated that point at the Greater Fort Lauderdale Alliance's Midyear Meeting at the Hyatt Regency Pier Sixty-Six. (Click on the photo to see them.)
When it comes to the ratio of state debt to personal income, the figure is over 10 percent in the worst states. Florida is below 3 percent. When it comes to state taxes per capita, the worst states are over $4,500 while Florida is under $2,000.
Atwater took a lot of time showing how Florida compares to its large population peer states – Illinois, California, New York and Texas.
In 2004, Florida was closer to the middle of the pack in both taxes and the debt ratio. However, Illinois, California and New York have both worsened substantially. Florida has shifted in a positive direction with its bubble almost touching the one in Texas.
While Atwater ticked off a number of metrics that shows the state's economic rebound, a chart on adjusted gross income (AGI) migration may have been the best indicator of the payoff.
New York has lost $13.5 billion in AGI to Florida, while New Jersey lost $8.9 billion and Illinois lost $6.6 billion, based on IRS data.
Illinois in particular has turned into a fiscal basket case. A May 12 Chicago Tribune article says some social service agencies are on the verge of collapse. One legislative proposal being floated would raise the personal income tax from 3.75 percent to 4.85 percent, expand the sales tax and cut some corporate tax breaks. The state might also borrow $5 billion so it can pay bills due by July 1.
Illinois has an A credit rating while Florida is AAA, after once being threatened with a downgrade during the recession. Florida has no state income tax and Gov. Rick Scott has been trying to talk the Legislature into eliminating the corporate tax.
There also was good economic news announced at the alliance meeting.
Ecolab is investing $800,000 to open a Latin American headquarters in Miramar, which will bring 50 new jobs and ongoing visits from company personnel for training. Ecolab is a Fortune 500 company based St. Paul, Minnesota, and is involved in the water, hygiene and technology fields.
Officials from JPMorgan Chase announced a $126,000 grant to the alliance to research ways to cut the region's skills gap – the difference between available jobs and the skills that workers actually have.
Alliance Chairwoman Dr. Penny Shaffer showed an advertising campaign developed by Zimmerman that targets companies in fields such as technology and life sciences.
Fittingly, the alliance's World Class Faculty award was given at the meeting to Dr. Nancy Klimas of Nova Southeastern University. She is chairwoman of the Department of Clinical Immunology and NSU's Neuro-Immune Medicine Institute. A video showed how Klimas is doing research in fields such as chronic fatigue syndrome.
The economic development award was given to Broward College for addressing the county's education needs and providing volunteer leadership. President J. David Armstrong is a past chairman of the alliance.
The college is about to unveil a business accelerator program in downtown Fort Lauderdale. Look for more about that on the SFBW website next week.