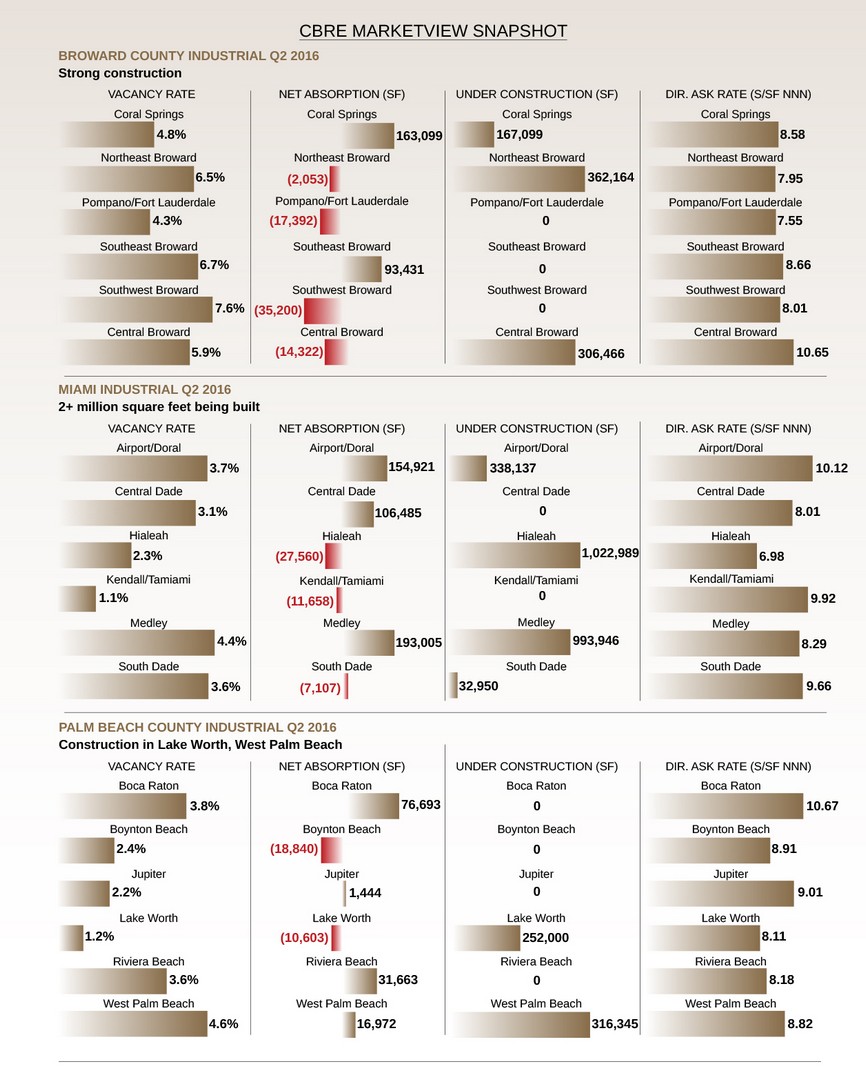 Leasing velocity slows, but rents still rise
While still squarely in positive territory, second-quarter office and industrial leasing velocity continued to slow across Broward and Miami-Dade counties, according to the latest CBRE market data. But demand still outpaces inventory across the board, which drove rents up and vacancies down.
Palm Beach County, whose real estate recovery has lagged, finally broke out with an uptick in office space absorption and an impressive surge in industrial absorption.
Its second-quarter industrial absorption nearly quadrupled year-over-year, with 115,807 square feet of additional empty spaces filled. But when compared to where total absorption was at the midpoint of last year, it was still lower – 477,894 square feet in 2016 vs. 704,114 square feet in 2015.
The county has seen a wave of new industrial facilities during the past two years. Even so, second-quarter rental rates shot up more than 8 percent compared to the previous year, and vacancy tumbled to 3.5 percent, the lowest in the region.
"We have new construction in central and northern West Palm Beach," says Jeff Kelly, executive vice president of CBRE. "New development requires higher lease rates to justify cost to build. I see users getting sticker shock, but if they have a space they need to fill, the new construction deals are getting done at higher rents than tenants have been used to paying."
In the office sector, the lack of new construction gave a lift to rent and occupancy across the region. Much of that can be attributed to two major lease deals at the Boca Raton Innovation Campus: MDVIP, a concierge health care provider, leased 49,369 square feet and Avid Technology, a broadcast and film platform provider, leased 23,630 square feet.
"I think we are on a slow but sure downward trend," Kelly says. "Challenges are the threats of larger vacancies coming on the market." As a chief concern, he cited the uncertainty swirling around the future of Office Depot and its 600,000-square-foot headquarters in Boca Raton.
"To catch up, we know there will not be any new construction for some time; we just have to be careful of big vacancies coming on the market," Kelly says. "And we need continued leasing, which has to be a mix of companies expanding and new to market leases."
In Broward County, second quarter leasing activity was steady, but failed to reverse a slowing first-quarter leasing trajectory, an indicator that post-recession leasing might be peaking. Restrained development and continued job growth still helped push rents higher and office vacancies lower by nearly a full percentage point, compared to 2015.
There were no new openings of industrial buildings in Broward in the second quarter after more than 1.2 million square feet in the past five quarters. But major projects, such as Bridge Sunrise, a 306,855-square-foot development at Interstate 95 and Sunrise Boulevard, are on the way.
So far, steady leasing activity is holding Broward's industrial vacancy year-over-year to 6.1 percent, and rents rose 3 percent.
Miami-Dade County is where the region's industrial development pipeline is flowing like a geyser. About 2.5 million square feet of industrial boxes are under construction with nearly 90 percent poised to open this year.
The completion of the Panama Canal expansion has yet to propel Miami-Dade industrial absorption to 2015 levels, which, in the first six months, were about half of the same period last year.
"No noticeable increase as of today," says Michael Silver, first vice president of CBRE. "In the future, more perishables like fruit and vegetables will come into PortMiami, requiring additional cooler type space within warehouse facilities."
The county has opened more than 1.5 million square feet of industrial facilities since 2013, but that has not dinged its hearty market. Vacancies fell in the second quarter to 3.6 percent and rents rose 5 percent compared to the second quarter of last year.
Miami-Dade's office market has seen the most post-recession development in the region, but the construction volume has remained limited. Much of the development has been tucked into larger mixed-use projects. Year-to-date, 2016 office space absorption is down 5 percent compared to last year. Once again, rent and vacancy fundamentals continued to improve.
"Given the tight market conditions in South Florida coupled with employment and population growth, we can expect to see further increases in rental rates and decreases in vacancies," says Ken Krasnow, executive managing director for Colliers International in South Florida. "We expect the market to quickly absorb new supply in both the CBD [central business district] and major suburban markets. This trend is likely to continue until new inventory balances demand."
Freelance writer Darcie Lunsford is a former real estate editor of the South Florida Business Journal. She is the senior VP for leasing at Butters Group and is avoiding a conflict of interest in her column by not covering her own deals.